By Nate Adcock on Mon, 08/08/2011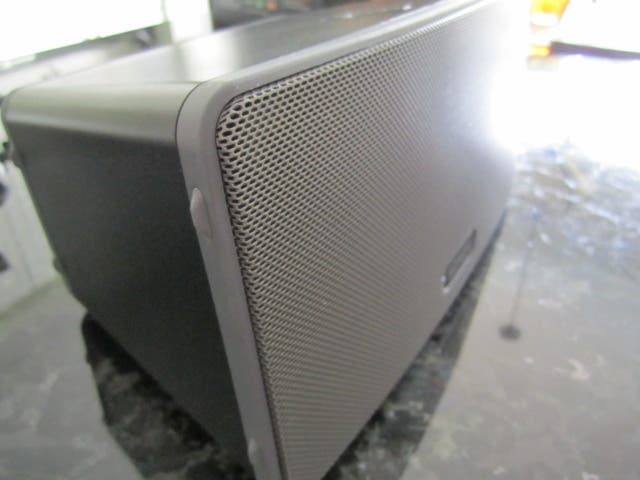 In my previous review thread on the Sonos Play:3, I covered unbox and setup minutiae. In this wrap-up post I'll cover setting up dual Play:3 speakers in a left/right configuration, the new Sonos iOS control app, and consider the strengths (and a few weaknesses) of the new wireless speaker system!
Master your iPhone in one minute a day:
Sign up to iPhone Life's Tip of the Day Newsletter and we'll send you a tip each day to save time and get the most out of your iPhone or iPad.
The new Play:3 can be placed on it's side as well as positioned on the base. An internal sensor will detect the orientation and adjust the output accordingly. Pretty sophisticated functionality for a compact speaker system that sells for around 300 dollars (though a dual-speaker setup like shown above would be double that). The Play:3 has a solid sound that still falls a bit short of the Play:5.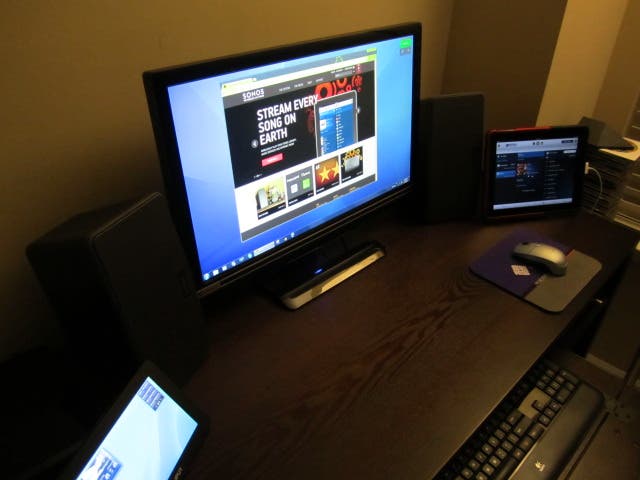 With two Play:3 devices paired up, the sound is what you would expect of a very good 2-speaker stereo. The quality of audio streams (from services like Pandora or internet radio) is frankly astounding, and I have experienced no dropouts of my streams! I'm still kinda bummed I can't sync up line-in input from the S5 (Play:5) wirelessly, but I join join up the zones in party mode to play simultaneously from both players. The sound was big in the house during this test, believe me. You really couldn't use this as a high-end computer stereo without the line-in, though. I would go for a Play:5 instead because of this limitation if looking for a fancy add-on PC audio system.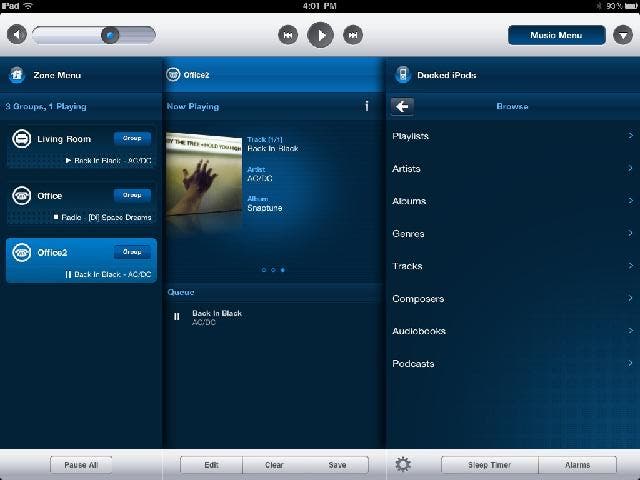 Of course, if you shell out 300 bucks for a piece of hardware, it's obligatory to include the controller for free. The Sonos app is nearly a good enough music player in it's own right to be a stand-alone product (i.e an iOS player--but alas, it doesn't do that). There isn't a big diff in the newer player app, though they updated it just for the advent of the new Play:3 device. There are some *new internet music services available, and you can marry up like-model ZonePlayers in a L/R speaker orientation.
"*streaming services include: AUPEO, iheartradio, Last.fm, MOG, Napster®, Pandora®, Rdio®, Rhapsody®, SiriusXM Internet Radio, Spotify, Stitcher SmartRadio™, TuneIn, Wolfgang's Vault, and more..."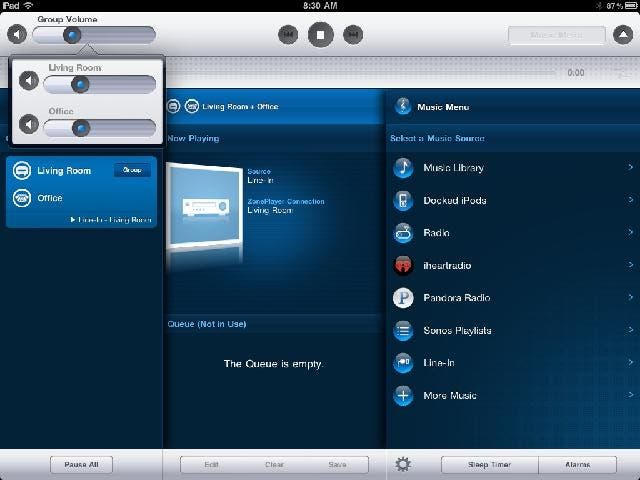 The player app is half the reason why I love the Sonos experience. Not only does it give quick and ready access to all my favorite internet streams (including music services like Pandora, iheartradio, and more)--including full features like the ability to "like" a track when using Pandora--but also lets me browse music on my local computer, and/or any iPod touch I have docked (requires the Sonos dock).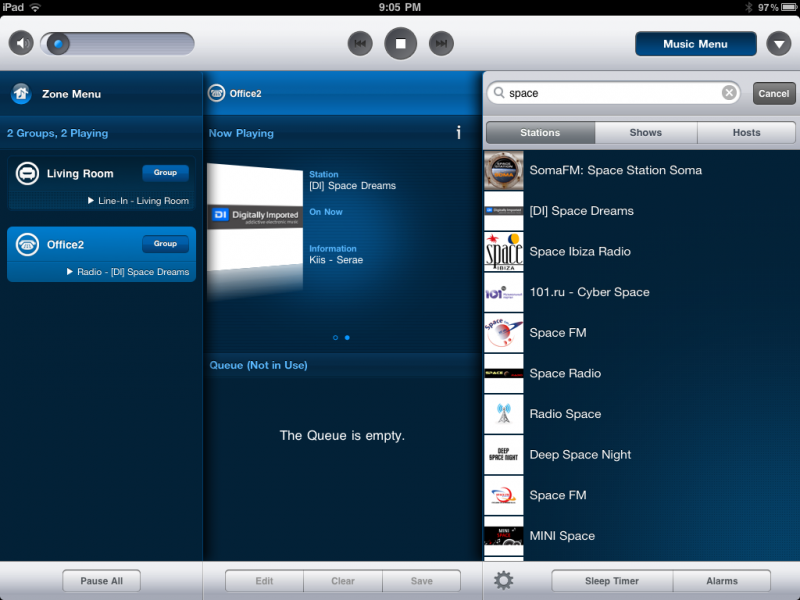 Probably the coolest aspect of this is the ability to search and find tunes and artists from the music menagerie you have to choose from. You can queue up tracks, save your playlists, and save favorite internet stations as well. I do have a few complaints about the app, however. For instance, you can't queue up tracks from a docked ipod say in a playlist mix with tracks from your PC's music library (at least I couldn't seem to be able to do anything but browse the iPod), and navigation through the various nested menus can be a little tedious, which is likely the point of the search, however. You can access your iPod playlists. The app is unified across all your devices, and the same settings you have on your PC will be preserved on the iOS app (and vice-versa).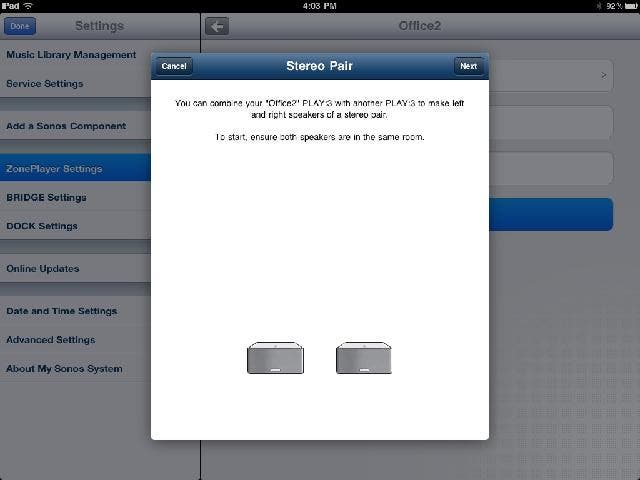 Pairing speakers from the app...
As an internet radio junkie, I like to add custom stations (even my own), but can't seem to find a way to do that in the Sonos control application. Basic, free internet players can do this, so not sure why this feature is not available (unless I just couldn't find it). The Sonos system includes good integration with on-line services, and a massive catalog of stations, but somewhat limited when you need to go outside of these bounds. You also really need (or at least it's recommended) a PC or Mac computer to fully configure players, and devices, etc. I had difficulties with my S5 in my early testing because I tried to do everything from the app (didn't make that mistake with the Play:3).
In summary, I give the Play:3 a thumbs up, pretty much as I did for the S5 (Play:5). I love the size of this player, and the high-quality design and superior sound are also there, and will be sorry to send them back now that my testing is over. The control app is well-done, but feel that it could use a few minor tweaks. When considering that the price of a multi-room system like this will easily go north of $600, a few more integrated music features couldn't hurt, and the control app should be able to handle the configuration of any components (without the need for a separate PC app). I also think the wireless bridge device should be included (you can get  a deal on that now for $49, I believe). To learn more about the excellent line of Sonos audio components, go
here
, and be sure to stay tuned to our blogs for more reviews, tips, and iOS-related gadget news.