By Nate Adcock on Fri, 11/19/2010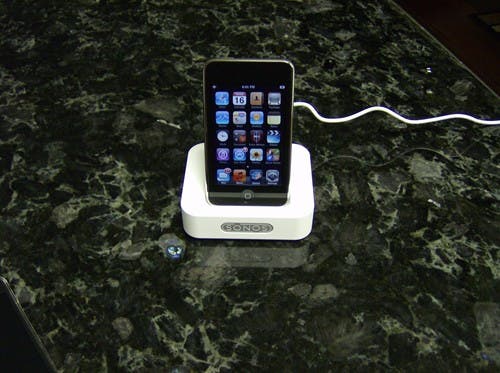 I have raved quite a lot this year about the Sonos S5 music system, and I'm about to rave even more, because now there is a Sonos wireless audio dock that fits hand in glove with the S5 system as well as...well...audio does to streaming! Read on for the full review...
Firstly, before I get to the unbox (which is pretty spartan), I have to give up the bad news. This dock does not work with my latest 4G touch. Evidently, the 30-pin connector port is slightly different than previous models, and due to this, some of my audio gadgets are now stranded back in 3G/2G-land. Be careful to check the tech specs when buying a new component to be sure.I tried to coax it on there a little anyway (the laws of physics do not apply to Nate's tech stuff), but stopped short of damaging either the unit or my pod. I have a Sony dream machine dock with the same issue.. :(
Master your iPhone in one minute a day:
Sign up to iPhone Life's Tip of the Day Newsletter and we'll send you a tip each day to save time and get the most out of your iPhone or iPad.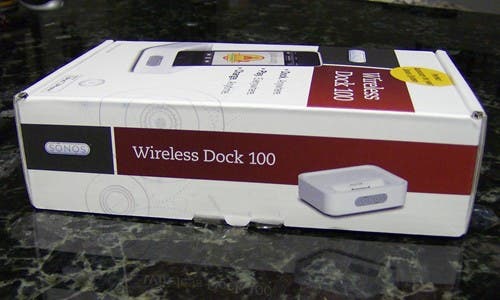 Anyhoo, the good news is that my 2G worked great! The reason I rave about the S5 (which is the wireless speaker, not the dock) is the startlingly good sound it produces, and that includes from any source. I run my Blu-Ray player through it when watching movies. I do not exaggerate when I say it will make your old music collection sound new again. I have a ton of mp3's on my iPod recorded from FM radio, and honestly they sound great via the S5.
Sonos S5...
Pandora and streaming radio plays and sounds awesome and the streams are always stable. When I use my old Sony dock, with my iPod connected wirelessly, streams are always timing out, or getting interrupted. The S5 is little bigger than a breadbox, can be carried anywhere around the house, and can be controlled from your iPod. Anyway, back to the dock which is probably of little use if you do not have an S5 (other than an expensive charger), so therefore...get the S5 while you are at it. I guaruntee you will be pleased with this music system.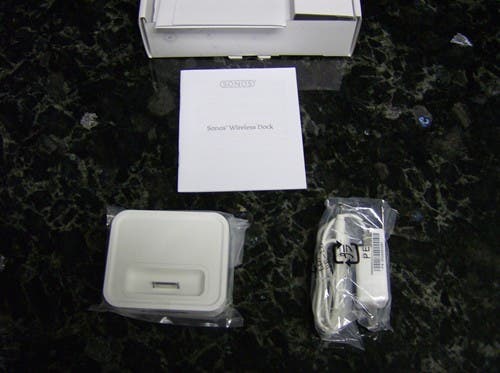 Where were we? Oh yes, the new Sonos wireless dock! Well, what comes in the box is the dock, a power cable and a small manual that isn't much use unless you need warranty support. I suggest you have your S5 documentation handy if you are not familiar with zone configurations, etc. (you can download user/product guides here). The dock is not hard to set up, but if you haven't used the PC app in a while, you might need to RTM. It's as easy as running the Sonos controller app software wizard for adding devices, and pressing the connect button on the dock shortly thereafter. I run the controller app from my PC whenever making zone changes or updates, and that has worked best.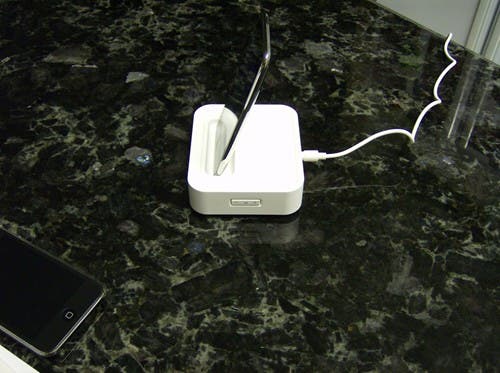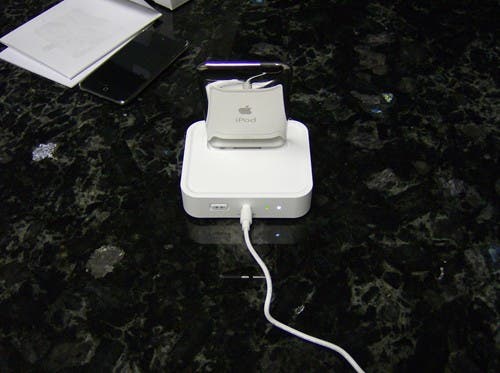 As I mentioned previously, the dock will charge iPod while mounted, and thus features a small A/C connector in the rear. The left side features a manual volume control, and along the back, you will also find the typical Sonos white "connect" button, and the everpresent flashing status light that strobes on and off until you sync it up with your S5. The dock is made from what appears to be the same indestructible-feeling, creamy plastic that is used in the S5.
The connection operation to get the dock incorporated into your Zone configuration is simple. You use the PC-based controller app provided with the S5 (you can download it here for Mac/PC). Once the wizard starts, it prompts you through various screens and gives you a couple of minutes to go and press the "connect" button on the rear of the dock.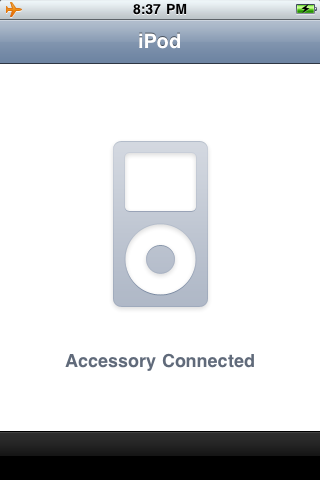 I executed this with my iPod touch already docked. Not sure if that is a requirement or even correct, but it worked for me. After the dock is added, another selection will appear in the main Music Library section of the app showing up under the "Docked iPods" tab. Though I didn't test it, the tech specs indicate you can also use this with other iPods. See below models supported:
iPod touch (1st, 2nd, and 3rd generation)
iPod classic
iPod nano (3rd, 4th, and 5th generation)
iPhone 4, iPhone 3GS, iPhone 3G, iPhone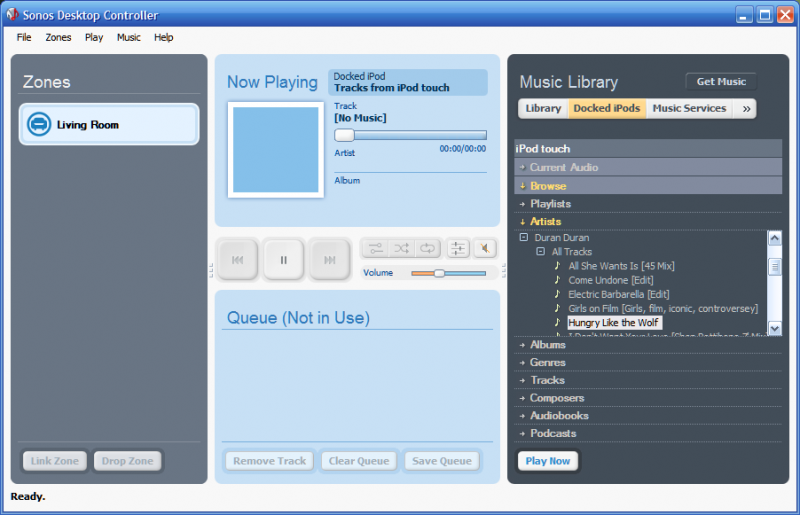 The dock does little more than add your iPod (or iPhone) to the music library of your zones, but that is a critical piece of the Sonos puzzle, really, as it does so wirelessly... One of my minor gripes about the S5 is that you could only use line-in from the iPod headphone jack to play music loaded thereon, which was clunky IMO. Now you can browse and play tunes on your iPod without the hassle of groping to move wires around in the back of the S5 itself (also charges at the same time). I still have a few more minor gripes (can't please some people, I guess). One, I couldn't seem to queue up playlists of songs from iPod or search the tunes there, as I can the music in my main library. 
The verdict is that I am pretty stoked over a dock specific to my S5 system. Still, I would like to see more universal compatibility built-in which may require a bit of re-design to the pin connector--something like what iDapt does with their universal charger (see my review here), and maybe add a line-in/out (which would still work with 4G, and other audio components). I would also like to see more features that allow you to index and unify songs from the iPod or iPhone to the main zone libary. Lastly, at $119, it is a little spendy considering you need an S5, and a ZoneBridge to get all this working (which will break a $500 audio system budget), and it has no other features except playing back music. A package deal would likely be a popular offer for Sonos to attract more iPod/iPhone users to the S5. An S5, ZB, and dock for $499 would be perfect for X-Mas...hint, hint. You can grab the new dock at the Sonos site here. ZB and and S5 packages are currently at $448, which is worth it (without the dock) for this impressive music system!
Want more information on ways to stream audio?....See my recent article in iphonelife magazine here! Don't forget to stay tuned to our blogs for more great reviews, tips, and product news. While you are at it, you might want to sign up for a subscription of our print edition.