By Nate Adcock on Sun, 10/23/2011
In the previous post on the Windows 8 developer preview, I covered the main features which I think make it a perfect fit for an iPad (connected remotely at least). I didn't find a way since then to actually run Win 8 on the iPad, but if you are interested in running older versions of Windows on iPad, see this (*and the disclaimer below please). I fixed a few of the glitches I was having using the virtual machine, like sound (selected a different sound driver option). Anyway, in this post, I'll go over some of the new options, settings and features in Win 8, and wrap up this review series..
Master your iPhone in one minute a day:
Sign up to iPhone Life's Tip of the Day Newsletter and we'll send you a tip each day to save time and get the most out of your iPhone or iPad.
*Legal disclaimer: iPhoneLife.com or it's writers do not endorse and are not responsible for any 3rd-party or external content referenced here, or the instructions contained therein that may lead to damage of your device, support of copyright infringement, and/or obtaining pirated copies of software. Use at your own risk.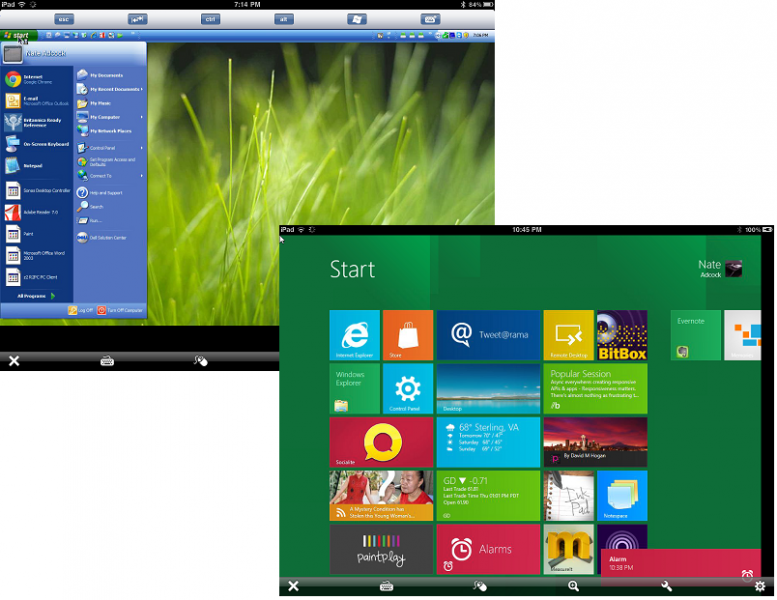 ... Start menu old and new!
The cool thing about Windows 8--currently in early developer preview--is the notion of everything being integrated. Apps, files, pictures, music, web services, etc. You can login to the new OS using your Windows Live ID for example, and save settings in a unified manner across devices. So, of course the new settings and options have to allow a user to restrict or control the privacy of the information stored. This is both liberating and scary for Windows users--considering that MS has to issue security patches nearly every single month.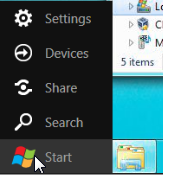 Start "charms"...
One of the coolest features is the new menu system. In place of the old start menu is a new smaller menu that appears when you hover or focus the cursor in the lower left corner of the screen. When you select one of the oddly named "charms", the result is a list-type menu pop-up that appears to the right instead of the left side of the screen. A Date/time charm also pop's into view when you activate the charm menu.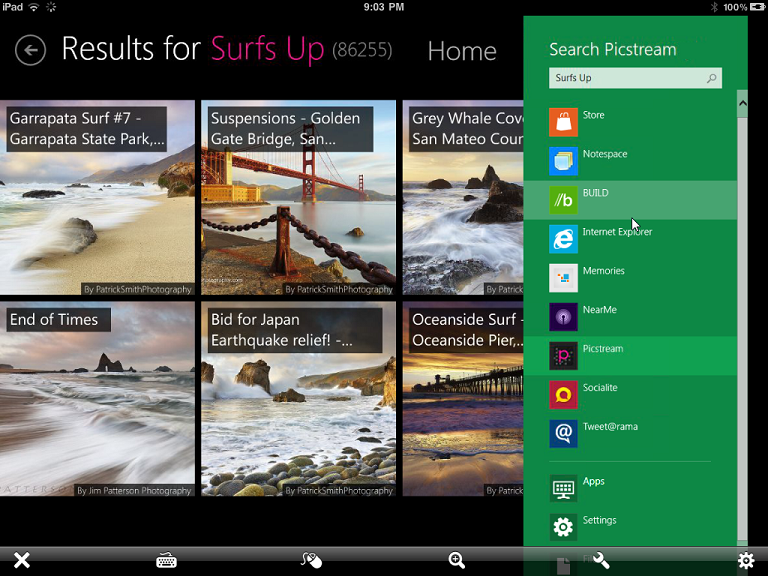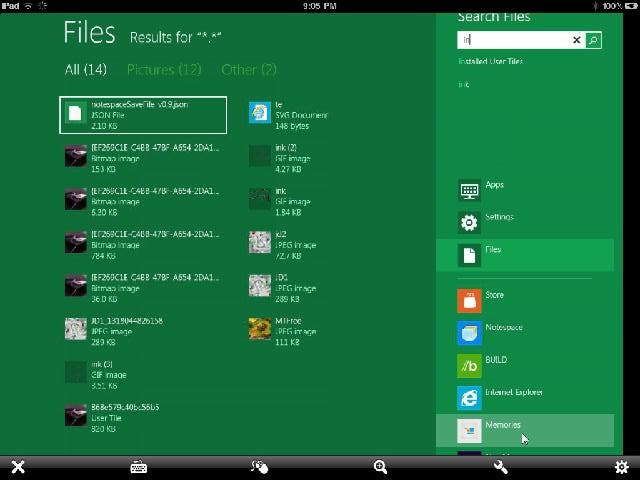 The search is nothing like the old one, and I imagine there will be a lot of grousing about this from die-hard Windows users who have become comfortable with Windows 7 and previous versions. I certainly won't be in this camp, but I admit it took me a while to figure some of these features, which is frustrating. As you type into the search dialog, hits begin to display, and categories of hits (apps, files, etc.) are indicated below. But the coolest part is if you have a bunch of social apps, email, or similar items to search through, they are all indexed as well. You can use the PictStream app for instance to find "surf" photos, or similar tagged pix in your own personal album.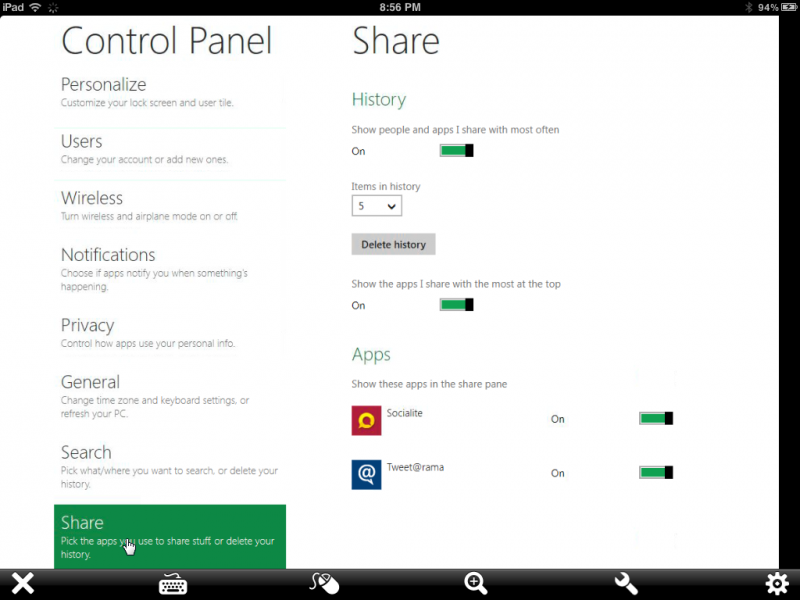 With all the new improved features bring a host of new settings to deal with, especially location and privacy related tweaks. You can tailor which apps can share data, etc. This is however the scary new on-line world we live in, and anyone who has internet should be used to it by now. Putting huge amounts of personal information up on the web to identify ourselves, is practically a requirement, with users trying to carve out minor celebrity status through YouTube or Facebook. Win 8 appears to be ready for the social network junkie out of the box...
A few other changes are evident. The concept of resetting your PC back to factory settings is certainly new and perfect if you plan on giving it away. You can also now "refresh" your PC. This sets everything except your Metro UI settings and apps back to a clean state. The classic file explorer now includes a "ribbon" menu at the top of the window, much like the overhaul Paint got in Windows 7.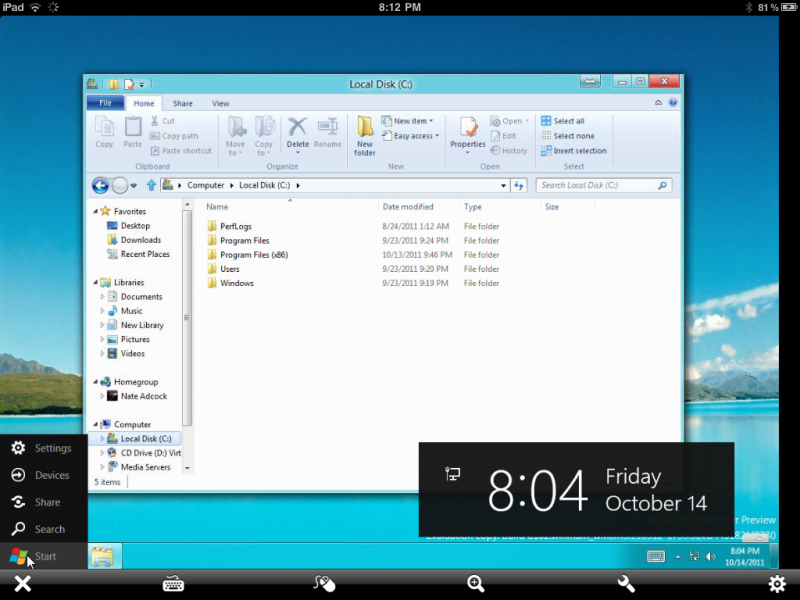 So, I think this new version is shaping up to be a compelling update for Microsoft, especially for iPad users who are regularly accessing their computers remotely. Make sure to check out the TeamViewer app, and Oracle VirtualBox (both free), as you can try out the preview without re-installing your current OS (a good thing), and then connect with the iPad. I have installed Win 8 twice now (one version on a Kingston SSD KC100 drive), and nearly have my boot times in the single digits--compared to a standard 1TB (7500rpm) SATA hard drive, 15 seconds is about average, which is still snappy. The OS is quick and responsive (even running in a virtual machine), and especially touch-friendly. In my final analysis, I really like nearly everything I have seen in the new version of Windows. It will be interesting indeed when the final version does come out. I have no doubt it will have an impact.
Stay tuned to our blogs here at iPhoneLife.com for more great news, reviews, tips and more!