By Nate Adcock on Wed, 06/04/2014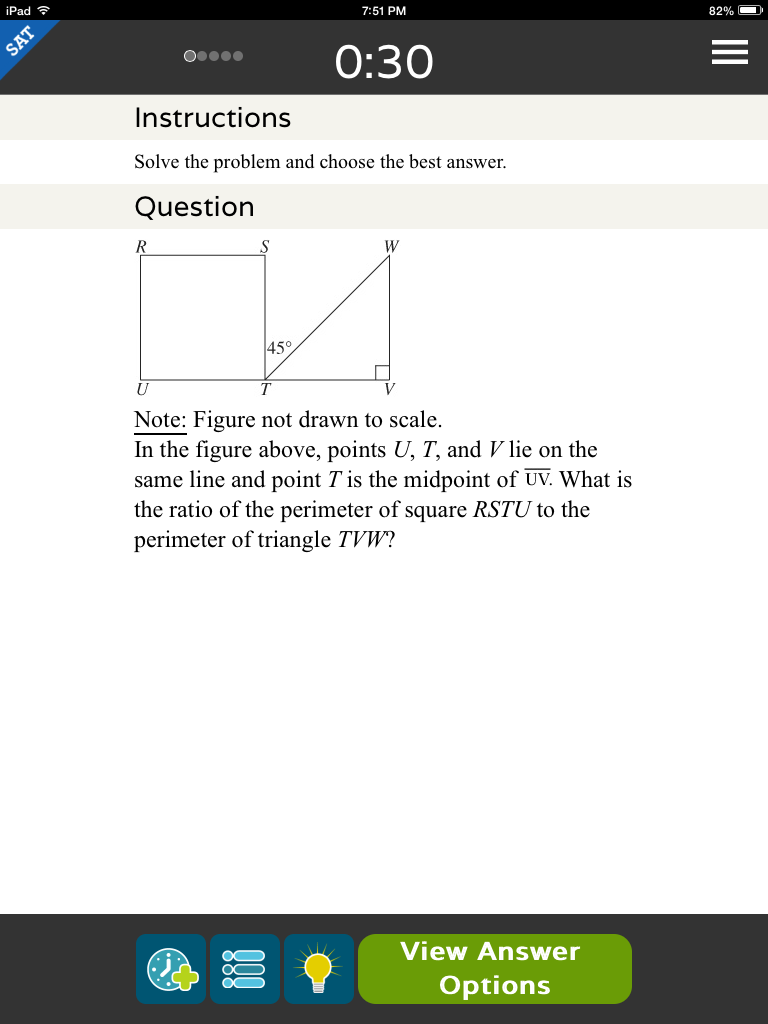 Holy moly, I forgot how hard math can be! I really feel for our youth who every year have to gear up for entrance, mid-terms, and final exams. If I had not known a math wiz who helped me extensively with my homework, I would not have made it through algebra, geometry, or trig, and I now only have a fuzzy idea of the rules (like the Pythagorean Theorem required to solve the above). I figured by now, one could use Siri to answer math questions, or at least the mega awesome MyScript calculator app (free). NOTE: Please do not try to use Siri or your iPhone/iPad during an exam, unless explicitly told you are allowed to do so by an authorized test administrator. If you are one of the unlucky few who are grinding through trig problems (or verb conjugation) these beautiful spring and early summer days, check out Play2Prep (free). It is designed to make getting ready for your next major exam fun and engaging. Mostly I found it to be quite ridiculously hard...but yeah, in a fun way I guess!
Master your iPhone in one minute a day:
Sign up to iPhone Life's Tip of the Day Newsletter and we'll send you a tip each day to save time and get the most out of your iPhone or iPad.
I am quite embarrassed to admit I got shellacked by Play2Prep. On both ACT/SAT five-question exams, repeatedly. Monster fail! My typical average was somewhere in the 40th–50th percentile. Not only did I get smacked down with just plain stupidly wrong answers, I often missed due to the darn time limit running out. I'm usually an overachiever when it comes to word comprehension, but you would have to speed read these questions to finish the sections and still answer correctly by the time the clock hits zero. Sometimes I would sit there and stare at the screen thinking, "Wait, I know this one!" Only to still get it wrong because of not picking the best answer! Ahh, the gamesmanship behind multiple guess tests. I had forgotten...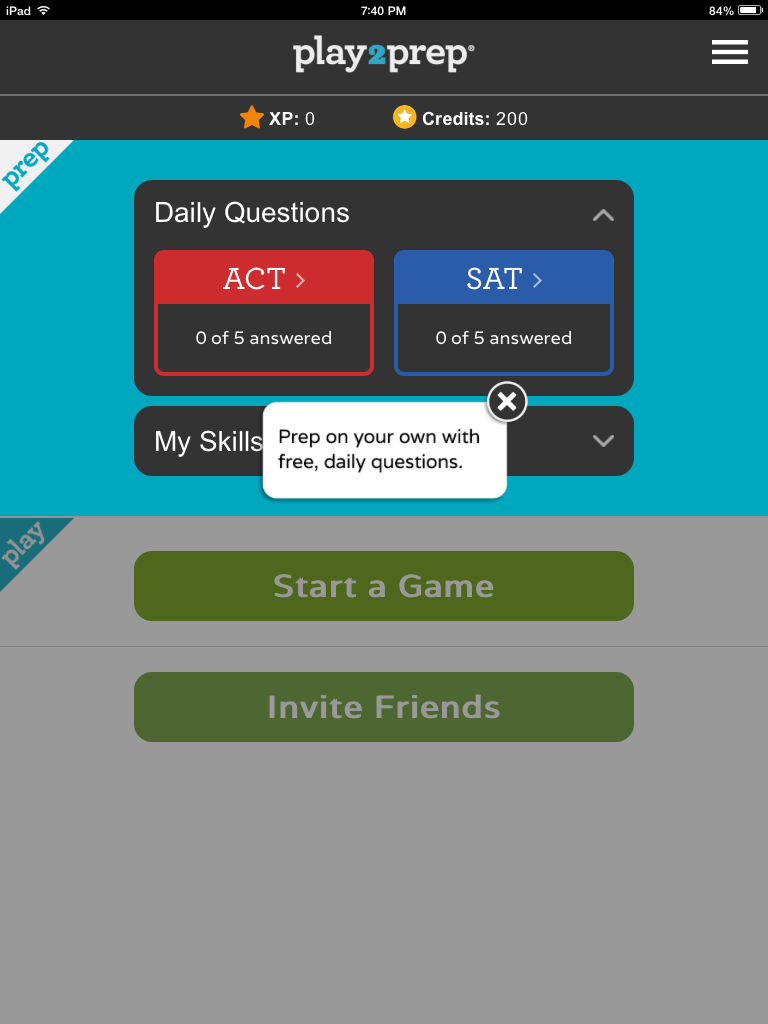 Play2Prep from an app standpoint is really quite simple, and simply one of the best test prep apps I have seen. The interface presents each question with a dreaded timer at the top—which starts at some ridiculous low number like one minute—and you try to fly through the question, mainly zeroing in on the main concept behind the question. Multiple guess tests (I am starting to recall how evil they can be) usually give away many clues about what the questions are really after in the wording of the answers, and the way the questions are asked. Part of gaming the test is to study with a tool like this, and be ready for those questions instead of freaked out by them.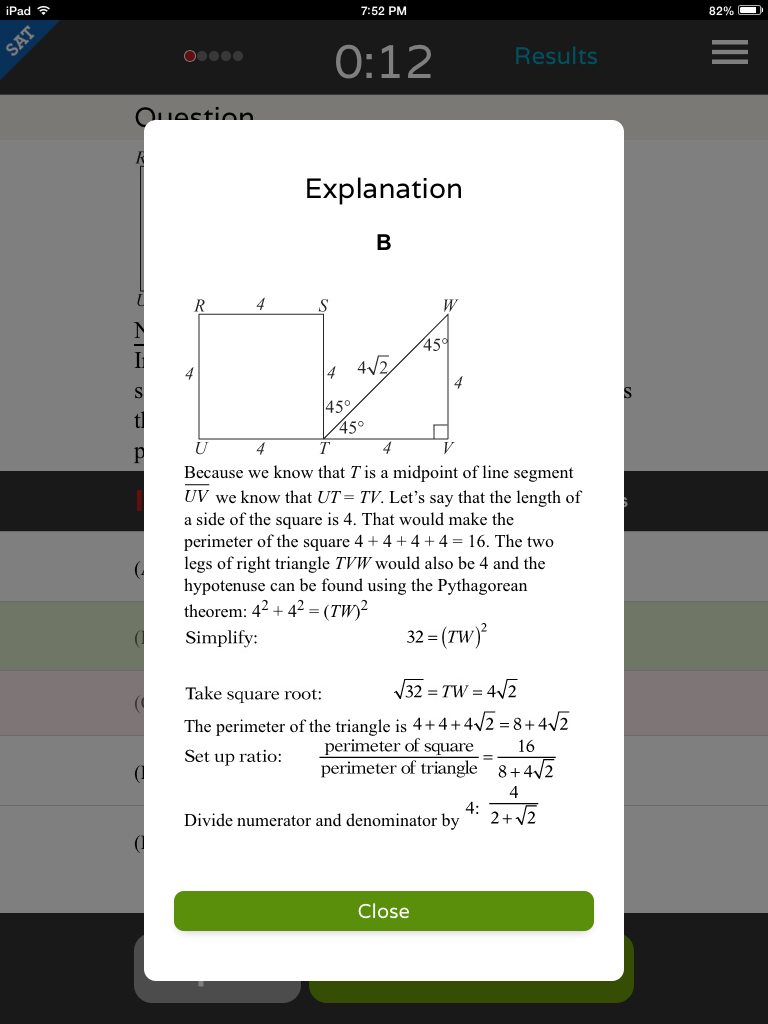 Play2Prep has a basic five-question local prep mode for ACT and SAT, or you can take it online and challenge friends. My favorite thing (particularly for the math problems) is the awesome way in which the app explains how to break the problem down and the best strategy to solve it step by step. It also reveals the main concept or topics being tested. I wish there had been a study tool like this back in the stone age, but then again, I guess there was. They were called nerds...
The Verdict
Play2Prep is a seriously great study aid for the ACT and SAT. I give it a huge thumbs up, especially for being totally free, ad-free, and sans in-app purchases. Grab it at the links above and be all Clint Eastwood steely-eyed when you walk into your exam this year!