By Nate Adcock on Sat, 06/16/2012
Finding a men's magazine these days that isn't jammed with male enhancement ads, mostly naked people or similar junk is not exactly an easy thing. Rebel is different from other men's magazines--a decidedly encouraging thing. If you are more about doing something positive in the world, rather than sitting on your couch staring at well, junk, then Rebel might be for you. The mag's app is a well-executed mashup of interesting imagery, cleverly presented articles and linked content. For a peek at how a nicely executed magazine could look on your iPad, check out the rest of the review (or grab Rebel here).
Master your iPhone in one minute a day:
Sign up to iPhone Life's Tip of the Day Newsletter and we'll send you a tip each day to save time and get the most out of your iPhone or iPad.
I admit to being old-school about magazines. I like the feel of holding the glossy pages, flipping to my favorite sections--paper mags don't require batteries, don't wash out in bright light and don't have to be turned off when the airplane door closes. I canceled my PCMag subscription when they went digital, partly because of Zinio, which was glitchy on my old PC. Mostly though, I just could not get used to what I considered a "non-magazine." iPad has helped to redefine digital formats, and of course you can read our mag via Newsstand (and you should) but I would still rather have a paper version myself. That doesn't mean I'm not stoked by Rebel's refreshing blend of inspiring multimedia and well-formatted digital content.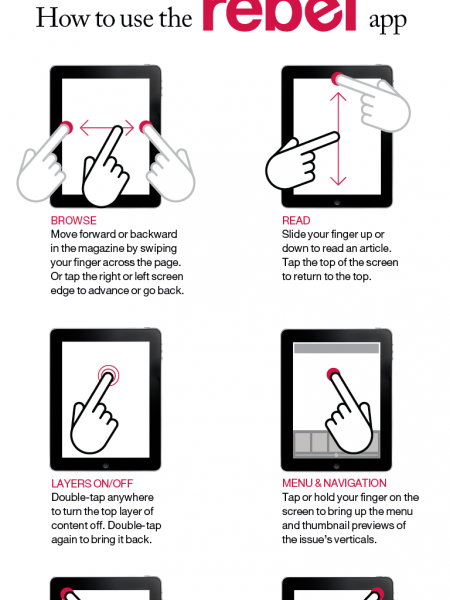 The cover page can be viewed in portrait mode on iPad, and though it didn't compel me much to do so, the app allows the cover to be viewed in alternate formats by swiping up or down. Most reading activity is executed thus by swiping up/down, or moving between articles left to right on iPad's screen. A single tap will take you to the main navigation menu system. The app provides a downloaded version that can be read off-line, or you can view "live" article content in a small pop-out window from the menu selections. As you scroll down through each article, the images smoothly transition with the text and often links (to Twitter, YouTube or other social sites) appear. A very compelling aspect is the magazine experience itself.
The more engaging article features include embedded video, and layered content--images with accompanying graphic layers that appear and turn off to simulate action. Quite well-done, the layouts and structure are first rate, and the magazine content is focused seemingly on men who either do something worthwhile in life, or one might say, articles written for them; in other words, uplifting stories or op-ed pieces commenting on the state of affairs from the male perspective.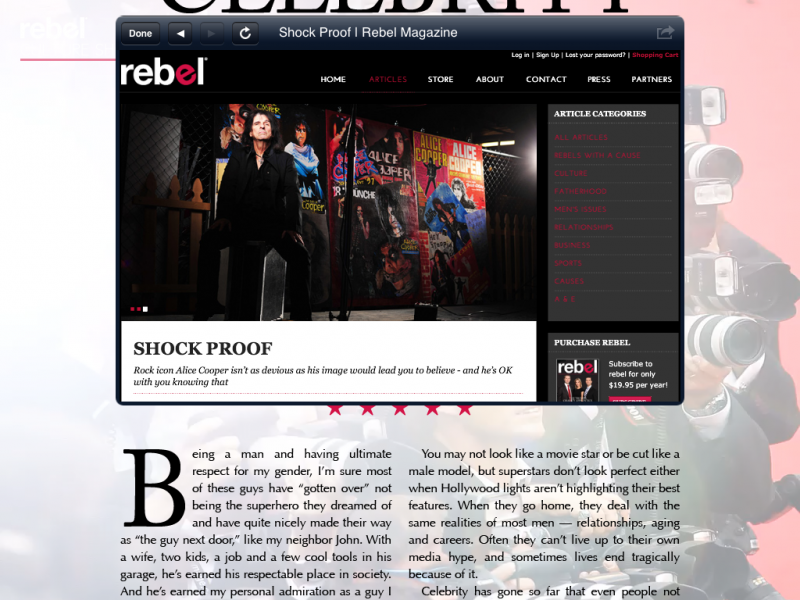 I really enjoyed reading a somewhat ironic piece about how legendary rocker Alice Cooper, who started his rock-n-roll career as a wild and demonic-acting frontman for what might be graciously called 80s shock rock, has now--while still that on-stage in his act--morphed into a church-going family man in his later years. Being an AC fan myself, it was like a breath of fresh air. Not the portrait some might expect of a veteran rocker, many of whom still try to hide their true selves behind some persona on-stage or off. Alice tells it like it is, and so does Rebel. The fact that he talks openly about his faith-based outreach to youth is amazing and heartwarming both. If I thought he was cool before (as a teenage rocker myself), my respect and admiration has probably increased 4-fold! Honestly, we need a lot more Alice Cooper's in the world, and more importantly, to hear their stories.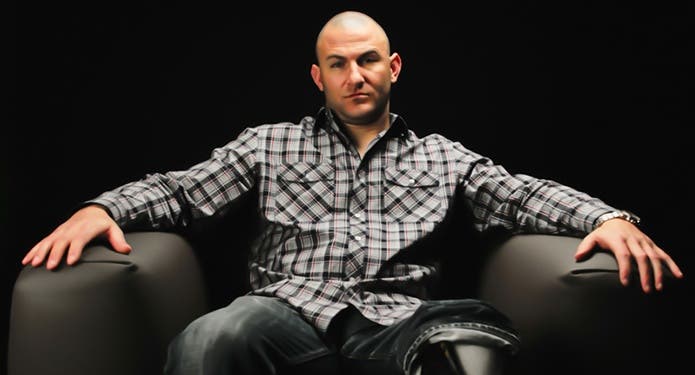 Another story about an Afghanistan war veteran, Anthony Ameen, who lost a leg and started a program to help similarly injured vets (Wings for Warriors) also touched a chord. You can check that out here. A story of how a poorly run govvie program (TSGLI) for our military (also participated when I served, and luckily didn't need) is not helping injured vets get the support they need. I should note that Rebel does it's part by donating 20% of ad revenue to non-profits like WFW.
So, should you subscribe to Rebel? I likely will. Be warned though, if you're looking for shallow and gratuitous content, you are not likely to find it in this mag. If you want to learn what good men in the world are doing with their lives, it's a perfect fit. I give it an A+ for both the app features, and the content contained therein. A few screens were a little twitchy when trying to move back and forth between pages, but for the most part it worked super well. I mostly loved everything about it, and as I stated earlier, I'm not a digital magazine fan. Grab it here.