By Nate Adcock on Sat, 03/10/2012
We have featured NextWorth in the past on our site, but it might be a good time to remind our readers getting ready to buy a new iPad that your old gear does not have to languish in the bottom of a desk drawer. You can get something back, and why not? You could use an old iPad as a paperweight, Frisbee, or jousting shoulder guard, but really, why not trade it in? You can get a quick, and easy online quote for it at NextWorth. Also while you're at it, you might look up all that other tech stuff you were going to put in a garage sale box marked "$5" 
Master your iPhone in one minute a day:
Sign up to iPhone Life's Tip of the Day Newsletter and we'll send you a tip each day to save time and get the most out of your iPhone or iPad.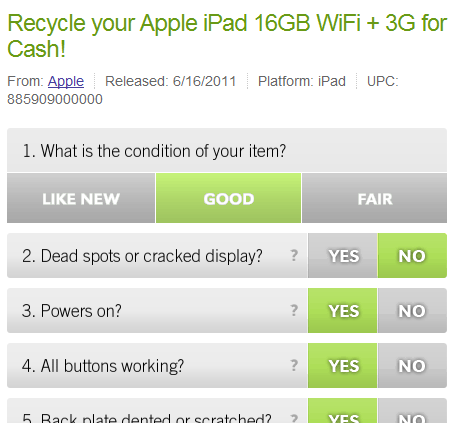 The process is easy, no login or account required to grab a quick online quote. Simply go to the site, select your gear, either through search or the category links provided. Click the appropriate description selections that accurately portray the condition of the item, and you get an instant quote from the site telling you how much your trade-in could garner. I was pretty blown away that the original iPad (with a minor ding on the back) could still bring as much as 110 smackers!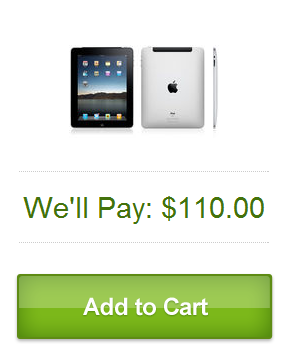 So don't wait, because typically the longer you wait, the less your electronics may be worth, unless you plan on keeping them so long that they are antique! Probably not smart for portable electronics--will there even be Li-ion batteries, WiFi or Bluetooth 50 or 100 years from now to prove the stuff works? Maybe, but not likely... I still have a working Commodore VIC-20 (from like 1980) and have seen them anywhere from $20 up to $220 (more than a used iPad). Anyway, you can send your gear in, or walk in to a Target to drop it off, and get a gift card or cash in return. See below for PR info and details.
*NOTE: trade-in values are time sensitive and can change.
******************************************************************
"NextWorth, (www.NextWorth.com), a leader in consumer electronics upgrades and trade-ins, is offering high trade-in values and a 21-day price lock to help subsidize the cost.
As of February 28, 2012, trade-in values on NextWorth.com for an iPad 2 in "good" condition (which is not brand new out of the box) are as follows:
iPad 2 16GB Wifi - $260.45

iPad 2 32GB Wifi - $294.54

iPad 2 64GB Wifi - $328.63

iPad 2 16GB Wifi + AT&T 3G - $308.18

iPad 2 32GB Wifi + AT&T 3G - $335.45

iPad 2 64GB Wifi + AT&T 3G - $396.81


NextWorth is also partnered with Target to offer an in-store trade-in option at more than 1,450 Target stores nationwide. For their trade, consumers either receive credit toward a purchase, or a prepaid Target card for the value of the trade-in that can be used for any item sold at Target. At NextWorth.com, customers have the choice of cash or a gift card when they trade in. NextWorth offers FREE, fully-insured UPS shipping service to all online customers.