By Nate Adcock updated on 01/09/2011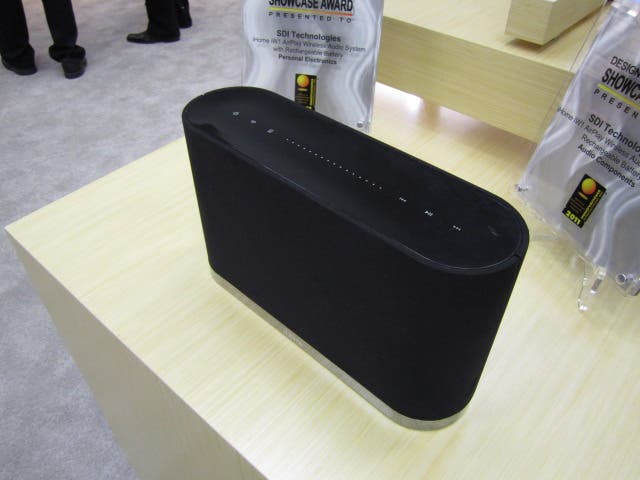 This year at CES, I am trying to stay in North Hall mostly and focus on the iOS-related vendors and accessories, and wow are there a ton! I was able to check out the latest and greatest audio accesories from Speakel, and iHome (Speakel details in a separate post). Last year, I  covered (pretty extensively) the Sonos S5 wireless audio system. iHome is coming out with a wireless audio streaming product based on AirPlay which is similar to the S5. With the iHome iW1, you can stream iTunes music wirelessly, including from on-line services (Pandora, Last.FM). I'm trying to finagle a demo unit from iHome to do a side-by-side comparison of the 2 wireless audio solutions.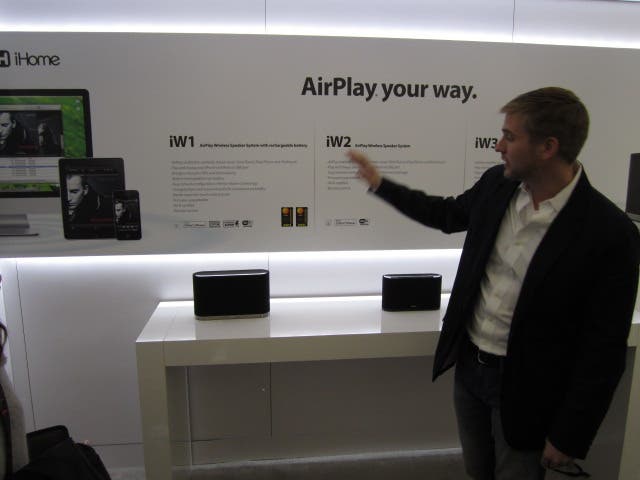 The iW line will feature 3 main products (the iW1, 2 and 3)  ranging in features. The iW1 speaker has a digital signal processing component that the other 2 models lack (coined "Bongiovi"), which is supposed to make your music sound much better in terms of dynamics (at least that was the impression I got). The demo unit sounded good (see YT video below), but hard to tell how it stacks up to other speakers without a more thorough test. The iW1 will retail for around $299 when it's available this summer...
Master your iPhone in one minute a day:
Sign up to iPhone Life's Tip of the Day Newsletter and we'll send you a tip each day to save time and get the most out of your iPhone or iPad.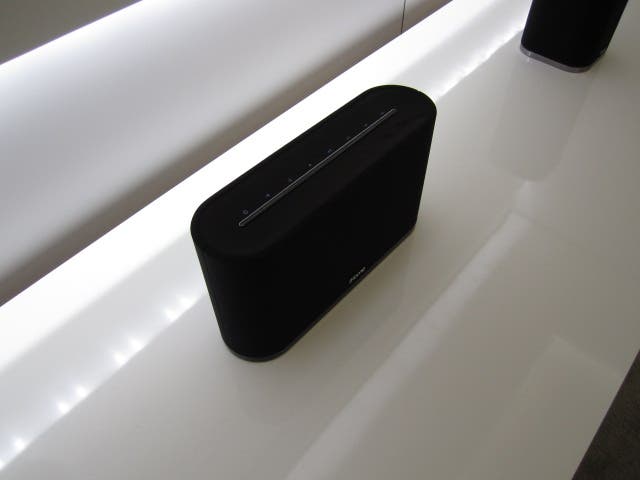 The iW2 and 3 are more compact versions of the iW1, and while having fewer bells-n-whistles, they all work with the free iHome+ apps (alarm and radio apps).  In addition to playing tunes from iTunes, the iW1 allows you to charge and sync iPhone, iPod or iPad. The speaker itself features a Li-ion battery so that you can carry it to any room of the house.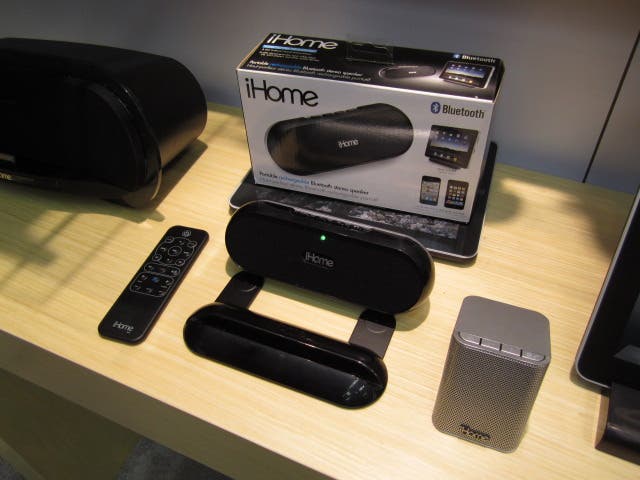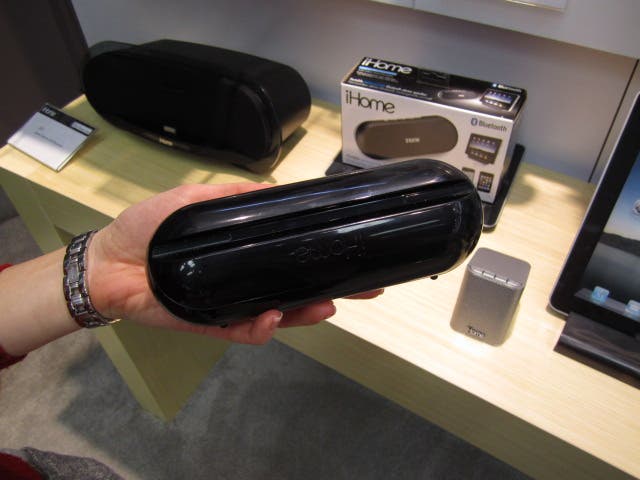 iHome has a plethora of great docks this year, and a room full were on display at N245 at CES. 2 interesting BT portable models that caught my eye were the iDM12 anmd 15 (see above/below). The 12 can be broken down into a kind of iPad station, while the 15 also functions as a BT speaker for incoming calls.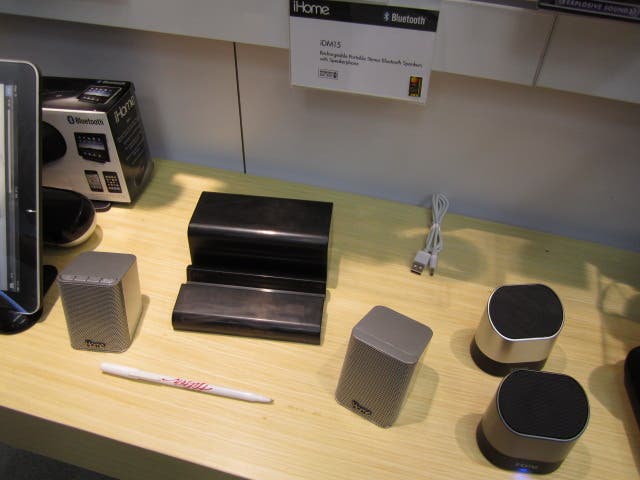 iPad-capable products are also in major abundance this year, and many of iHome's docks now feature a springy 30-pin connector, and recessed dock design to accomodate cases and the larger iPad. An interesting notion for a dock is the iPad stereo speaker lap desk (below). It provides sound speaker output and also added stability for typing or viewing while on the couch (see below)...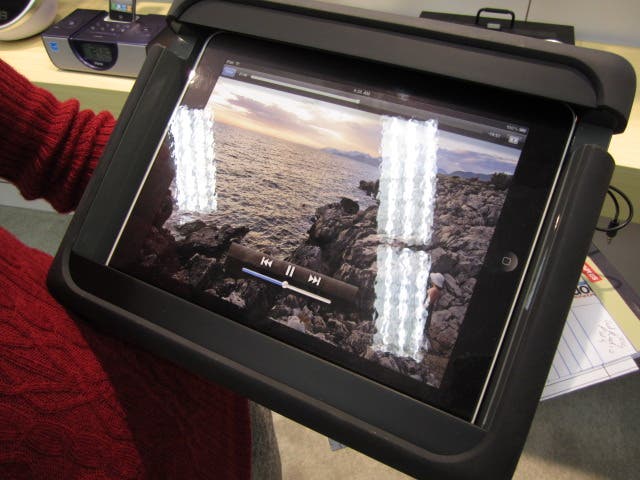 iHome of course, wouldn't be iHome without their staple of Alarm clock docks, many of which now support iPad connections, and use of iHome+ app features (iOS alarms to trigger dock actions). Being the big sellers, even the more standard-looking iD series now feature bigger (and better) control buttons/display and sleeker looks.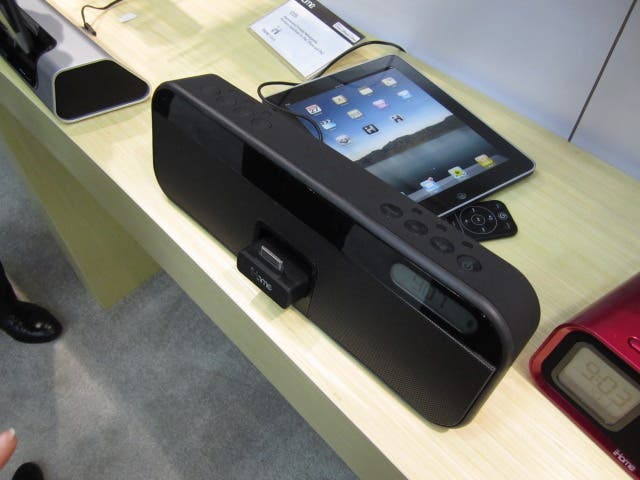 For iPhone and iPod users who may want to rotate the device to accomodate watching videos, there is the iA63 rotating dock. You can use the included remote to quickly rotate the viewing angle to landscape for watching videos, etc (see below).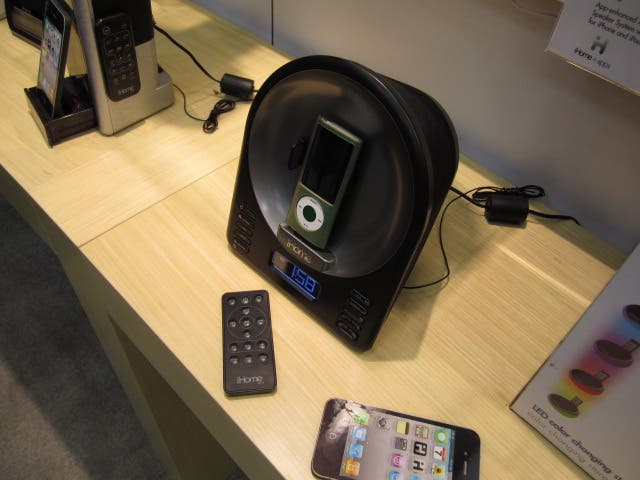 Other than the higher-end iW1 model listed at the beginning, most of the latest iHome docks will be available in the $50-$150 range (depending on features) sometime later this summer. Winners of multiple innovation and design awards, iHome was one of our top picks for our 2010 Buyer's guide, and you can get more iHome audio info here. Stay tuned to our blogs for more great CES coverage here at iphonelife.com!