By Nate Adcock on Thu, 02/28/2013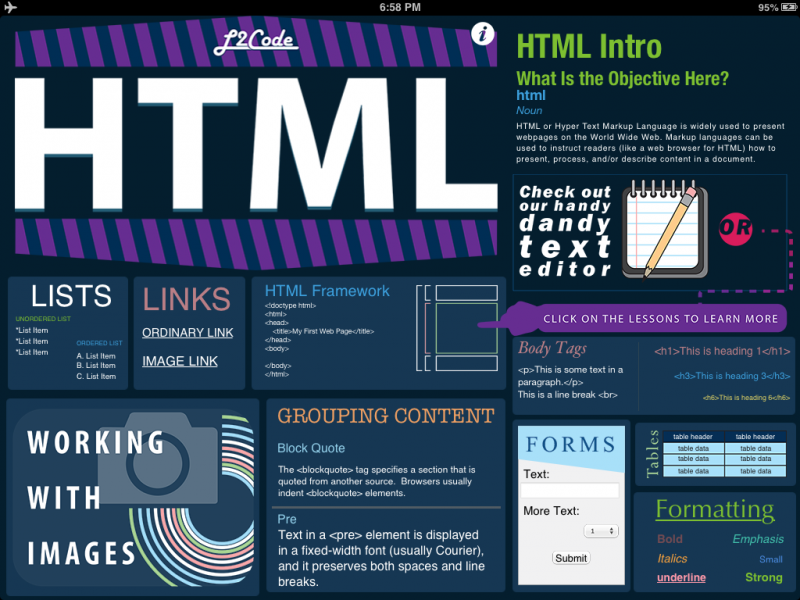 Like many information technology professionals, I've had to become somewhat proficient in basic Hyper Text Markup Language (HTML) coding. As a blogger, that basic knowledge often pays off, particularly when one of my iPhone Life blog posts doesn't look right. I have gathered several great tools throughout the years that help me write and test HTML, the fundamental code that tells your web browser how to present content. If you're looking for an iPad/iPhone app that can teach you the basics of HTML, check out L2Code HTML ($2.99). This intuitive tutorial app teaches you the fundamentals and also handily provides a color-coded text editor to make creating your own pages (or even formatting blog posts) as easy as pie!
Master your iPhone in one minute a day:
Sign up to iPhone Life's Tip of the Day Newsletter and we'll send you a tip each day to save time and get the most out of your iPhone or iPad.
HTML knowledge was required of web users in the not-too-distant past, but has been negated by the evolving framework of web services. Now, it's so simple to set up an already-prepared social network/blog site or page on the Internet that many have become blissfully oblivious to the basics of developing a webpage complete with text, images, tables, lists, and links. While social network sites make excellent-looking web content, they also make the users reliant on their services to format content for them.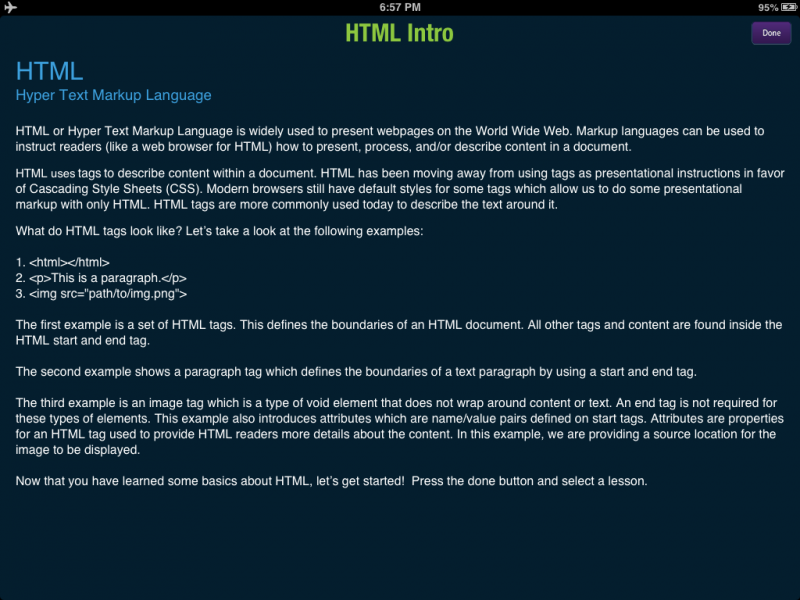 HTML is the foundation for presenting text, images, and embedded objects regardless of what web service you use. The cool thing about it lies in the simple and universal way you refer to objects using "tags." Fancy or complex coding is not required to understand and successfully create a basic page. Everything embedded or nested in the code of a standard web page follows the same basic layout with an opening and closing tag separating the title, head, and body of the document.
The L2Code app is a start-to-finish tutorial that helps you build, save, and share a basic webpage on your iPad and teaches you the fundamentals of writing HTML while you do it. If you just need a brush-up (as we all do occasionally) on how to use a specific tag — for example, how to add a list — you can browse the various HTML lessons. The tutorials also include fully explained examples.
My favorite feature is the built-in HTML editor, which has several tools that help you zero in on errors in your code (such as unclosed tags). The editor also includes macro buttons that let you quickly add common tags. I loaded this blog post as an example above. You can save your documents, export them via email, or preview your content to see what it will look like online (see the finished post below).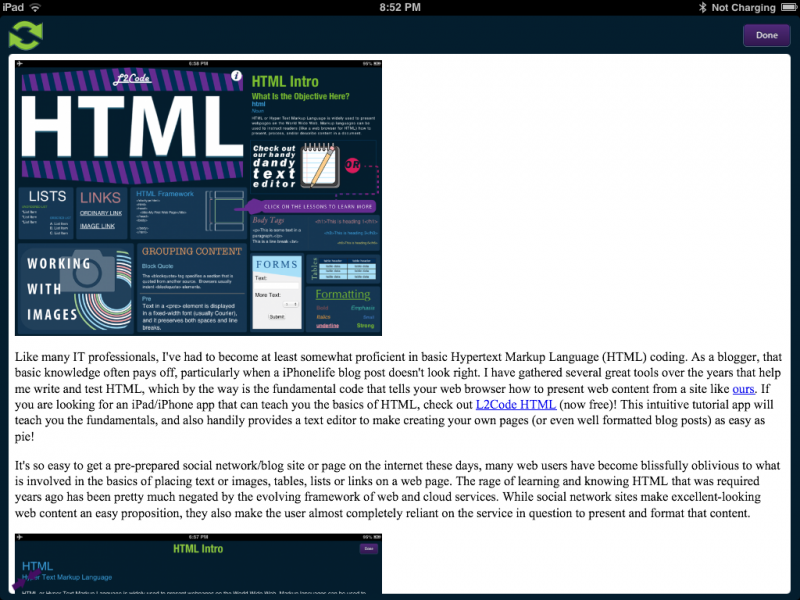 Since L2Code HTML is a basic tutorial app, advanced HTML users should look to other tools for more robust editing and content options, especially if they're looking for newer HTML standards or tag types. It would be cool if I could use the app to post blogs directly to our site, but I realize that's not the point of an HTML tutorial app. You can grab L2Code HTML at the App store links above!