By Nate Adcock on Fri, 08/31/2012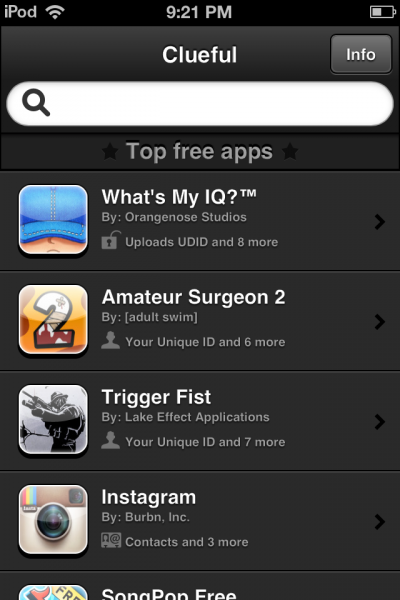 iOS security-related apps are not very prevalent, but that should not lull you into thinking that the iOS ecosystem is ultimately secure. You should always be aware of what your apps are doing behind the scenes with your data. Previously on the App store and yanked, but now a free web app, Clueful, from anti-virus paragon BitDefender, tells you what the top apps are doing with your data. It might surprise you to know just how many seemingly innocuous apps are tracking your location, phoning home with vital device info, or worse. You can use Clueful to check if that popular free game or fart app that you can't live without is invading your calendar or contact info without good reason, or sending your data in the clear!
Master your iPhone in one minute a day:
Sign up to iPhone Life's Tip of the Day Newsletter and we'll send you a tip each day to save time and get the most out of your iPhone or iPad.
To link Clueful on your Home Screen, simply navigate in Safari to www.cluefulapp.com, and a message will appear to prompt you to add the app icon badge. The main navigation panel let's you browse the latest popular free apps, or you can search out a specific app in their extensive database. You can also rate and comment on apps that have been reviewed. As it is a web app, you need to be online to launch it.
Most helpful is the ability to drill down and note details on each app--a good way to check if it is extensively sharing data, serves ads, and/or includes coding practices that attempt to track you or otherwise invade your privacy. Some apps obviously need to communicate some of your device information. You can use Clueful to discover if they use encrypted secure methods, or stop at simply tracking you.
Of course, you can ultimately control some app behavior like tracking in iOS settings. I would warn that Clueful may not be 100% accurate in it's assessments, and also important to note that more recent versions of iOS have dealt with some previous security concerns. I recommend using it as a tool. If you, like me, are concerned about apps behaving badly, do some research in the app store reviews, and on blogs like iPhoneLife, before installing them. As a second line of defense, install Clueful's web app shortcut, and take a minute to find out more. You want that next free game everyone else is grabbing, sure, but assess the risk of what it does behind the scenes with Clueful!