By Nate Adcock updated on 07/27/2014
Inateck is a tech accessory company that offers computer peripherals like wireless adapters, mobile charging solutions, and PCI interface cards. They also have a selection of compact and affordable Bluetooth speakers, and recently sent us charging gear and speaker samples to check out. We gave them a go...
Master your iPhone in one minute a day:
Sign up to iPhone Life's Tip of the Day Newsletter and we'll send you a tip each day to save time and get the most out of your iPhone or iPad.
I received and tested the Inateck BP-2001 ($29.99 on Amazon) portable Bluetooth speakerphone along with a UC-4002 ($18.99 on Amazon) USB charging base. The 10 watt BP also doubles as a handy stand for your iPad or iPhone and sports an 1100mAh battery. The Bluetooth interface is the older V2.1 + EDR, but for a simple wireless speakerphone accessory, provides the important features. The major updates to the BT standard in recent years have focused on data rates and power consumption.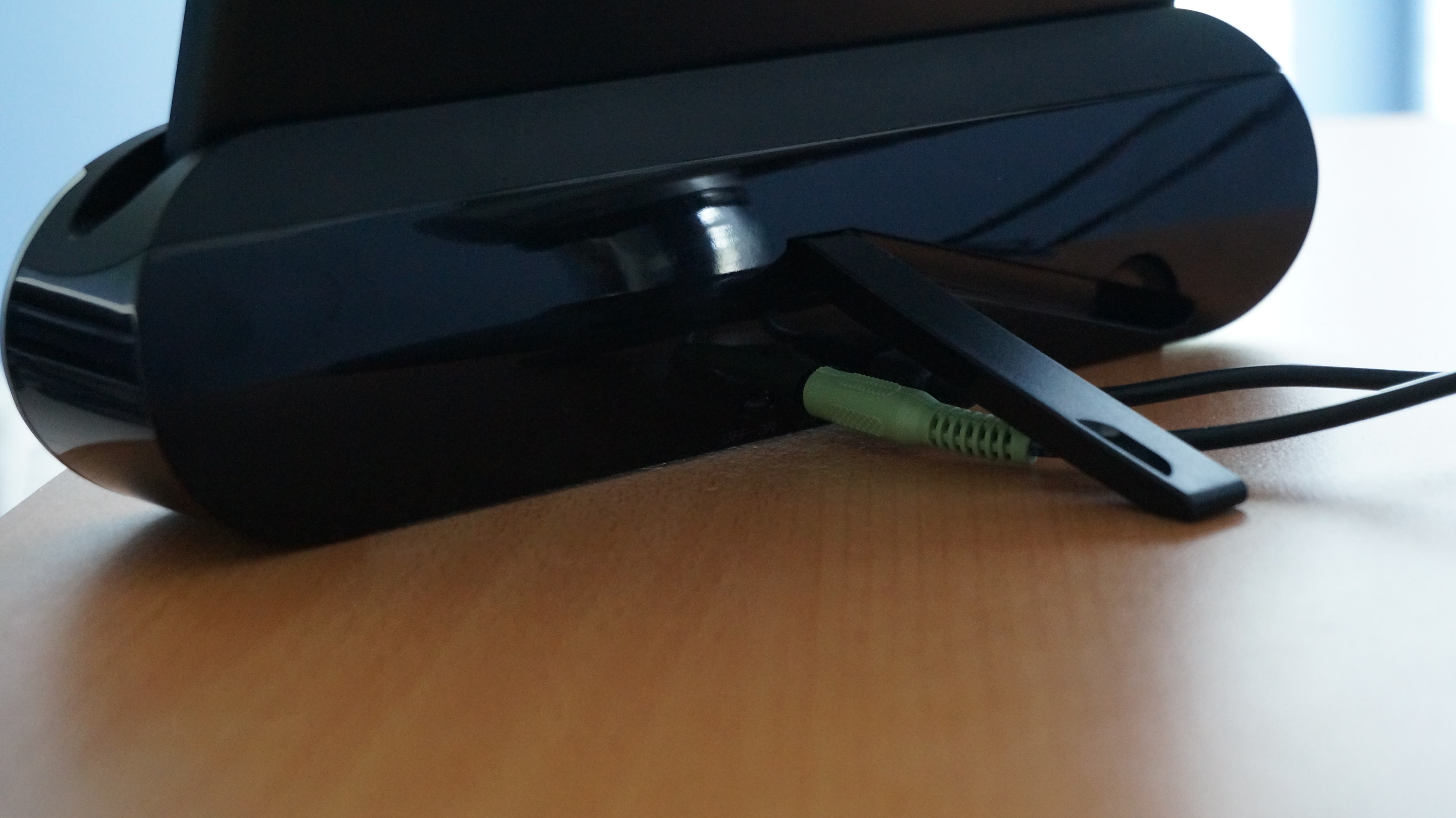 The BP-2001
The speakerphone includes an aux-in port that makes it almost universally compatible with any of your sound-producing gadgets, even ones without Bluetooth. I connected my computer with the included 3.5mm cable, and thus was able to enjoy audio from my computer and iPad (not at the same time, of course). A single button on the front allows one to switch audio modes, control calls, and pause or play music. The other ports and controls on the back include a Micro USB charge port and a hard power on/off button. A flip-out stand on the back keeps everything stable when you have a tablet on top.
I had a few challenges with the BP-2001. First, when I initially used the aux port, I could not get it to the right mode to play (from aux). After I was able to get the speaker playing, it was initially plagued with loud static. I tried reseating the cable, unplugging the charge connection from my computer, but could not clear the static until I shut the unit down and turned it back on again. The static returned a couple of times during my tests, but I could not isolate the cause. It is possible it was unique to the review unit I was sent. I verified the audio cable (or PC) was not the culprit.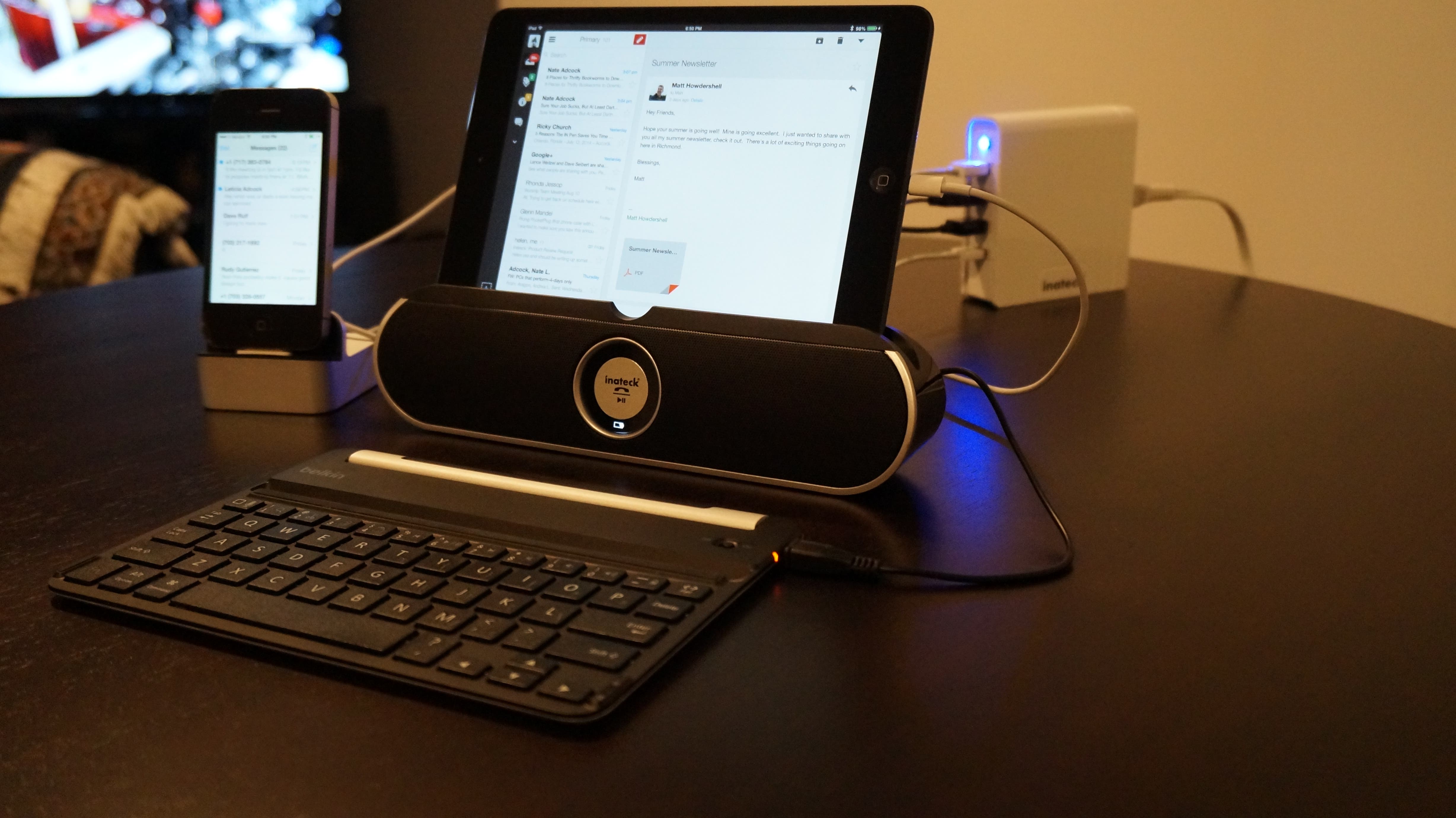 The BP performed as one would expect of a small lightweight speaker using Bluetooth with both iPad and iPhone. Sound quality was challenged at higher volumes, and low tones were repressed. Some bass boost or signal processing would help the BP. The speakers work well at a medium volume, but start to expel distortion at higher volumes. The BP would be okay for small office speaker duty, but I would look for a higher quality speaker if I wanted audio fidelity at higher outputs. As a speakerphone accessory, the tone and quality was acceptable, and the person on the other end reported that my voice came through clearly when I got close to the speaker and spoke into it. The range of the unit is about normal for a low-powered BT portable device, and I didn't experience drop outs until I was around 20 to 30 feet away.
UC4002 Charger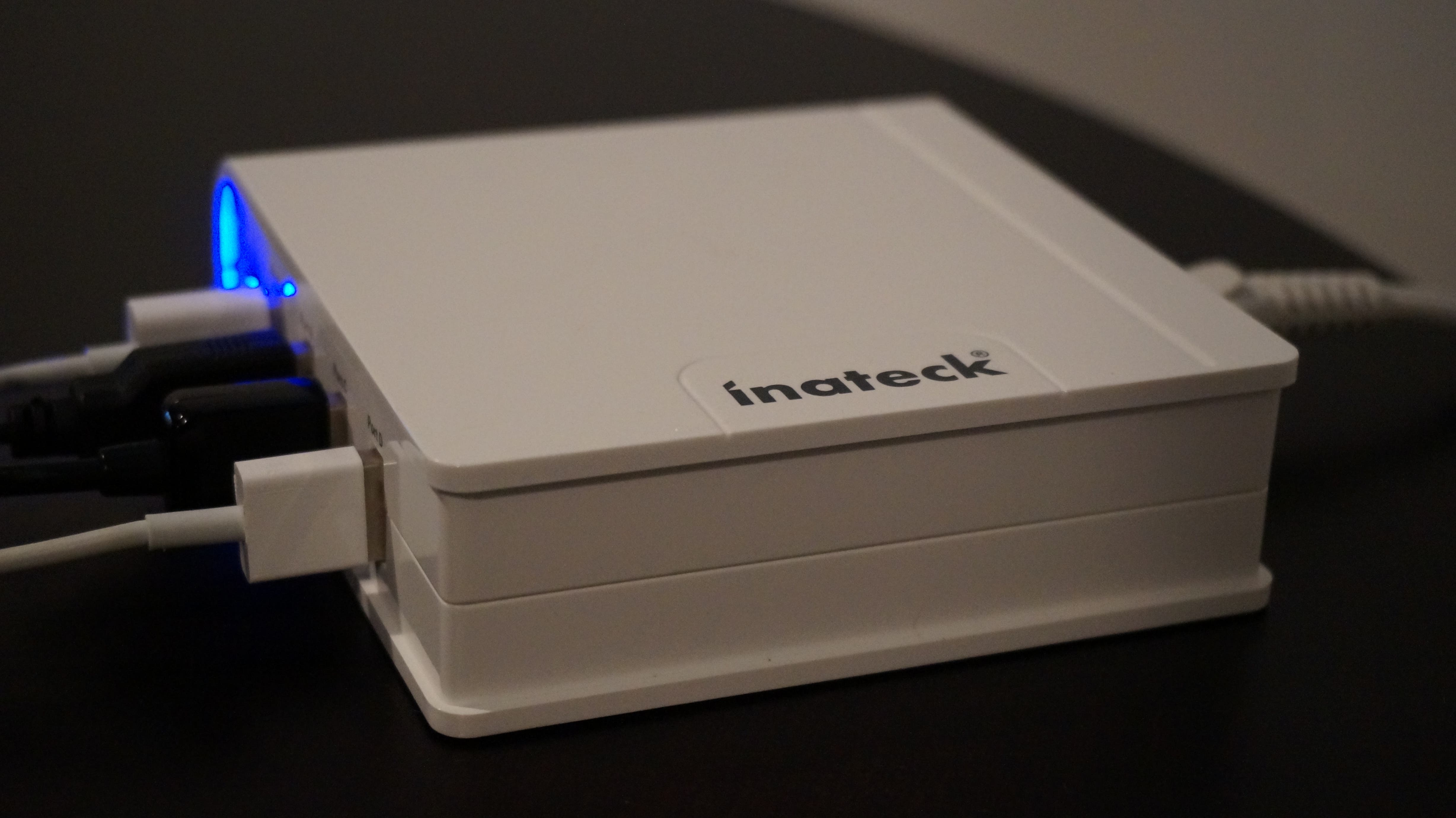 The Inateck UC-4002 is a basic plastic USB charging base with 4 USB ports. It charges up your gadgets, but doesn't have any other functions (like being a hub, for example). It does have the ability to smartly detect the charging input voltage required and adjust charge accordingly. The UC was helpful during this review to create a fully powered iPad workspace, topping up the BP, my iPad mini, iPhone, and keyboard. The power unit worked well during my tests, which included topping up two tablets, and two iPhones in parallel.
The Verdict
I give the Inatuck gear an average but overall positive rating compared to other similar charging and sound products I have tested. They will work well for a space-challenged area like a small home office or cube farm, where you would want a little sound and power to fuel and support your gadgets without worrying about high-end output or features that will cost a lot more. You can get either the BP or UC devices at the links above.