By Nate Adcock on Sun, 01/16/2011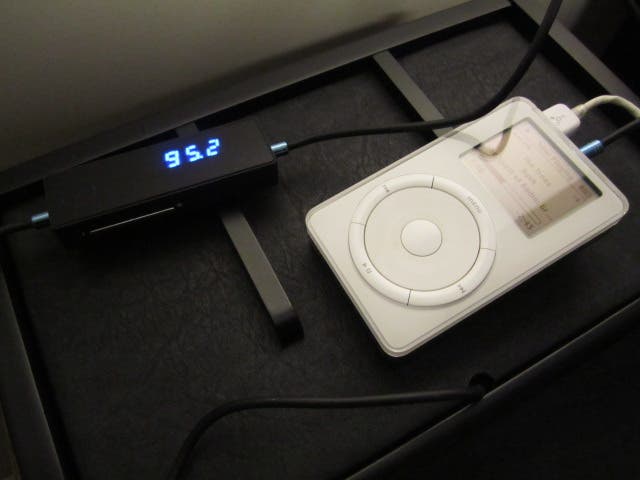 The AutoCon FM transmitter from iKit is a good idea. An FM transmitter that gives you control over your iPod or iPhone through a small touch display with added handsfree features would be great. So far, I cannot seem to get the iKit to do many of those things very reliably, and the product comes with little documentation, nor could I find any support on the web-site.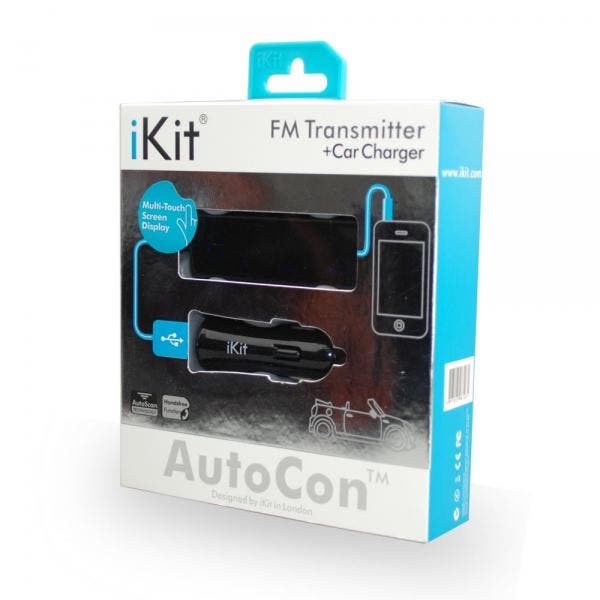 First I tested the AutoCon indoors at home and out in my car. The very tiny amount of documentation that comes with it (mostly graphics) indicates you can use the device to send audio signals from your handset to an FM stereo. It is a good-looking product, with a sleek, black screen. To call the tiny 2 inch area a "touch screen" really stretches the definition, but yes, the display is touch sensitive, and offers call, play/track controls. It also has two buttons that I mistook for volume control at first. One of the buttons did nothing. The other would cause the frequncy to change. The radio freq the AC is transmitting on is indicated by attractive blue-lit LEDs. The kit comes with a USB car charger.
Master your iPhone in one minute a day:
Sign up to iPhone Life's Tip of the Day Newsletter and we'll send you a tip each day to save time and get the most out of your iPhone or iPad.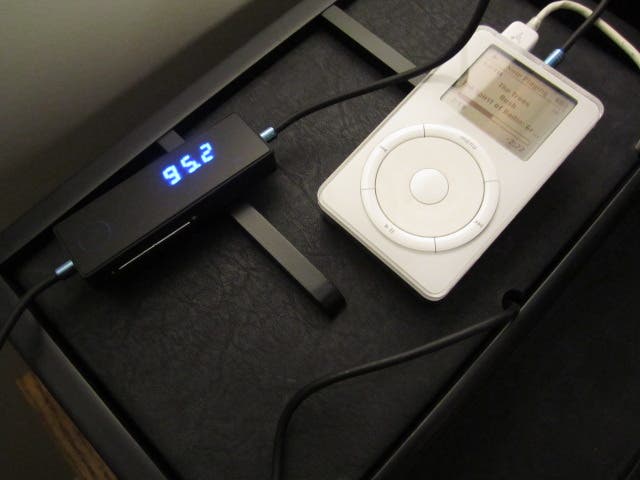 Since the transmitter is USB powered, you can use it at home as well. Actually this can be handy for sending audio from older devices to your stereo wirelessly--like from my 1st Gen iPod shown above, which I no longer can find docks or similar gear for. In this case I used my Sony Dream Machine (with iPod dock) as the receiving FM stereo. I had to manually select a freq to finally get clear music to my stereo from either ipods. Though the AutoCon indicated 95.3 on it's display, that FM freq would not tune in anything but static on my radio. I had to set my radio to 92.9 to pick up the signal, which was strong and clear.
A problem with FM transmitters in general, including the iKit, is the distortion factor. You have to lower the device output markedly to prevent distortion (which means you have to compensate by upping your stereo levels). When you then tune to another station or a different input type, wham! You blow out your eardrums, speakers or both. I had hopes this device might also auto-set levels and account for this, but it didn't. Any elevated bass also typically sounded distorted. The cable connections invariably over time (being jammed in glove boxes, etc), start to cause intermittent static through wear and tear, which also occurred with the iKit product (even though it's new). If I put pressure on either connection side on the cable going into the controller part of the unit, I would get a burst of static, or loss of signal. 
I also tested the iKit with my new iPod touch 4G. With the older iPod I could only listen to tunes, but with the new iPod, I could pause/play and move between tracks, which worked only so-so (did not test my Nano, but the iKit site says almost all iPod models are supported). The screen was not that responsive, requiring me to tap more than a single time to activate fuctions. While I don't have an iPhone, I did use it to connect to my Blackberry phone, and it seemed to work pretty well with it, but of course the hands-free function did nothing. I will test it with my son's iPhone when I get a chance to see if it fairs any better.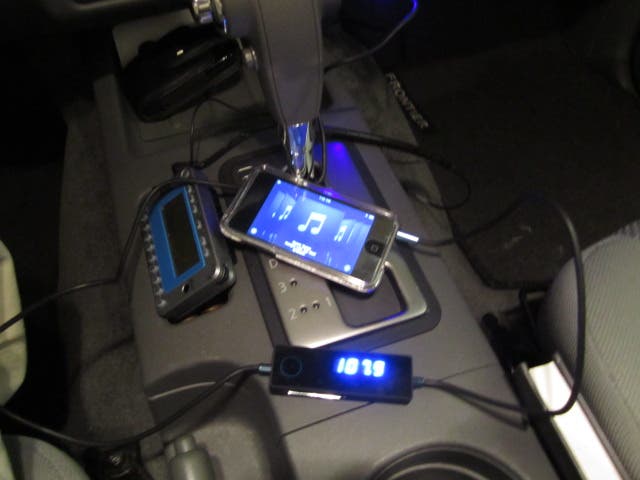 The in-car experience was not very good either. First I connected the car charger to a socket in my vehicle and plugged the transmitter into that via the AutoCon's USB plug end, and plugged the 3.5mm audio jack end into my iPod touch 4G. I started a podcast documentary from the BBC, hoping everything was ready. I started my car, and the transmitter powered up.
It went to FM frequency 107.9, which I guess was the "rapid scan technology" selecting a clear channel. I tuned my radio to the same freq and connected my 4G ipod touch. So good, so far. I almost crashed changing tracks, because at first it did nothing, and you need to hit exactly on the button areas of the screen, I guess. When I tried turning up the volume (at least what I thought was volume), the AutoCon instead switched to a new freq. I tried using the "-" button to go back to the original freq, and it did nothing. When I pressed the + button it didn't scan through freqs, but moved one point at a time. Pretty horrible, but holding it down did cause a rapid scan of sorts (bursting through freqs until you let go). By reading through the sparse docs that came with it, I surmised finally that you have to hold down both buttons. Really...both buttons? This is handsfree? My 2G iPod touch also did not work any differently (shown above).
I'm not sure the AutoCon is yet fully ready for release. Maybe iKit should cook this product a little longer... though it is possible I received a defective unit to review (which can happen). It is both good looking and a good idea, and it sends FM audio signal to your stereo, no doubt, but it did not work well enough in my testing to recommend it at this time. Especially at a $45 price point (here at iKit.com). If you just want it for trasmitting FM stereo (and not the other features it purports) it can do that, but so does much cheaper alternatives with more and better features.