By Nate Adcock on Sat, 11/20/2010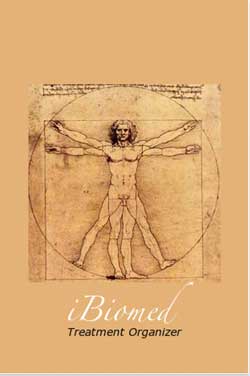 Many of us blessed with good health probably can't imagine the mind-boggling amount of information that must be kept constant track of when caring for a special needs patient. The myriad medications, allergies, and vital health stats must be vigilantly maintained, and a simple mistake made under this strain can be catastrophic for a loved-one. Designed by a physician and his wife (parents of a special needs child), iBiomed makes this gargantuan task much more manageable... You can grab this valuable app for free at the link above. I posted up the full list of features and press info below--a compelling story behind this app, so please read on...
Introducing the NEW iBiomed App...
iBiomed is a free native iPad iPhone and iPod touch app for people with medical conditions that need constant attention and requiring complex treatment regimens. iBiomed gives you the tools you need to manage medication, therapies, nutrition, supplements, allergies and more. Regardless of how complex the amount of information you need to manage, iBomed keeps track of it all, and puts it at your fingertips.
Master your iPhone in one minute a day:
Sign up to iPhone Life's Tip of the Day Newsletter and we'll send you a tip each day to save time and get the most out of your iPhone or iPad.
iBiomed, now available in the app store, allows you to email full patient information to health care providers, or anyone you would like to be apprised of the progress of the patient including histories and reports. This is all done within the iBiomed app. For the caregiver, the app provides push notification reminders of when to give medication as well as recording when the medication was given and when the next dosage should be administered.
IBiomed also offers a health forum designed to post messages about your patient's condition to our health care community using push notification of received messages. The mobility of this App also allows hospital staff instant access to vital health information about a patient upon an emergency.
 A caregiver can also review a treatment history and create customizable charts and graphs to track progress or regress.
iBiomed was inspired and personally built by my husband (who is also a local Physician) and I. We are the parents of children plagued with Autism, Seizure disorder, Asthma and Allergies. This App came about because of a personal necessity to support our children's healthcare needs. Although this was a personal undertaking we believe that many other families would benefit from this functionality. iBiomed is very much a grassroots movement and we need your help to spread the word.
We hope that iBiomed will help will lessen the work of caregivers in managing the treatment of their patients.
iBiomed was specifically created with the intention of:
Easing the organizational burden on caregivers and creating a credible flow of information between families, schools & healthcare providers.
Creating a community of families/individuals, vendors and caregivers with patients.
iBiomed's Features Include:
1. Treatment Log Book:
Keep detailed records on the go with a mobile logbook for Prescriptions, Supplements, Therapies, Diets, Allergies, and Tests.
2. Add Multiple Time Stamped Notes to each of the above treatment items. Your Notes are easily searchable.
3. Manage the Treatment of as many people as you'd like as a portable electronic medical record.
4. Treatment Journal:
Keep a Journal or Daily diary for each person whose treatment you'll be managing with iBiomed. The Journal entries are time stamped and easily searchable. e.g. foods, behavior logs or side effects and reactions.
5. Treatment History:
Review your treatment history of tests, supplements, diets, therapy notes, behaviors and journals. You can also edit past log entries, including test results. If the test results are numerical, you can easily differentiate between normal and abnormal values.
6. Treatment Reminder:
Treatment alerts to help you remember to administer supplements, medications tests and even Therapy sessions and medical appointments.
7. Share Treatment Information:
Share details of your treatment plan with family, health professionals, therapists or nutritionist by email. iBiomed can automatically generate an email summary of your treatment plan and treatment history by date range.
8. Supply Tracker for Rx & Supplements: Lets you know when you should reorder a prescription or Supplement.
9. Health Forum with "Smart Topic Filter" and Push notification to your mobile device: Now all your forum questions & answers can be accessed on your phone. It is also a so a great platform for parents and healthcare providers to interact.
10. Customizable Graph to track just about anything a person wants to watch closely; from symptoms to behaviors, appetite, sleep, or anything you want to track.
11. Available for online use at biomedprofile.com End of November 2010.