By Nate Adcock on Sat, 02/12/2011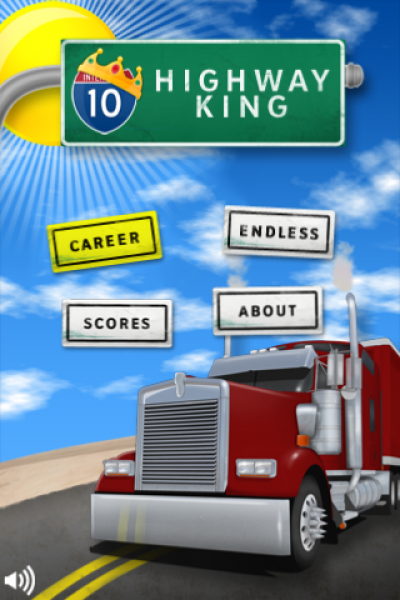 I tend toward the action/shooter genre of game probably more than any other type, but once in a while it is fun to do nothing more than steer big rig trucks around the screen. Ah, the mindless, harried nature of the time killer game, be it tower defense or whatever, is not unheard of on my iPod. Highway King adds a drawing element to this kind of game, but if you can't trace out basic shapes on the screen of your iPhone or touch, you might have some frustration (like I did).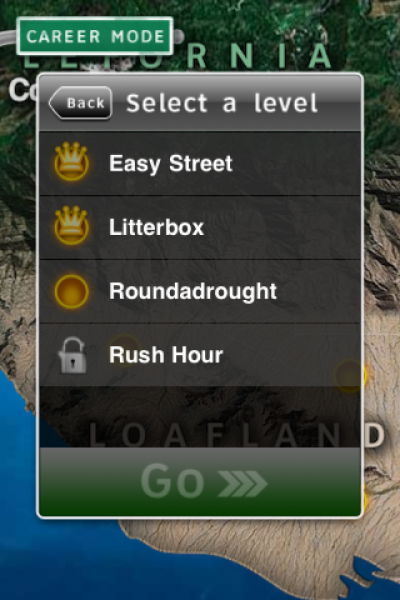 The basic idea: Trucks come out the edge of the screen. Your job: steer them (without hitting obstacles or other trucks) to drop points or gas stations, and back off the screen. Sound simple? It should be, but it isn't. It is actually hard. I could not handle more than a couple of trucks at a time without causing a collision. It was not pretty. I was getting miffed, honestly.
Master your iPhone in one minute a day:
Sign up to iPhone Life's Tip of the Day Newsletter and we'll send you a tip each day to save time and get the most out of your iPhone or iPad.
Probably the coolest thing (and it's bane) about Highway King is that you have to direct traffic by drawing on the screen. It is also it's bane because the road is tight (on the small iPod screen, anyway), and the trucks are long, and a small misdraw of the line will result in them smashing into one another. My other minor gripe is that the truck doesn't stop when it gets to the end of the line. It keeps right on going in that direction (over grass, median strip, whatever).
If you can vector the trucks safely to a rally point like a gas station, they then stop, but you can't keep them there forever. I could not effectively play this game more than a few minutes without crashing. Crashing ends game. One crash...that's all you get. One shot to keep multiple trucks coming from several sides of the screen at once from hitting something...right! The graphics are nothing super fancy, but are pretty well-done, and the opening screens and menus are also decent. At least one cool in-game feature I should mention. I like that when the trucks get close to one another, a small reticule appears on the screen alerting you to the location of the potential crash.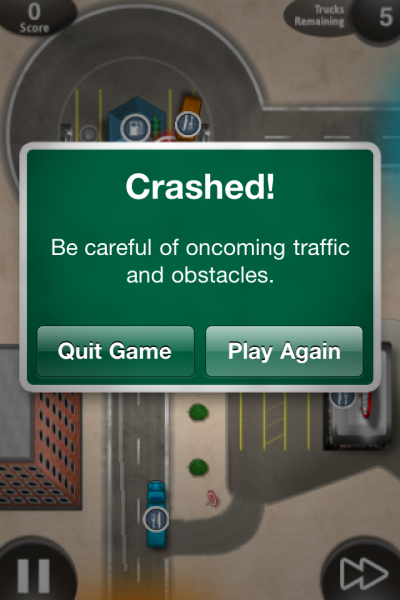 So, when I started this review, I was going to say I thought HW King would be a great game for like younger kids (help improve basic drawing skills?), but am now thinking it would be pretty hard for a small child to master this. I could defn see the iPad being a better platform for this kind of game (with it's fabulously larger screen), but it is a bit scrunched on the iPod to enjoy, and I think some tweaks could make HW King much better. Here is a short list:
1.  One crash should not end the game. Maybe the trucks should be delayed for a few brief seconds, but game over is a pretty harsh constraint.
2.  The trucks should be allowed to stop at other than specific points (Maybe include a few widened shoulder points along the route).
3.  The course is literally what you see on the screen. This could be expanded to include interstate running between towns, etc. (not sure how you would implement in the game logic or engine, but would defn make the game more interesting). Maybe I just have not scored well enough to reach this mode.
So, my verdict is that I really like the concept of this game, and it is fun to play. But because I suck at it, I would like the developer to make it easier for me to play it. Yep, that's what I said... I'm kidding, of course. I think Highway King is a pretty cool game that could be a downright awesomely addictive one with just a few tweaks. You can grab it here at the App store for just 99 cents.