By Nate Adcock on Thu, 01/20/2011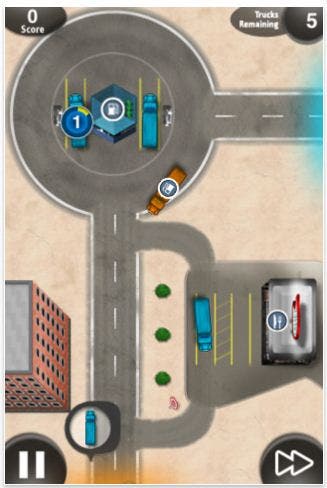 Just released on the App store, Highway King, a new time management game that puts you in charge of a trucking outfit! Developed by a team of university students, the game requires you to manage and vector a fleet of big rigs safely to their destinations. Get it on the App store here, and look for my review coming soon! Read on for more game play info from the developer...
"Highway King...a time management, strategic line drawing game. Features career mode, and endless mode. You need to beat each level in career mode to unlock them for endless mode. Career mode gives you a set number of trucks per level. You need to get each truck to it's specific stop or multiple stops and then off the screen in it designated direction. Orange trucks go to orange, blue to blue. The trucks spawn as you play and your job is to get them clear of the level with out wrecking them into each other, buildings, or bushes. At any given time you could have 10 trucks on the screen depending on how you play the game..."