By Nate Adcock on Fri, 11/05/2010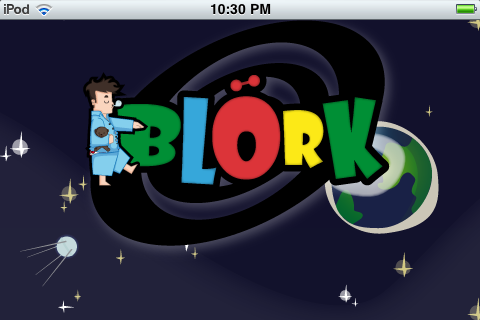 I have played some offbeat games in my day, but Blork has to take the prize as one of the oddest, but also amongst the coolest (at least in terms of concept)! Not over the top on steroids cool, maybe, but understated cool at least! It's currently free in the App Store, so won't cost you a thing to experiment a bit if you want to try something a little different.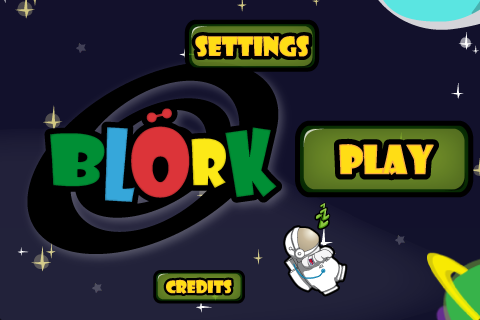 The game was developed by a group of students at Supinfogame, which is a game development school in France ( Blork is a course project). The concept was for a move/jump scroller (think Donkey Kong, albeit a more sedate version). They twisted the traditional concept by having you control the landscape instead of the jumper. The result is Blork. Blork is tiny by app standards today at a meager 9MB. I had no huge issues running it on my 2G iPod touch (iOS 4.1), though there are some game quirks I noted. The startup screens lagged somewhat on my 2G, but once the game was loaded, it ran fine. It froze at least once during play though.
Master your iPhone in one minute a day:
Sign up to iPhone Life's Tip of the Day Newsletter and we'll send you a tip each day to save time and get the most out of your iPhone or iPad.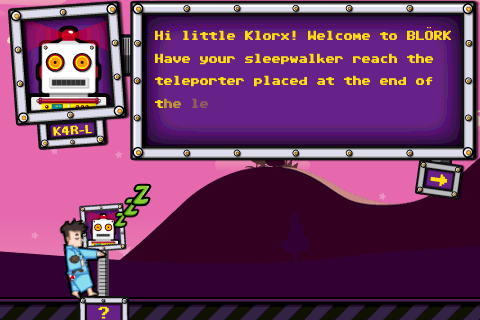 The concept is original, at least to my mobile gaming experience. Instead of controlling an active character that runs and jumps around the screen, you instead control the orientation of the landscape that the character is moving through (via tilting). The character appears to be a sleepwalking abductee being guided through what I surmise is an alien world. As long as you keep his progress controlled and balanced he will stay in his trance. If he gets off-kilter, he will tip over and you risk waking him up. If he wakes up, he does what any of us would probably do and loses it totally (which means game over).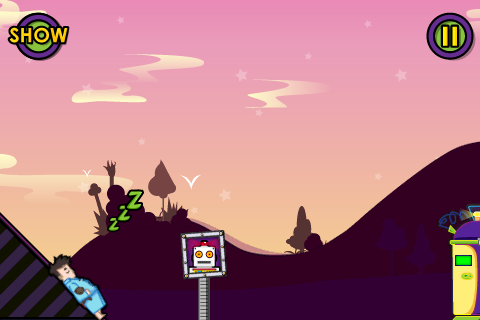 The game is pretty forgiving in the early levels and even if he falls over, you can likely get him back upright by tapping him. There are also sleeping-pill power-ups to keep him blissfully unaware of his surroundings. The in-game tutorials help you understand how to master keeping him ambling along, though I must admit I keep getting confused on steep grades, and usually end up causing him to flop onto his back. It doesn't seem that he can be made to go backwards.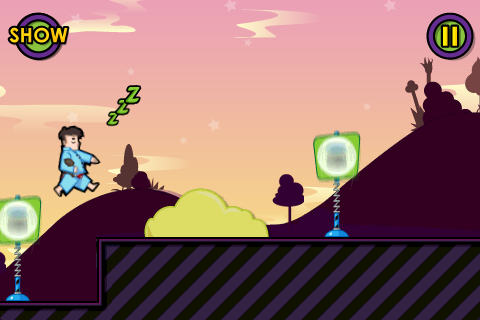 Jumping is accomplished by rapidly jerking the iPhone/iPod upwards, and requires a bit of patience to master. Jumping to higher structures is weird, because the orientation would sometimes shift so that the character was actually walking on the wall. I wasn't sure if this was a game feature or a bug. Sometimes the character would even seem to fly sideways in this manner over obstacles. Besides keeping the sleepwalker upright, there is the occasional monster to zap (by tapping).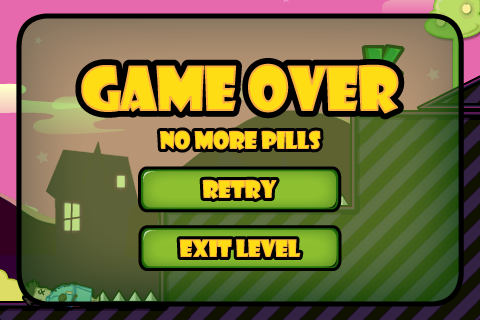 For a freebie, Blork is a well done game. The graphics are of decent quality and the catchy music matches the weird scenes. More interesting is the story behind the game. Developer students churning out free games on the App store is really great in my book. In this case, I give an A for originality, and am looking forward to Blork 2... You can learn more on the Blork web site here, or check out the app store link below to grab it while it's free.