By Nate Adcock on Tue, 10/28/2014
I have crammed for many a test using flashcards, and can attest to the timeless effectiveness of using them as a study aid. I have attempted to learn Spanish since high school, which has so far proved largely ineffective. Flashcard Languages ($1.99) cuts out the fancy app embellishments and focuses on the key words and phrases you need to make real progress in expanding your vocabulary.
Flashcard Languages is the kind of simple app one could easily build—if one wanted to take the time to slog through an array of thousands of translations (and accurately translate like seven languages). I like that the app is simple: no social network sharing, posting of progress, or goofy mind games. You open the app, select your language (the app comes with a choice of one language pack, others can be purchased for $0.99 through in-app purchases), and can start drilling yourself right away. The app could benefit from a couple of additional features, however.
Master your iPhone in one minute a day:
Sign up to iPhone Life's Tip of the Day Newsletter and we'll send you a tip each day to save time and get the most out of your iPhone or iPad.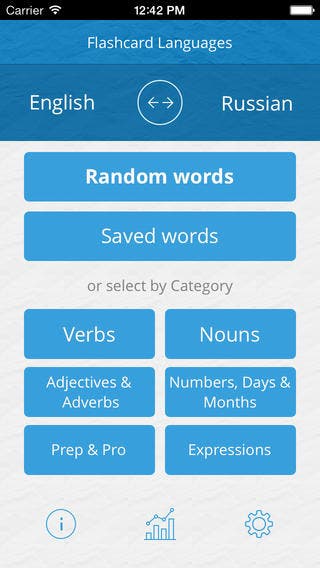 The app helpfully provides button categories for the linguistic building blocks you need to focus or brush up on. You can drill down into nouns, verbs, prepositions and pronouns, and adjectives and adverbs, or tackle whole expressions. The app has a stats page that helps you view how many new words you have reviewed each day. You can drop words from the queue, and schedule alerts to remind you it's study time and set goals for the number of words to review per day. You can review random words or saved words from your queue.
A couple things I noticed that might need a bit of improvement: There is no integration with iOS, meaning no way to share the expression through email or set a reminder to review a particular expression again. The app also oddly does not have a word search.
Flashcard Languages also lacks a speaking voice that lets you hear the word or phrase spoken aloud with proper pronunciation. This keeps the app lightweight and focuses your concentration on the terms. It is a tool to reinforce your memory, but not a replacement for a true learning course. Languages the app supports include Swedish, Spanish, French, German, Russian, and Italian.
It would be cool to pass a word or expression to Siri (have Siri open the app and provide the translated card, for example), or maybe link/check the context and use of words online. Siri cannot provide translation services unfortunately at this time (there was a hack that used to work on older jailbroken iOS versions called Lingual). Siri can however search the web for a translation of the words and expressions spoken, which is a handy way to learn proper usage by using an online dictionary. Simply fire up Siri and ask her to translate the terms to the selected language. Siri will reply that it does not support translation but can look for suitable translation-related web sites with the terms entered (some sites even provide an audio snippet of the pronunciation).
The Verdict
Flashcard Languages is a lightweight and easy to use app to review and broaden your ability in a new language. It is a helpful study aid for anyone looking to brush up on their linguistic skills or cross-language vocabulary in a random, rapid-fire study manner. You can grab it at the links above.