By Nate Adcock on Thu, 10/28/2010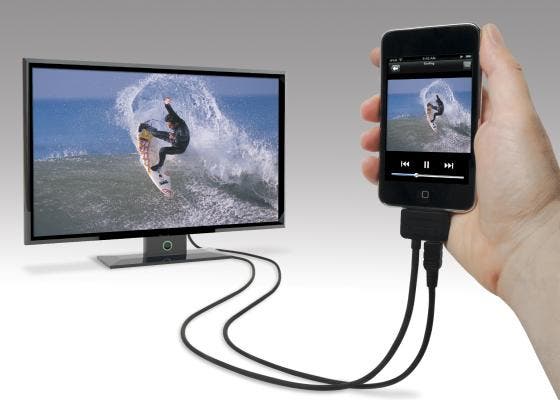 If you have a video-capable iPod (or the iPhone), no doubt you are aware of the ability to enjoy movies, and pix on a larger screen, like say your big-screen TV. There are some great docks to do this, but the new Scosche sneakPEEK II accessory is perfect for when all you really want/need is a cable, and even supports High-Def, iPad and most iPhone/iPod (video capable) models!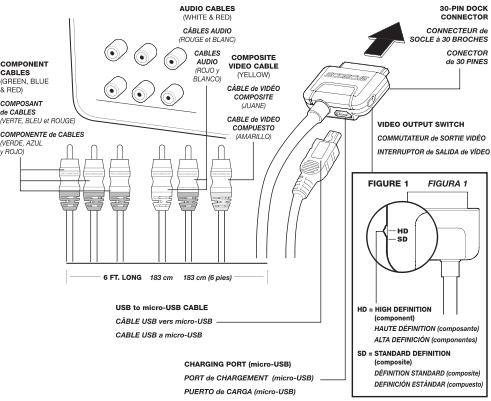 The kit comes with 2 cables (a USB cable, and a video cable with several A/V connection tails). The package also includes a short instruction pamphlet, but the setup is pretty simple. You locate the correct inputs on the back of your TV or monitor--the three HD RGB tails plug into the appropriate ports, and the same goes for the yellow composite cable. The 2 audio (1 white and red) should probably go to the input channel that you will be viewing. You only really need to connect the appropriate cables that will be in use (RGB for High-def, or Composite for Standard def).
Master your iPhone in one minute a day:
Sign up to iPhone Life's Tip of the Day Newsletter and we'll send you a tip each day to save time and get the most out of your iPhone or iPad.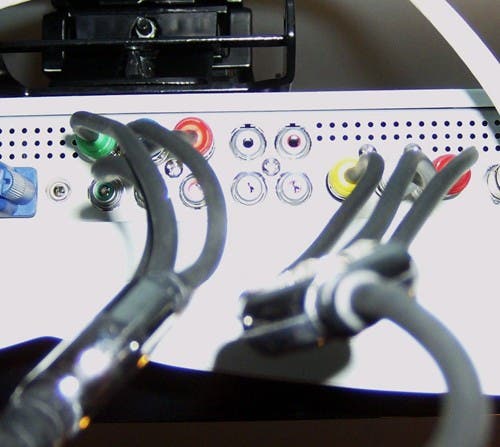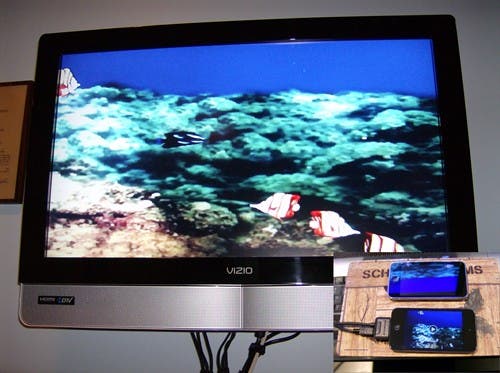 If you plan on watching an HD selection, you will use the RGB set of cables, and also plug in the Red and White audio cables to the appropriate sound ports for that input channel. Alternatively, you can run the iPod audio out to a sound device, which is what I did. I downloaded/watched a movie, viewed content I recorded with my touch, as well as some YouTube videos all through my Vizio 32-inch LCD flat monitor. The sound that comes through my TV is pretty thin, so I ran a 3.5mm audio cable from the headphone jack on my iPod touch to my Sonos S5 ZonePlayer (wireless streaming speaker system...see my review here). The sound was fantastic, and the movie--though SD only--played nicely using the sneakPEEK (3.5mm audio cable not included).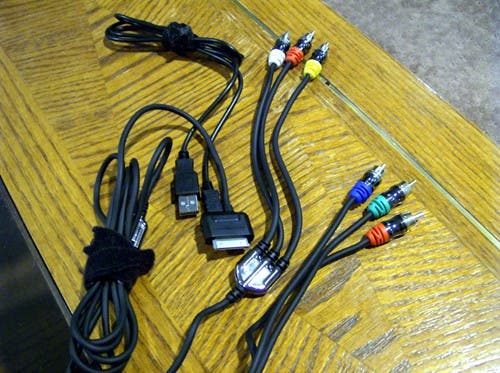 The SP II looks a bit octopus-like, but therein lies it's strength. You can count on most semi-modern monitors/TVs having either component RGB or composite inputs (but you should check your model before buying this product). The SP II is also a handy travel accessory if you want to enjoy movies at your hotel. The construction is very solid, seems of good quality, and will fit easily into a suitcase, so you won't have to drag a dock around.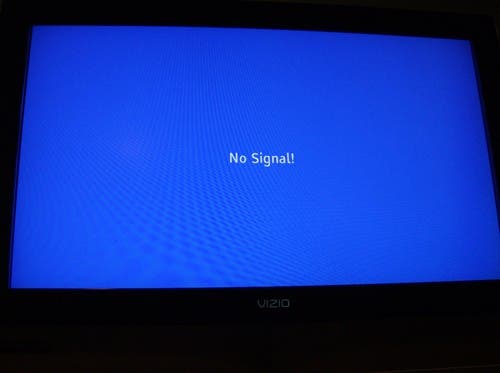 In my testing the cable worked well, and I mostly had no problems, but did note the occasional timing or signal issue. This was often the case when switching between inputs (HD-SD), which can be done using a little toggle on the side of the 30-pin connector. I noticed that I would have to sometimes open or close the video app to get it to start playing on the TV again. I also tested both my 2G and 4G iPods (touch model) with the sneakPEEK, and both worked fine. The documentation recommends dis-/re-connecting the cable to your iPod in these cases, and it's also important to note some iPod models do not support composite video out.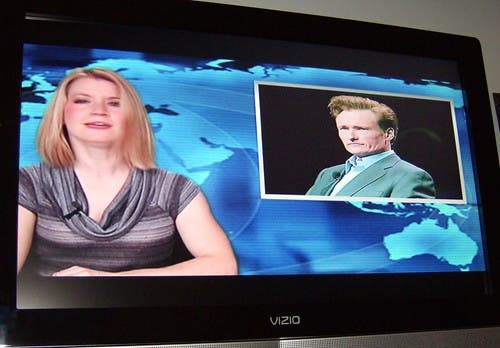 I did not detect any difference in resolution or clarity when playing HD video recorded with my new touch (vs. using SD). Of course, the touch only supports up to 720P which is probably expanded to fit the native 1080i of my LCD. I don't think the video app itself is playing out at even 720 resolution though using the cable, because my TV picked up the signal at 420. It might have been a TV setting that I could have adjusted. You can choose to play movies at native 16:9 aspect ratio or expand to fit the screen when using the video app. I did not note any options in the camera roll app to control the output resolution. Once you start viewing a slideshow or recorded video, it expands to full screen in landscape on the TV.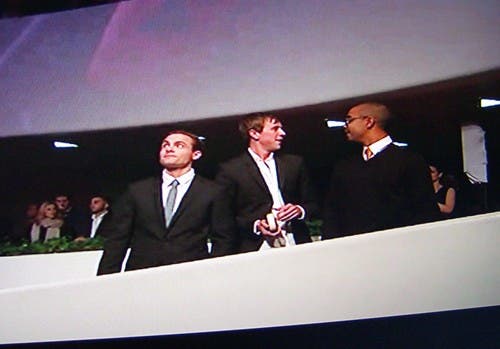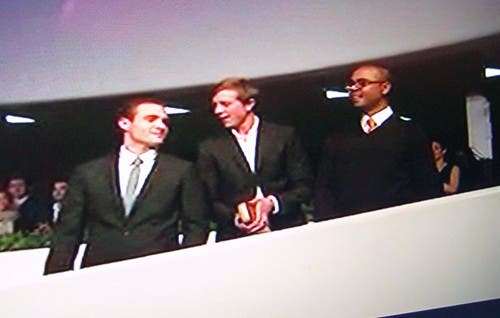 I also tried using other apps. SPB TV (a streaming TV viewer) did not play in either SD/HD. YouTube played well, and you can really pick up the difference in the quality of the display signals between my 2G iPod and the new 4G. The images were markedly more sharp when playing from the 4G (second image above).
Still shots would only display in portrait mode, which is kind of a bummer. The images were a tiny bit blurry on my TV, but would suffice for a family slideshow. Of course, non-video related apps did not work (games, etc.). The Scosche site indicates that the Netflix app is supported (so good news for Netflix users). The included USB cable (inserts into the the dock-end of the connector) allows you to charge your iPod or iPhone while playing back video, which is a big plus.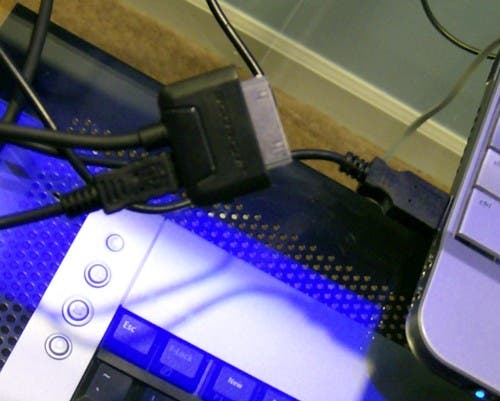 I had to connect the USB to my netbook computer (in turn plugged in), as I had no other easily available powered USB ports. In this sense, probably better to have a dock if you are going to want a more permanent solution for an entertainment center.
You can grab the very easy-to-use and flexible sneakPEEK II cable at the following site (though it was out-of-stock when I wrote this article) for $59.99. Make sure to check the site specs to see if your model is supported before purchasing. Other on-line retailers have it listed for less (just goog sneakpeek ii)...