By Nate Adcock updated on 10/23/2014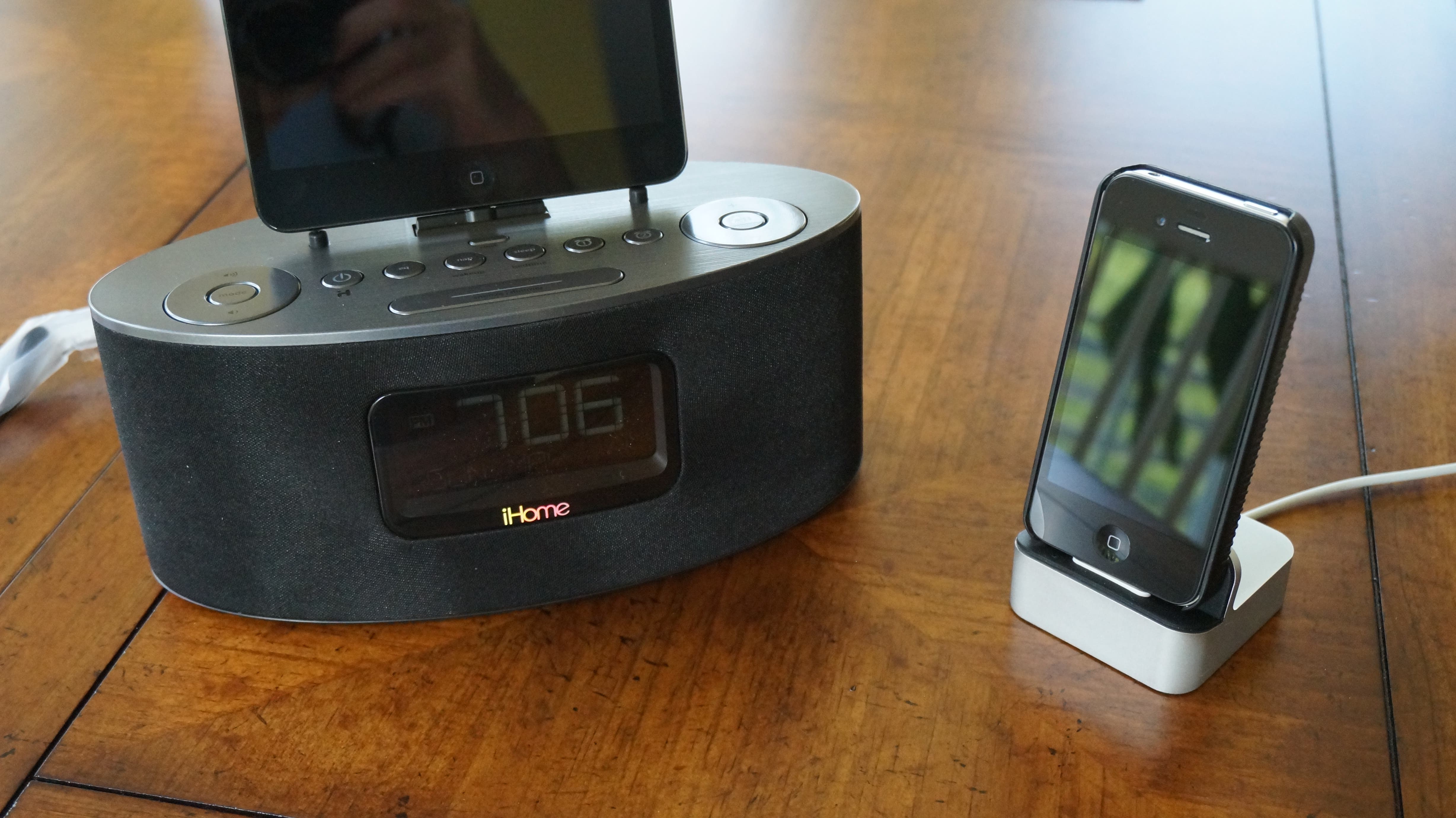 It would be hard to find two more diametrically opposed docking solutions, but the contrast makes the key features of each shine brightly. EverDock ($49.99) is small, understated, solid, non-electronic, and beautiful. iHome's iDL46 ($99.99) is electronic, larger, full-featured, and also beautiful. What to do? Read on for the solution to this docking enigma.
Master your iPhone in one minute a day:
Sign up to iPhone Life's Tip of the Day Newsletter and we'll send you a tip each day to save time and get the most out of your iPhone or iPad.
You may want both of these rather elegant docks. And why not, since they would nicely complement one another—you could always hang EverDock off the USB port on the iDL46 for an extra 30-pin connection. The iHome is a full alarm clock/speaker product that works great even if all you do with it is use it as an radio alarm clock. The EverDock is a block of extruded aluminum with a clever base. Still they serve  the same ultimate purpose. To hold and charge your iDevices in style! First the EverDock...
EverDock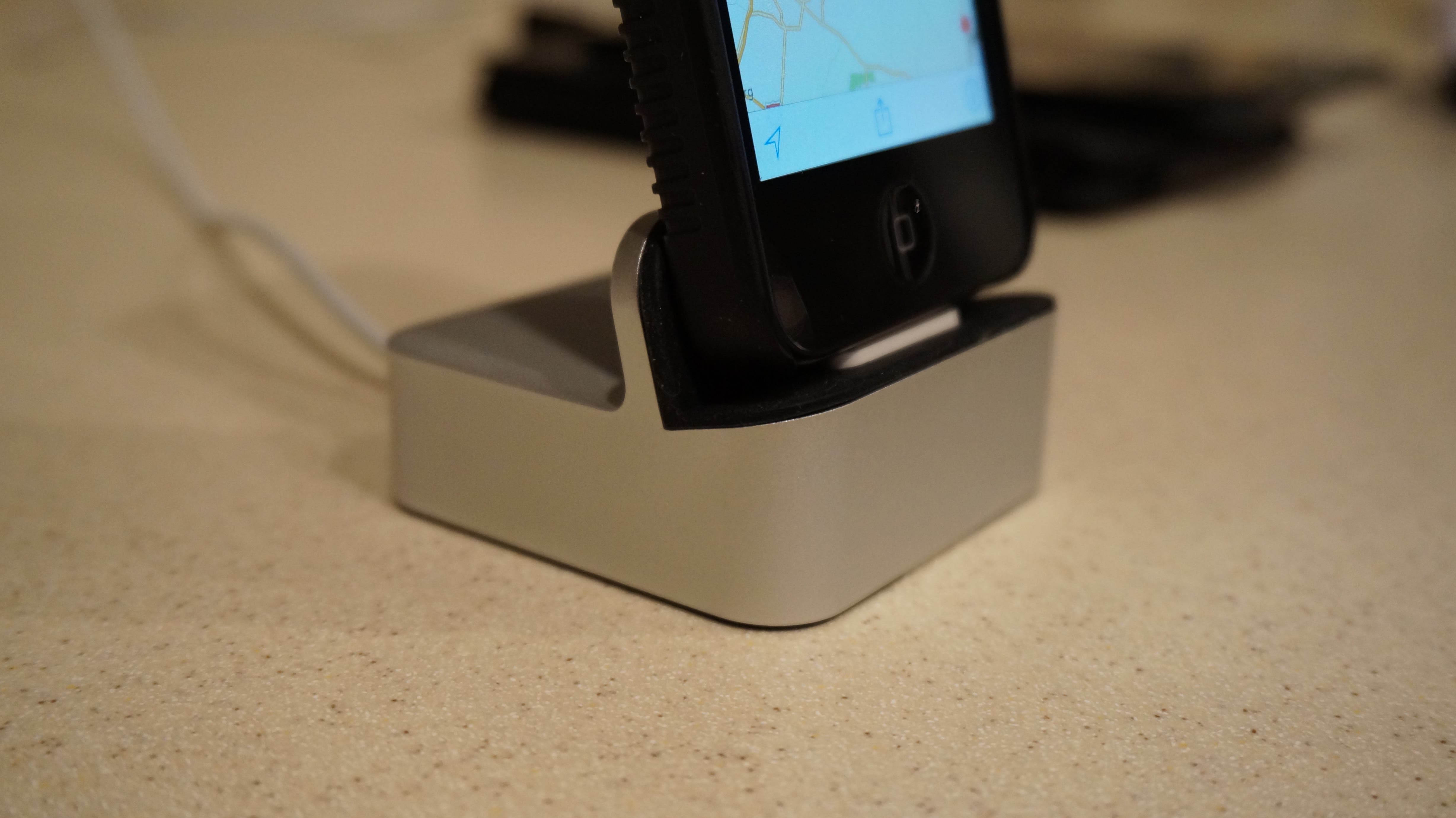 EverDock has a hefty, substantial feel to it, regardless of the small size. The coolest thing is the simple strategy employed to keep the dock steady on a counter or table. A semi-tacky rubber-looking base practically locks it into place against a smooth surface. Think wall-climbing, Batman-handgrip-locking locked in place. You have to almost peel the EverDock free, but it leaves behind no residue. Setting aside the attractive look for a minute, the EverDock is unobtrusive (something a few other docks could learn a thing or two about), and doesn't seem to be there at all when you put an iPad on it. It sets the perfect angle for reading in Portrait view and forget about it shifting or sliding around once locked in place.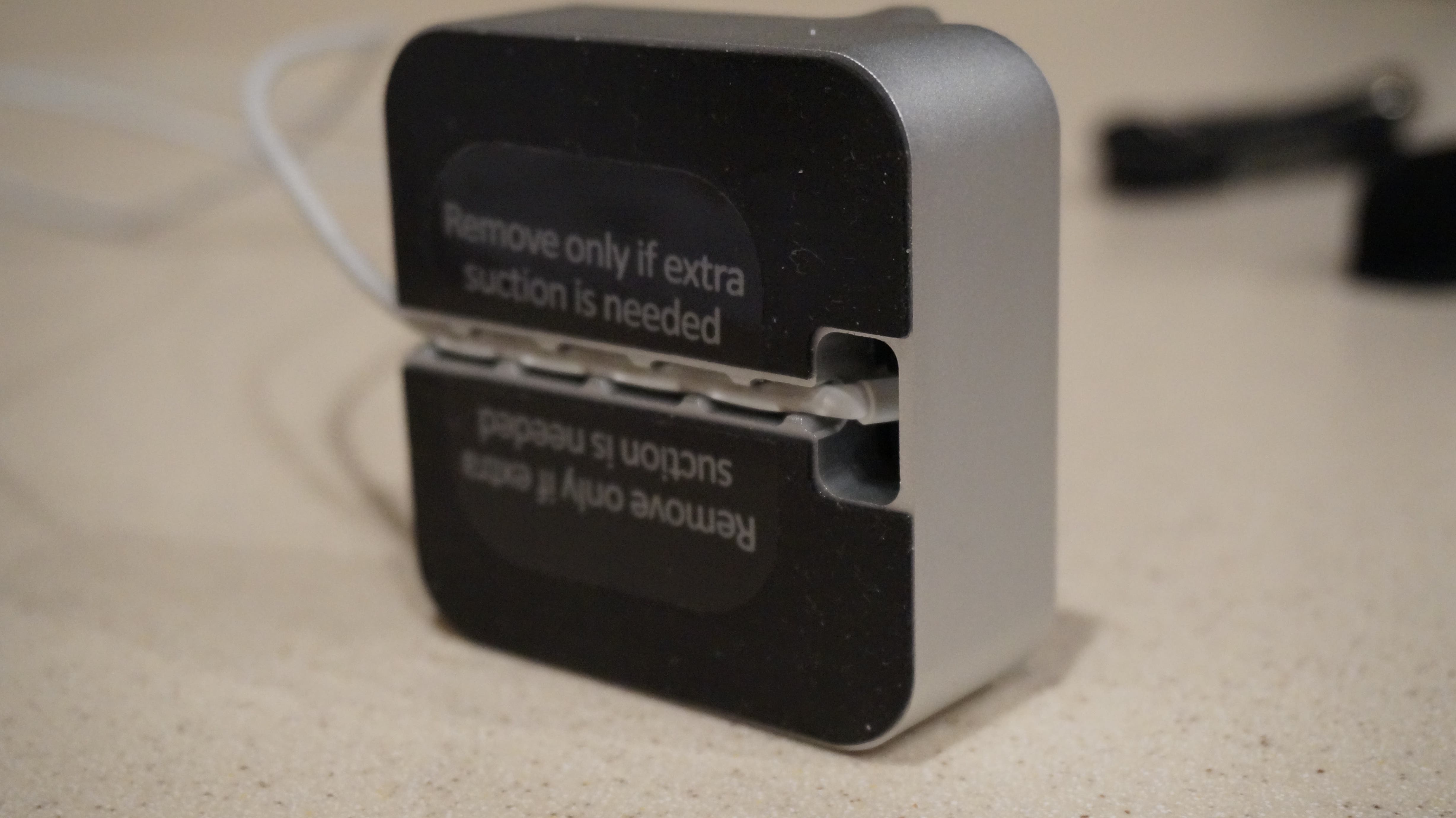 The EverDock is also a flexible universal dock and comes with an additional USB cable to let you use it with non-Apple devices. Like everything else, the idea is simple. Remove a plastic adapter and install your own cable (30-pin, Lightning, etc.) and potentially a dock insert spacer, and it works with nearly any phone or case. Here I admit to having a bit of challenge getting cable ends or the plastic adapter in and out. The dock is machined so precisely that the 30-pin cable ends (or adapters) do not want to budge once inserted. I often had to rock them back or forth or use a pen to pop them out from the other side, and only a precise amount of pressure in the center of the adapter would make it pop out. I take a few points off for this minor annoyance, which might be easily remedied by milling a small groove on either side of the adapter and providing a small plastic tool to aid removal.
Pros
Small and light, yet sturdy
Simple and versatile
Cons
Hard to remove and insert cables and adapters
iHome iDL46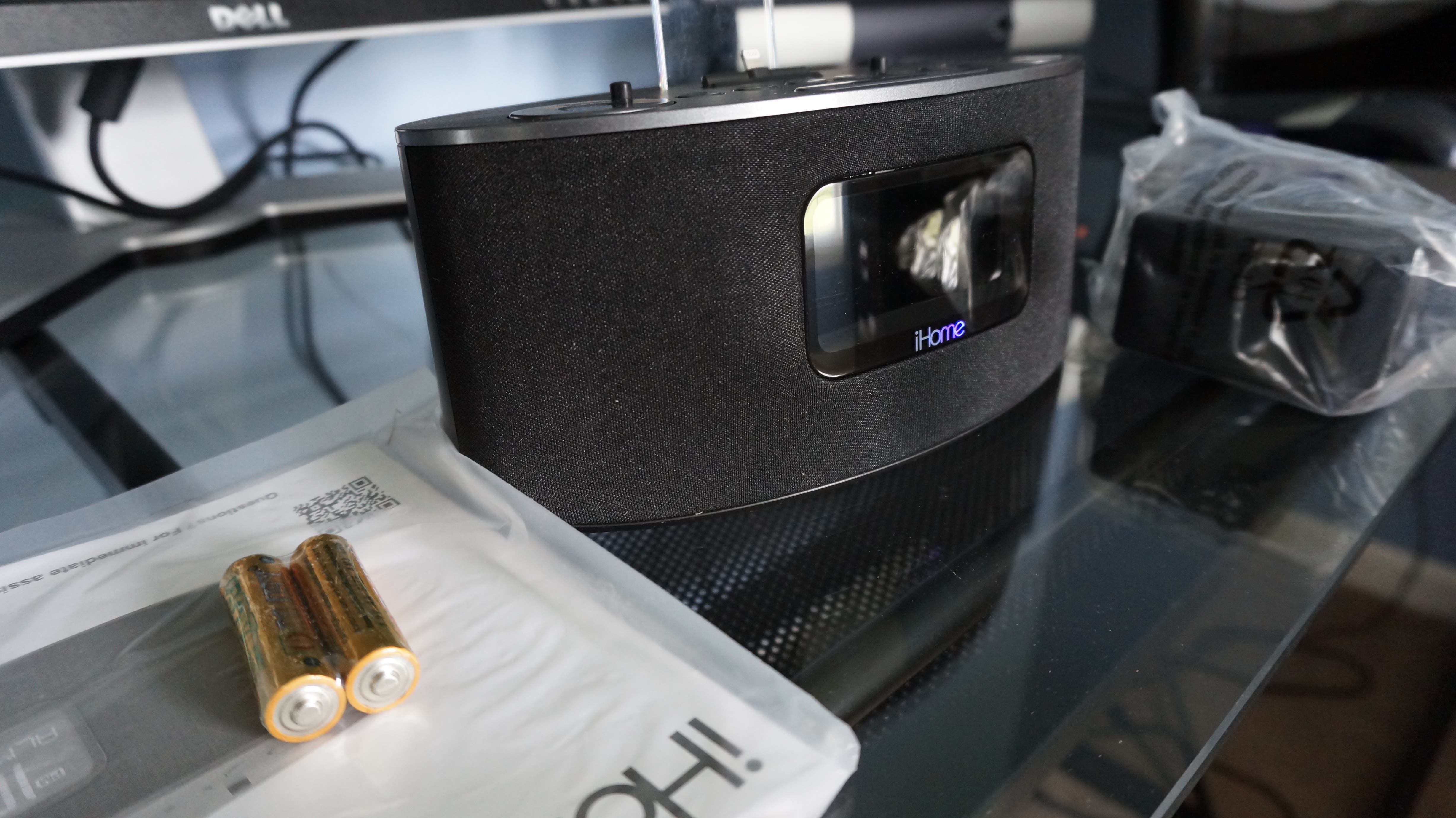 The iHome comes out of the box with two AA batteries, a startup guide, and a power supply. The unit is oblong shaped, encased in gray and black, and very lightweight. Usually a speaker product so light would make me automatically think cheap sound, but the Reson8-enhanced speaker system sounds crisp and peppy even at high volumes. Not going to assign it the same audio quality standard of a heavier-duty wireless speaker system (like the Nyne Bass recently reviewed), but for a smaller alarm clock/dock, it is surprisingly good. The features include the clock radio functions one would expect: dual alarms with buzzer, play, USB charge (plus play for Apple device), sleep timer, dimmer, etc. Buttons on the top provide the various clock and player functions. The dock charges any device connected to it (via USB or docked).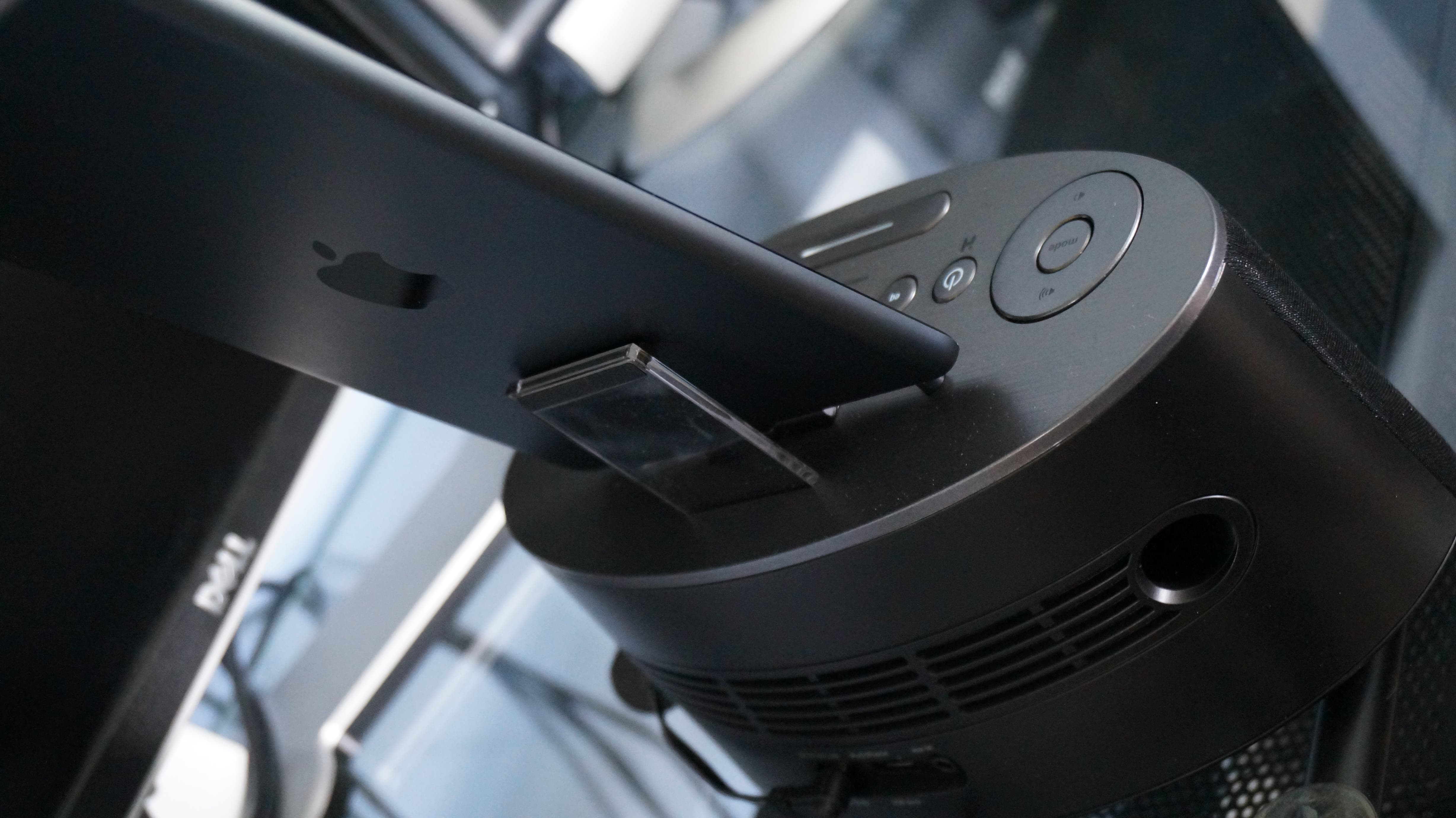 In my opinion, iHome has struggled somewhat to have their app experience come together in a seamless integrated sum of the parts. One app kicks you over to another, for example, and it's all a bit confusing. There are currently at least three apps that do various things. One called Zen (sound-relaxation), another called iHome Set (which controls dock hardware functions), and yet another called iHome+Sleep (time, weather, music, alarms, etc.) which I used the most. I had issues with some of the functions. Though the app does basic things pretty well (like display local time and weather, play music, set alarms, etc.) it struggles to do the advanced features that seem to be available. I could not complete setting up an iHome account and registering my devices and other features didn't seem to work consistently.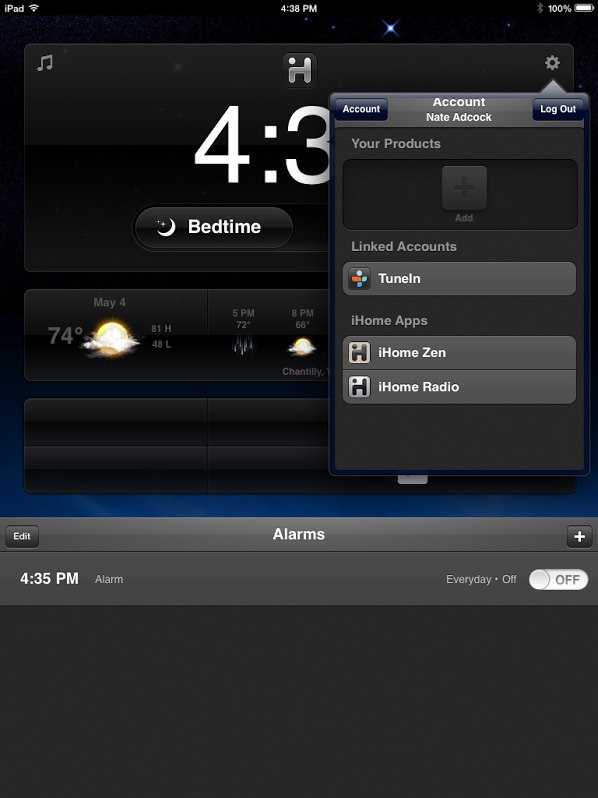 I give iHome a pass on much of this, because to me, the vendor clock apps are never that compelling (I always find a better app anyway.) They do not integrate any of my personal favorite music streaming services, or provide email or message wake alerts. As far as setting alarms go, the clock performed reliably either with or without the app, so I'm still giving the dock itself an overall good rating. iHome should find a new app developer that can wrangle these into one holistic interface. Probably one of the more interesting choices for alarm apps I have reviewed is one called Wake Smarter that reads the weather, your social media feeds and news to you when you wake, but I am sure there are many other good ones out there.
Pros
Full-featured alarm clock radio
Good audio quality with aux-in and USB dock support
Cons
The Verdict
Two very different dock types are covered here, and I give both a hearty iPhone Life stamp of approval. It doesn't get any simpler than the EverDock, and the flexibility will let you use it with practically any device too. The IDL46 similarly gives you a very versatile, quality docking option, with the added ability to wake to your favorite tunes—be they from radio, or iPhone, iPad, or iPod. Both will also work rather well side by side.