By Nate Adcock on Sun, 01/17/2010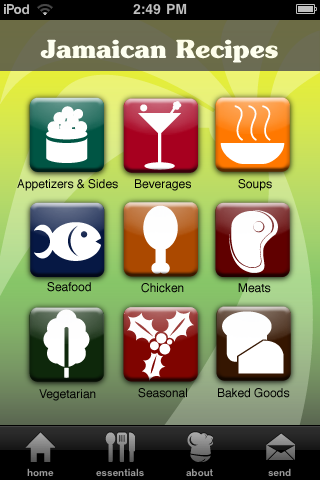 I am not a cook by any stretch of the imagination, but a good recipe app is a no-brainer for even me to add to my iPod touch (you never know, I may start). I really enjoy southwest and Mexican cuisine (as my wife is from Mexico, and a good cook), but I can't boil water without ruining it, so if I were to attempt cooking anything in my house, it would best if it were microwaveable. But if you, on the other hand, have culinary skills and have an interest in Jamaican food, you might want to check out Cook Jamaican Recipes.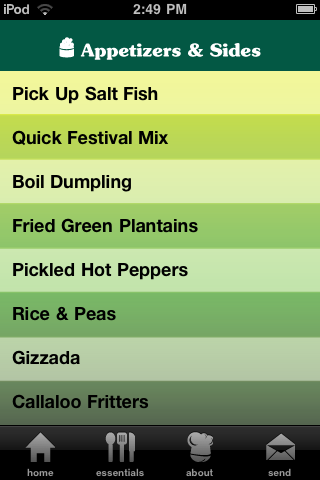 Cook Jamaican Recipes categorizes and combines the best dishes, drinks and great Jamaican flavors together in an easy to navigate application for your iPhone or touch. Selections from the main screen will provide recipe infomation, pix of finished dishes, and even an encyclopedia of essential ingredients.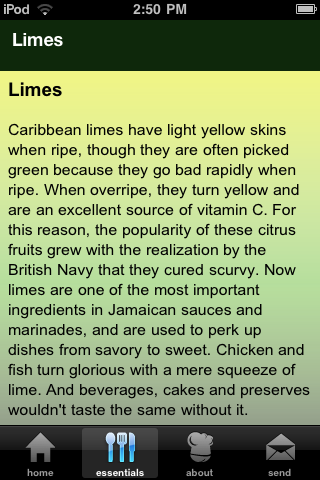 The recipes include a full description of the ingrediants and steps to create each dish. Personally I would like to see hot links added between ingredients listed in the recipes, and the table of Essentials where applicable (to save you from switching back and forth). CJR also allows you to e-mail recipes to your friends...
Master your iPhone in one minute a day:
Sign up to iPhone Life's Tip of the Day Newsletter and we'll send you a tip each day to save time and get the most out of your iPhone or iPad.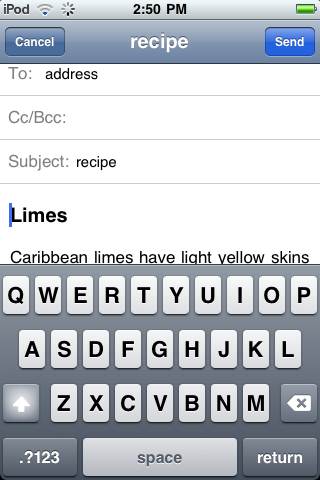 If you enjoy cooking, Cook Jamaican Recipes is a good app to add to your iPhone, but could use a few tweaks. Some of the recipes lacked pictures, and the steps could be a bit more explanatory for a cooking novice like me. There were a few typos, and things that could stand to be cleaned up, but I tested the 1.0 version of the app, and already they have updated to 1.2. The price is currently $1.99, and I think the developers might consider knocking that down to $.99 cents for awhile, until more features are added. A few enhancements I would consider making are added Wiki or web-search links, background and historical information on dish origins, even pix/links of traditional methods of preparing the dishes as well would make it  more interesting. Get the flavor of Jamaica, learn about it's history and culture as you prepare your dish, in other words. I will look forward to those features in an upcoming release, but for now, you can still use this app to wow your friends with some authentic Gizzada at your next party, so go check it out...App Store link below.