By Nate Adcock on Sun, 10/21/2012
This review started out about Download Expert--a simple iOS browser app that let's you grab files from a web site or online service like Dropbox. You want your music, movies, and other files on your iPhone, install Download Expert...blah, blah. Then I started messing with the Dropbox app to troubleshoot some issues, and next thing I know, I'm trying a completely new service called OfficeDrop that has it's own awesome iOS app and web service for syncing files. Sheesh! Round and round on the cloud wheel we go (see my previous shootout here). Though the shootout was more about document editing, I covered a few cloud storage services there. You can learn more about these services and apps in this, yet another cloud storage review, and pseudo-shootout...Part 2, you might say...
Master your iPhone in one minute a day:
Sign up to iPhone Life's Tip of the Day Newsletter and we'll send you a tip each day to save time and get the most out of your iPhone or iPad.
The cloud storage challenge!
I hesitate to call this a shootout, because no one app or service is really the clear victor at the end, unless you count iCloud (since I rely on it the most). Mainly it's a challenge and comparison of some of the apps I have been testing and evaluating in my personal quest to find the perfect content prep, formatting, and syncing app experience. I am sure to follow up on this topic in the future as I use a half dozen or more web storage services, and host my own Windows Home server of content and files on my home network. Shwew that's a lot of logins, I tell ya! I like just about all of them for one or another feature, but can never really find what I am looking for...which is something that both integrates with Drupal (our iPLife blog/content framework), allows document editing (like Word docs as well as simple text files), allows camera roll embeds and uploads. Syncs everything for later editing to the cloud (and to mobile), and potentially let's you create content templates for future posts and written articles. This fictitious app/service would also allow you to snip current news feed content for re-posting. A one-stop tech-blogger service and app, if you will, that also allows you to order pizza. Haven't found it yet, but some of the tools discussed in this review certainly help. Any dev out there that wants to take this on, or can recommend a good app to meet these requirements, please comment below. Let's start with the Download Expert app since it was the point originally of this post.
Download Expert
Download Expert is based on an alternate browser, which is in the form of a 3D cube. You might wonder why start a cloud review with such a simple app (that itself costs like 5 bucks!). Because typically to start creating content to sync to a service, we often first must find and download reference material for that content. DE has a semi-cool aspect in that you can load up various pages on the vertical axis faces of the cube, and quickly return to them by rotating up/down. The cube thingy is a somewhat novel approach to tabs, giving quick previews via a quick one-handed flip. Once you select a page, the full screen browser app is much like Safari Mobile with a download manager and local file browser embedded in the controls. The app launches any non-URL text string as a Google search as with Chrome browser, which also speeds up your web searching somewhat.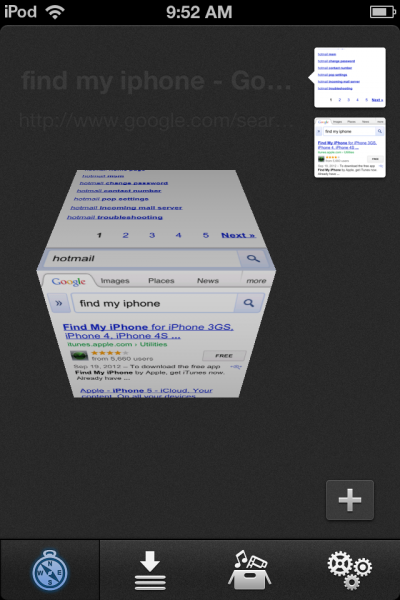 Though not a cloud storage service in itself, DE includes functions to allow you to sync up to Dropbox, so I signed up for a freebie account to at least test the basic sync service. I oddly have never gotten around to using Dropbox before this review. I also tested DE with Google Drive, SugarSync, Windows Home Server, and Ubuntu One cloud storage services through the browser-based UI for each. My results to other services were pretty much a fail in all cases except in the case of downloading images.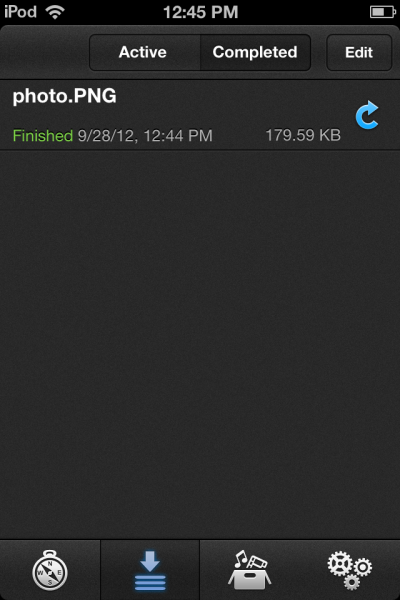 Though I could download content from Sugar Sync (which defaults to zipping up all downloads from the web-based UI), I could not open the zip files. When connecting to my Windows Home Server, it failed to even load the login web page at all, though both mobile Safari and Chrome have no issues doing so. In order to get Dropbox to actually sync files to my device (to review them in Download Expert) required me to install the Dropbox app and configure my device to be allowed to sync with the service. I still received errors from DE, so not sure what my problem was. I was able to open files calling the DE app from the Dropbox app, but why would anyone waste time doing this if they can view files in Dropbox. All-in-all I was pretty disappointed in DE in the downloading category (which is the point of the app). I liked the browser experience better.
Dropbox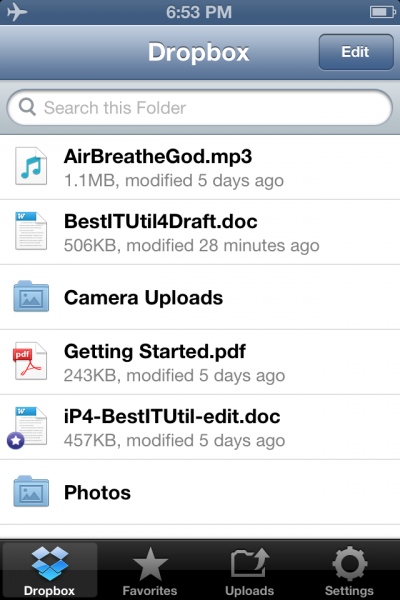 Dropbox has it's own simple app by the way (as if you didn't already know that). If you want to throw up some files on a server, and be able to grab them on your device, you can do that with just basic Dbox service and the Dbox app. Run the service on your PC (or simply use the browser-based app), upload and sync files to the service, voila! Files available for viewing on device! Easy, free and simple. Of course you need to sign up for an account (the free option gives you some 2GB of space, and more if you get friends to join). You can also set up your phone, pod or pad to auto-push images and vids to the Dbox cloud. The Dropbox free service/app combo is perfect for doing basic file syncing, and even managing content on your device.
OfficeDrop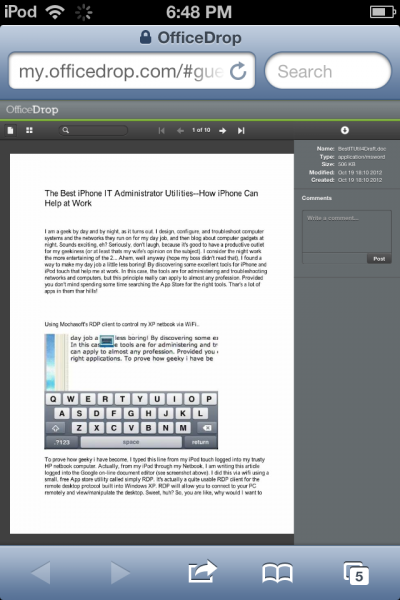 As mentioned earlier, I have used any number of cloud services (see my Sugar Sync review here), and if you are looking for another easy to use and free one, OfficeDrop is so far the Mercedes of the mobile file service offerings, IMHO. Probably the coolest aspects include the ability to scan docs in with your phone, and then search them using voice recognition software. Too bad it's not integrated with Siri though, because you do have to activate the voice search with a rather small button, making it not very hands-free friendly. However, the iPhone/iPad experience is better than some of the basic app offerings of other services I have used.
The main UI of OfficeDrop is not dissimilar in look to the Dropbox app. Basic tabbed controls at the bottom. You can browse files, and even apply filters to narrow your view to certain files. You can tag files and filter them accordingly. In my testing, I uploaded .doc, .png, .mp3 and pdf files. One of my docs would not display images in the mobile app for some reason, but another worked fine. You can actually schedule calendar events linked to your files, which is pretty nifty if you often schedule meetings to discuss and collaborate on documents, etc.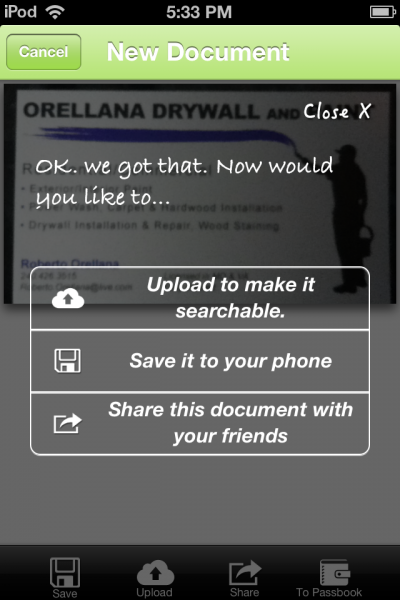 If you do a lot of road warrior document manipulation from your phone, short of actual editing, again OfficeDrop shines. I doubt any other cloud storage services offer mobile voice search integration. Combined with effective tagging, you can easily find a particular file, create a calendar event and share it with others on your team quickly (even throw it into Passbook)--combined with the ability to scan in PDF versions of documents with your phone, this is decent business workflow integration for a free app service. The app didn't work as well on my old iPad 1 which is running version 5 of iOS, so you might want to take note of that if you are still lugging an old device around.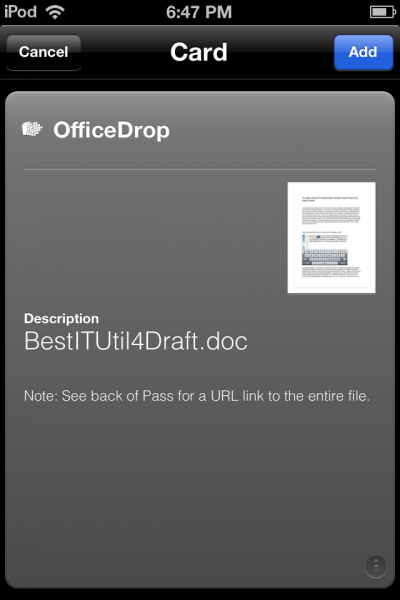 ...But what service is right for you?
So, you might be asking yourself..What service is the right selection? There really are so many offering varying capabilities. The answer is that it truly depends on your needs. If all you need is a quick ability to view or upload files and email or share them remotely, you might go with either OfficeDrop, Dropbox, or Sugar Sync. The free services and apps are more than adequate for basic document syncing. However, you might look a lot closer to home...iOS! The native iCloud capability in iTunes and iOS offer doc, note, calendar, contact, photo and mail syncing through Apple's complimentary service offering, and the required apps are natively baked into iOS (the $9.99 Pages app is required to edit/sync docs however). This is the method I use when writing reviews. I write the review text in the iPad notepad app, take screenshots on my devices and sync the notes and screenshots to iCloud to collate and organize everything on my PC for posting. iCloud is not without issues however. Usually every update somehow breaks the photo sync, which has required me at least twice now to go manually uninstall and reinstall it, and even tweak some weird stuff with my network connections.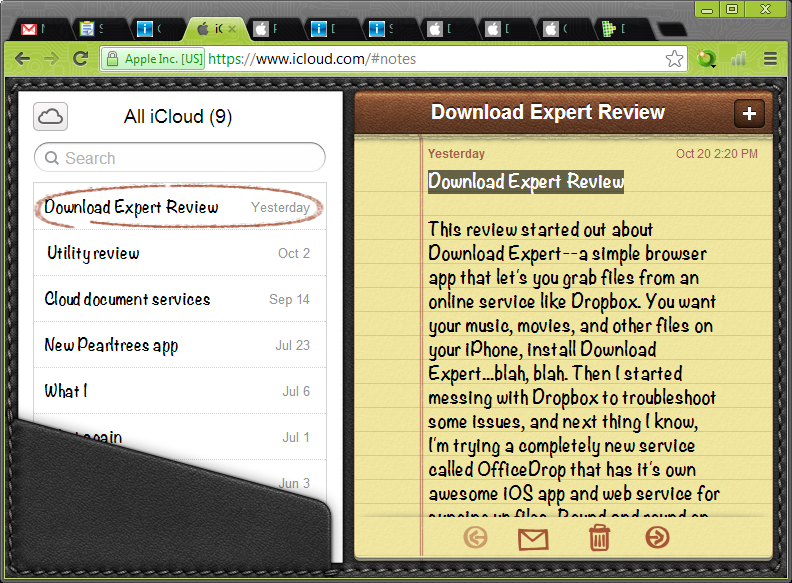 iCloud works well for my simple needs, but then I don't often share or collaborate on anything, and only occasionally need to research past posts or reuse images (in fact I usually clean them out periodically). Our blog site has running backups of all our posts, etc. I can also use Google to search past article data when needed. I keep a folder for each post on my PC as a backup, in case I need them offline and can also sync that content using Sugar Sync (Sugar Sync gives you more free storage and has a better app experience). When writing a print article, I use Kingsoft's free Office editing suite, and I rarely do final editing on anything but a PC. The article may start out on the iPad, but never ends there, as I need to be able to embed formatting and images more suitable for publishing. I may also post the file up to something like CloudOn and/or Google Drive if I think I may need to access and edit it remotely or forward it to an editor from the online service, though Google has in the past screwed up my document formatting when doing this.
Security and Paid Services
For mobile document editing features and group/private sharing and business collaboration and protection, the more robust paid services are likely the route you will want to take. If you need better security for you data, or want a much more robust experience, you may need to consider a plan specifically designed for your business or purposes, which is kind of beyond the scope of this review. Of course, the major services previously reviewed all offer such tiered plans. OfficeDrop offers a free 2G searchable service, a $10 a month plan for 20G of searchable storage, and higher tier plans for business users. You can learn more here...
Shootout Summary!
In summary, I do like OfficeDrop for it's effective filtering, voice searching abilities; Sugar Sync for more robust storage syncing tasks outside of review material and data; CloudOn for mobile doc edits, but my current and most used favorite is still probably iCloud for article material. As an existing iTunes/iCloud user, there is nothing extra to sign up for or download (not counting the PC plug-in) and it does everything I need it to do. Most of the services talked about in this review offer various levels of capability, so I recommend further researching each to find the right fit for your needs. Try several of the free ones to help narrow down to the one best suited to your goals...you can grab any at the links above. And I would be eager to hear how you leverage cloud storage and syncing your important content, so don't be shy about commenting below...
P.S. One final aside on Download Expert--A handy and unique ability to switch the browser user agent: Using a custom user agent can potentially give access to site features reserved for conventional desktop browsers (like Chrome, etc.). The user agent that identifies mobile Safari to web servers is the reason your browser experience often gets auto redirected to a web site's mobile version, however many sites do offer links to the desktop version anyway. Of course, be sure to tune back in to iPhonelife every chance you get for the latest in iOS news, reviews, tips and content!