By Nate Adcock updated on 09/15/2010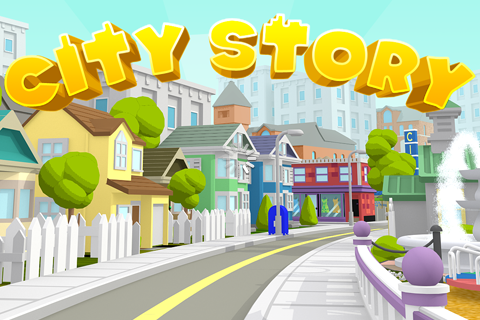 Social Networking is playing a major role in on-line gaming. Games that lack some kind of on-line tourney, championship, or leaderboard features with which you can post up and play with your Twitter or Facebook friends, are starting to seem old-fashioned. Another wrinkle is added with games that also use on-line currency to play. Currency that you buy with real money to help you advance. City Story is a sim/time management game that cheerfully introduces you and friends to the art and skill of town building...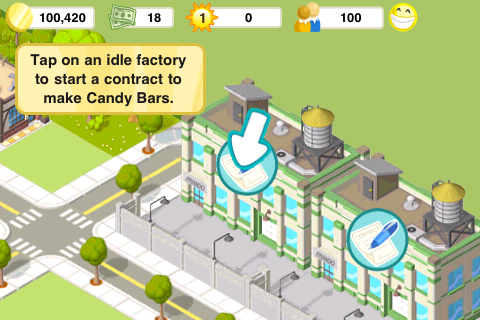 The app is small at around 10M in size. Ran it on my iPod 2G touch (8GB model), with iOS 4.0 and had zero problems. It supports iPhone, iPad, and iPod touch (iOS 3 or later required). Because it is an on-line only game (requires internet access), you cannot play it without either a WiFi or cell-connected data connection--a reason I don't play a lot of on-line games. Staying on-line while playing drains your battery faster.You can grab it here on the App Store, and it's currently rated at 3 1/2 stars.
Master your iPhone in one minute a day:
Sign up to iPhone Life's Tip of the Day Newsletter and we'll send you a tip each day to save time and get the most out of your iPhone or iPad.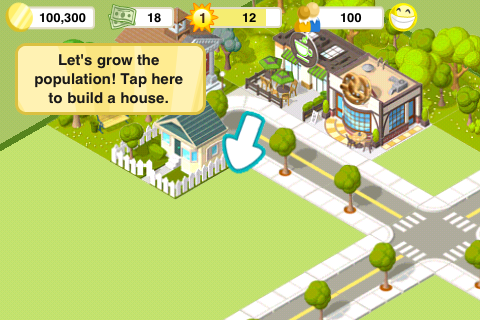 Net access is also required to track your gameplay amongst the community of players, and sell you currency to build and upgrade your town faster. You can invite friends to be your neighbors via a social network. The graphics are cheery cartoon-like renderings of buildings, streets, parks and what-not that you add to a diagonally viewed grid. The gameplay is much like SimCity, but maybe a tad simpler and with less animation.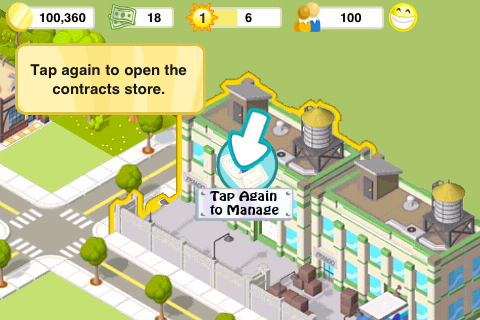 If you aren't familiar with simulation and time management games, the concept is pretty simple. In the case of CS, you are trying to build a successful town (with all the required town elements..streets, houses, shops, parks, etc.), keeping the populace happy in the process. You start the game with 2 factories, a town hall, some shops and a few houses.
These games are somewhat useful in teaching young people the concept of simple and smart business decisions. Not unlike a real town, your virtual one cannot survive simply by adding random stuff. You have to balance the town's amenities, budget and building projects carefully. Real towns need schools and police stations, not just shops and movie theaters. They need recreational areas, as well as housing and roads. The problem is you only have so much money and income in which to build. There are many reasons why your town might not prosper, but most of them have to do with money (or the lack thereof)...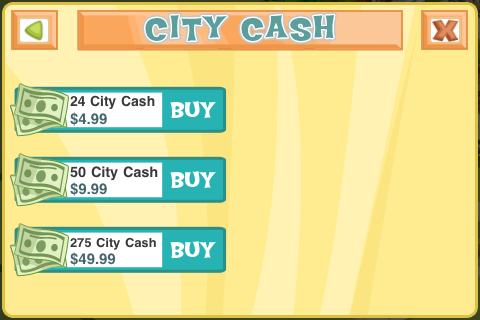 City Story has a fine tutorial when you first start playing that takes you through the process of adding factories, and various building types. The game also includes pretty decent help. As you play, you earn money from the properties that you have added over time, but I couldn't figure out the difference between coins and dollars or if there is any correlation between the two (other than dollars cost real money charged through your iTunes account), but suffice to say it takes much longer to advance using the in-game coins.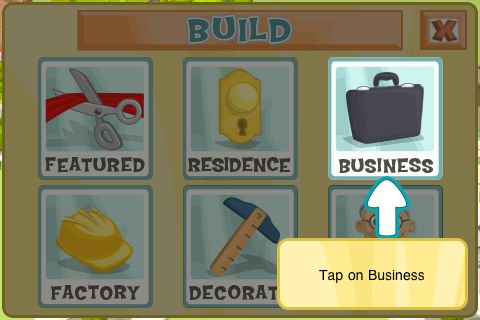 The game features different building elements to choose from, grouped under 6 main categories. Factories are the lifeblood of city income, and various contracts are available as you progress. For example, you can use your factories (you get 2 when you start) to turn a quick profit making candy bars, or take on a longer project (with greater return) making something like athletic shoes. As the town grows, and the more you prosper, your experience unlocks new features.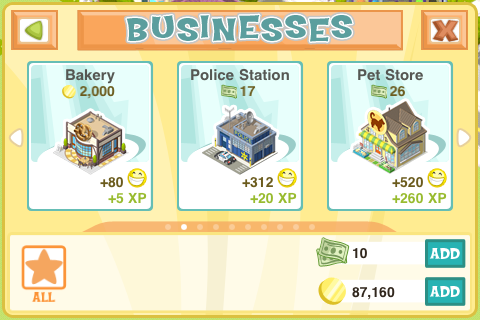 The town elements to choose from include shops, schools, police stations (50 different types in all), roads, fountains, parks, athletic fields, and more. As you play, your game status is indicated across the top. The smiley icon at upper right tells you the overall mood of your residents, and (from R-L) the population of your town, cash available and coin totals.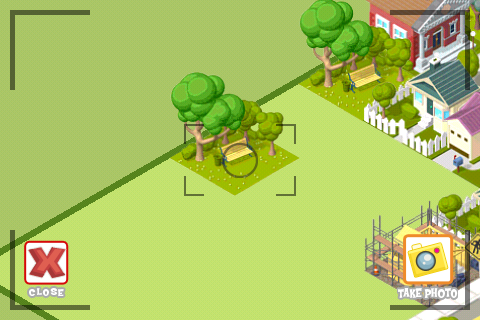 You can take snaps of your town, and visit and help "clean up" neighboring towns owned by your friends (not sure what "clean-up" means), but it earns you points and encourages more social participation in the game. The social aspects of the game require you to sign up for a specific service called Storm8, which I am unfamiliar with. The game features a Message board to manage all these items, and check on the health of your city as well.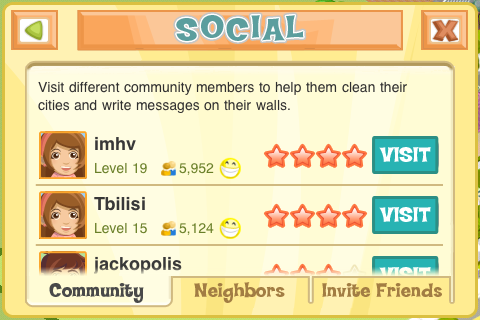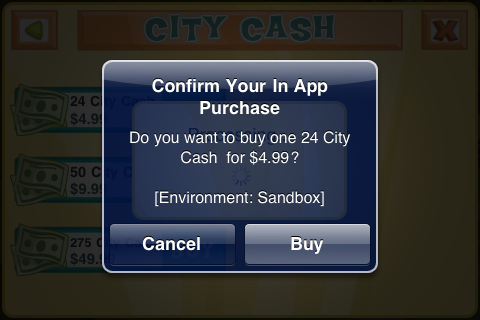 I think City Story could stand on it's own without requiring an on-line connection to play (minus the social gaming and real money aspects), but I see why it is a big part of the game. The developers/marketers of this game could have simply sold the full game in a local mode, and added on-line premium features (or upgrades). Instead they made the game free to download and play at a basic level...banking on users likely needing or wanting to spend real money through iTunes later  to reach higher levels faster. Not sure how I feel about that model. Some users will undoubtedly love these features, while others may be perturbed to find that the game is coaxing them to pay real money to play. It is not as involved as a version of SimCity, in my opinion, but certainly fun in it's own right. Grab it free at the link below: