By Nate Adcock on Sun, 04/03/2011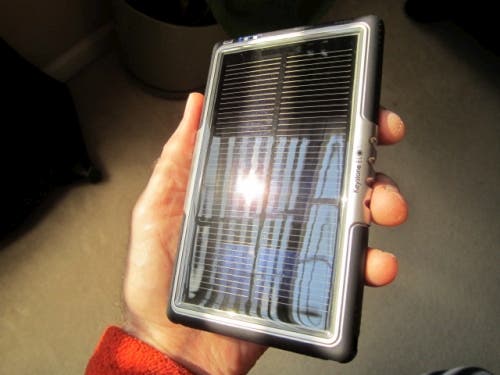 Of all the charging accessories one might choose, there is a certain satisfaction in a charger that is also environment-friendly. A solar charger not only helps conserve our natural resources, but also empowers you to have a charging source with you in the field. The
ECO Solar/USB Power Pak
can charge iPhone, iPod and other gadgets, and in case the local star is uncooperative, the ECO includes USB input as well.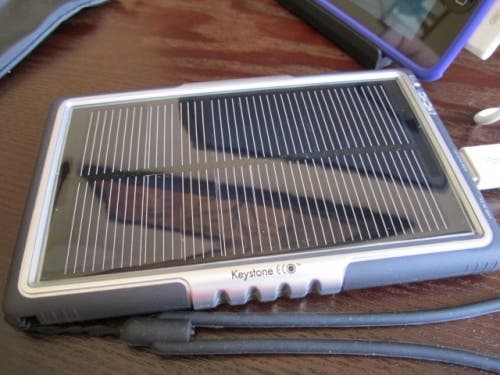 Keystone packed 1500mAh worth of battery charge behind a high-efficiency solar panel. The unit, made of high-impact polycarbonate, is about 6" by 3", and say a 1/4" thick, but relatively light (around 4 oz). The ECO is designed for iPhone and iPod, but the kit includes a retractable cable adapter (and assorted tips) to charge other devices too (micro/mini USB, PSP, etc.), as long as they fall into the 4.5-5.5V range.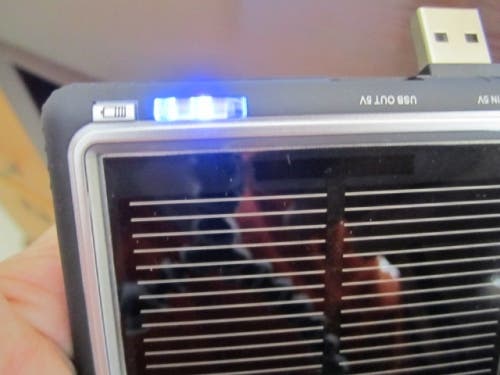 A button at the top of the unit accompanied by 3 LED indicators provides a charge status, and a flip out USB connector accommodates a charge input from your computer (or similar low-power USB source). The ECO has built-in protections to prevent overcharging, short-circuit, and over-discharging. This means that if you connect your device and forget it, you won't hurt the unit or your device.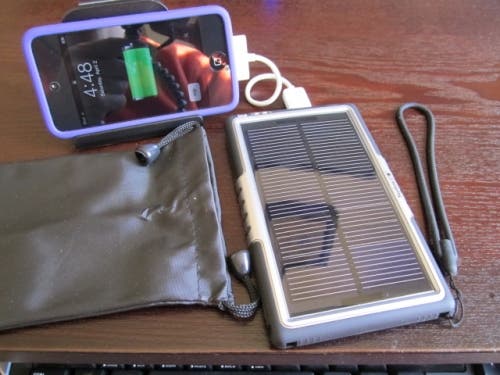 Solar cells only provide a trickle 240 mAh charge to the ECO's Lithium-Polymer battery, so count on a long, sunny stretch of about 5-6 hours to top it up. USB charging will fully charge the battery in around 3-4. In my testing, the battery kept my iPT 4G full for at least 2 hours while playing back HD content and apps near continuously (via WiFi), and only sucked down about 1/3 to 1/2 the total charge capacity in that time.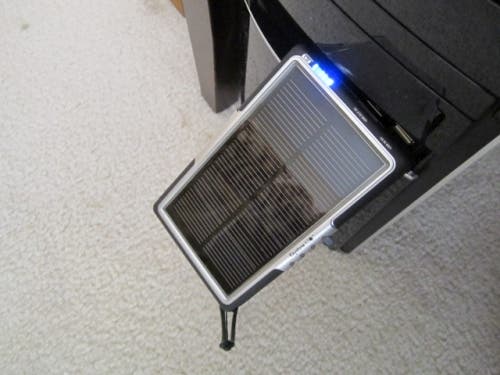 Solar recharging time was as slow as indicated, and it would be nice if the device had an adjustable kickstand so that it could be repositioned to stay facing into direct sunlight. The manual suggests using the included strap to attach to a backpack, etc. but the constant jostling will likely increase the recharge time--though I noted that even through light curtains (partial sunlight), a charge was indicated. You can also charge iP/iPT and re-charge the ECO at the same time. After practically a full day in a window, I saw only a minimal amount of recharge (though it was partly cloudy). I might try a test to see how long I can rely on only the solar cells for recharge.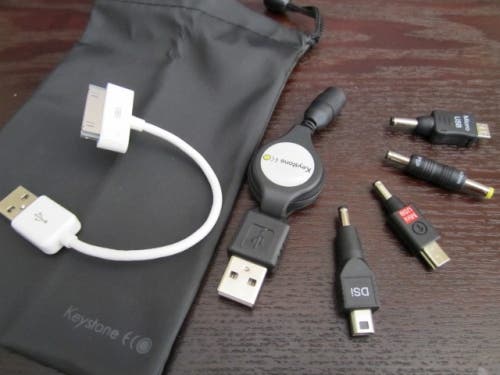 So, if you are looking for a relatively inexpensive ($49.99) and eco-friendly extended battery for your iPod or iPhone, I recommend the ECO Solar/USB Power Pak, but be aware that you may still need to top it up with a normal power source (especially if you live in a particularly cloudy area). See quick list of features below, or you can learn more at the vendor site (or grab one)
here
...
* Made for iPod and iPhone (certified).
* High efficiency 1.2Wh mono-crystalline solar panel.
* 1500 mAh, rechargeable Lithium-Polymer battery.
* Also charges other cell phones & USB-chargeable devices.
* Built-in USB flip key for recharging.
* Rechargeable in direct/partial sun or via USB.
* Battery check button & LED status indicator.
* Charging cable for iPod & iPhone included.
* USB cable with connectors for Micro USB, Mini USB, PSP, Nintendo DSi.
* Soft pouch included.