By Nate Adcock on Mon, 09/12/2011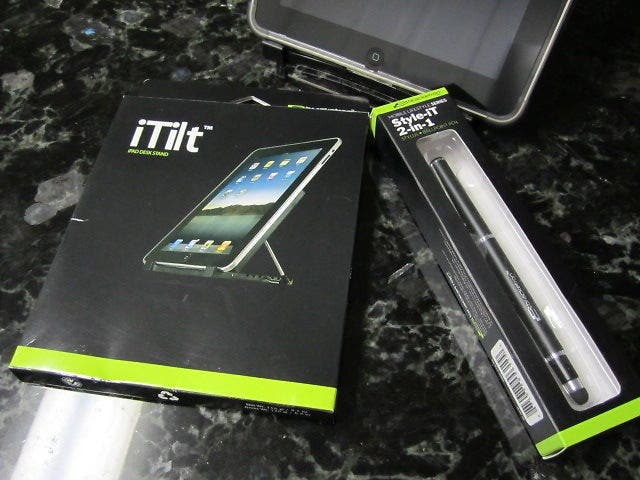 Two accessories that you can't do without if you have an iPad, or really any tablet: A keyboard and a stand (at least in the case of the iPad 1G). The 2G has a handy cover that serves as an ok prop, but a good sturdy stand is more important than you realize. If I was to add anything else to the short list, it would probably have to include a stylus (since without jailbreaking, you can't use a mouse with iOS). Bracketron happens to have both a stand and stylus (which is also a pen) that are perfect for the job!
Master your iPhone in one minute a day:
Sign up to iPhone Life's Tip of the Day Newsletter and we'll send you a tip each day to save time and get the most out of your iPhone or iPad.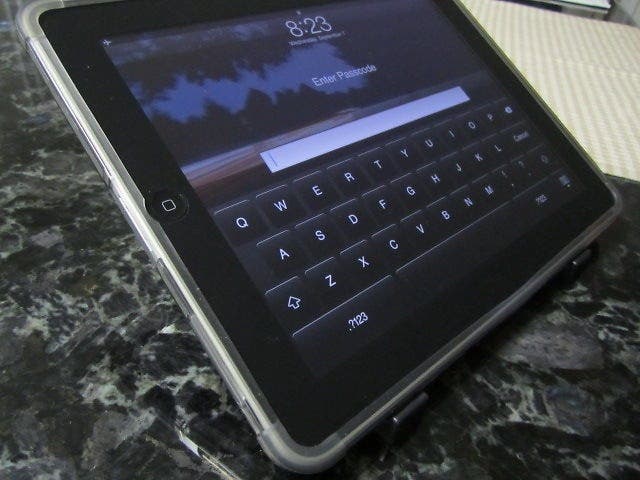 The Bracketron iTilt is not just a stand for iPad, by the way, though it is very effective in that role, but really any tablet, and worked well supporting even my netbook computer (while typing this review on a bumpy airplane ride). The stand is made of sturdy high-impact plastic, with rubberized inserts at the contact points to keep whatever you have propped up firmly in place.
The viewing angle of the iTilt  is easily adjusted to some 8 different positions by changing which groove the support arm locks into on the base. It was quite stable with iPad positioned at both high and low angles, as well as either in portrait or landscape orientation. My favorite thing about it is that the iTilt folds up into a small flat  4" square that fits nicely into your travel bag, and weighs next to nothing.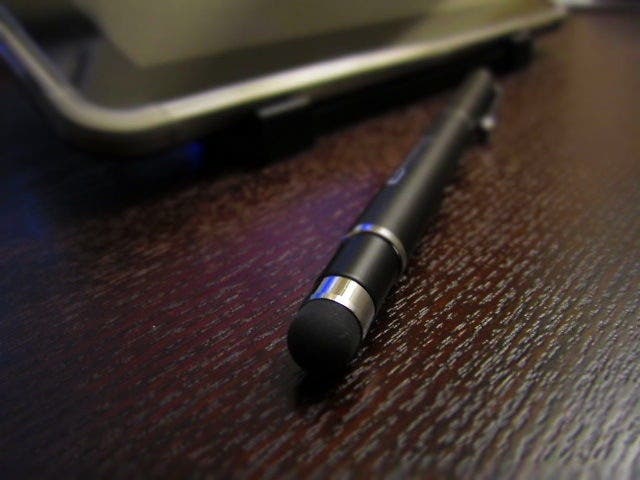 By itself, you can see the advantage of using a sturdy desktop support like iTilt, but in concert with the Style-iT 2-in-1 stylus, iPad becomes a drafting table, stable mapping dashboard, or in my case, a viable touchpad for even my desktop computer--A handy ink pen on one end, and a touch sensitive pad on the other.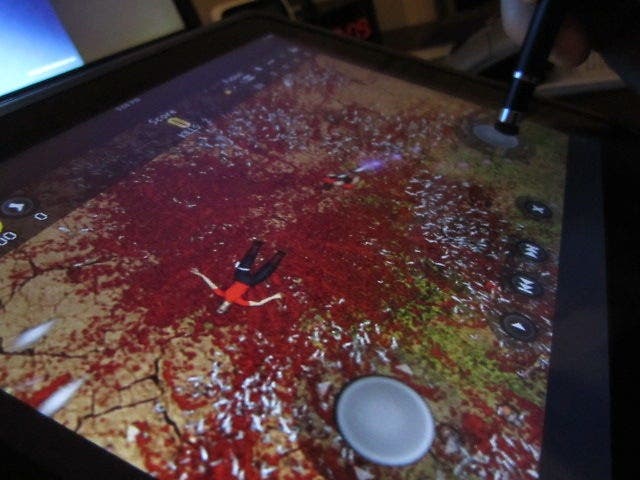 Several obvious applications of this synergy of accessorati (cool thing about having your own blog--you get to make up new words to describe stuff) come to mind. Take the screenshot above. Pleasant viewing angle and stable game control along with precise pointer accuracy translates to some serious high scoring in games like BloodNGuns (the chicken attack mode shown above, which is my favorite).
Same thing for Paper Racer, though I admit the control was not quite as effective. There is a tendency for one to bare down a bit hard on the screen when under intense gaming stress. The JOYSTICK-iT was actually a little more effective, but really some games seem to work better with fingers for some reason. A mantra I try to remind myself of constantly during play is to relax!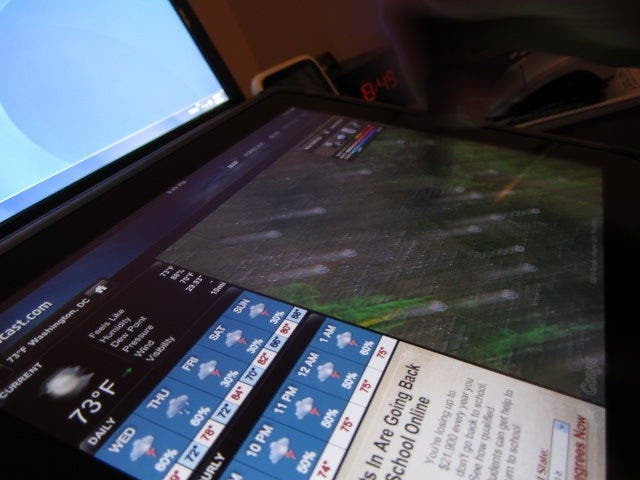 Apps involving a map with a large scroll-able area would also be in the wheelhouse of the Style-iT and iTilt combo. I guess from my Pocket PC days, I got so used to stylus input, I miss it a little. Using a stylus also helps to keep your screen from getting smudged up.
The biggest no-brainer use for a stylus with iPad is when drawing. To go one better than this, I link my iPad up to my computer using the free Logitech mouse app. My PC drawing application of choice happens to be GIMP (a free editing suite much like Photoshop). Using the iPad as touchpad input to my PC, and the Style-iT for precise strokes, you can create a much more natural drawing experience. The intermittent latent mouse motions can cause an annoying jerkiness on occasion, though. The Style-iT is also a handy ball point pen.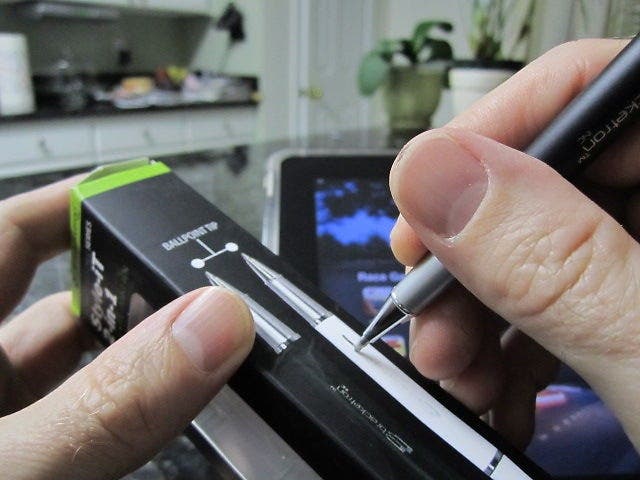 So, you were worrying how you were going to explain to the wife/husband that you need a new stand and stylus combo for your iPad? Now you have at least 3 or 4 good reasons to do so. You can find the iTilt and Style-iT and other great products and accessories here at the Bracketron site.
Stay tuned to our blogs for more great iOS news, reviews, giveaways and more here at iPhoneLife.com!