By Nate Adcock on Fri, 02/24/2012
One of my personal all-time favorite news reader apps has finally made it to iPad, and I am a little late in getting the word out (sorry, APPY Geek). It is, in my opinion, a great (and free) news reader sporting a dock-like interface, a slick tag browser, and decent library of news sources! I use it when I can on my wife's TouchPad, and now (finally) can use it on my iPad regularly. You looking to stay updated on the latest tech news, then this is a pretty darn good way to do it, in my opinion!
Master your iPhone in one minute a day:
Sign up to iPhone Life's Tip of the Day Newsletter and we'll send you a tip each day to save time and get the most out of your iPhone or iPad.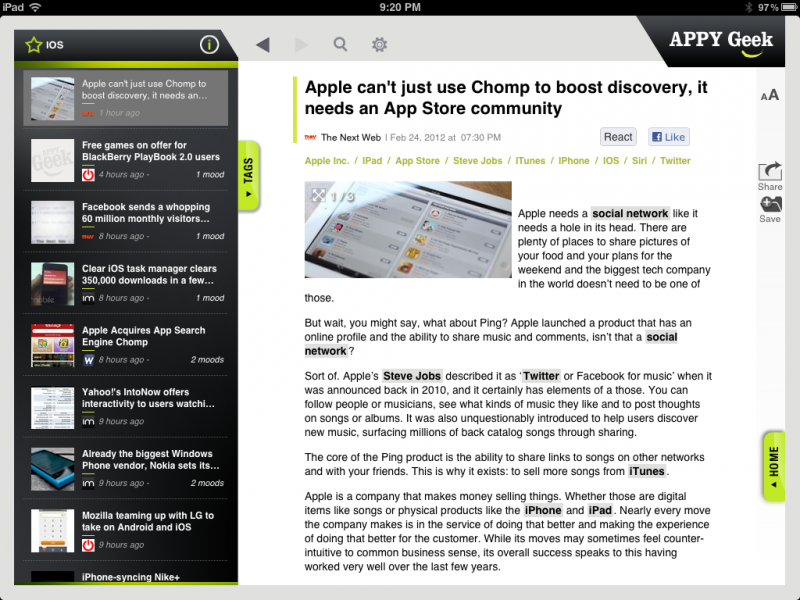 Appy Geek has been available in iPhone version for some time, but it just didn't match the excellent WebOS version on the TouchPad, so after installing the earlier iPhone version and trying to run it on my iPad, I removed it. The latest finally has much the same experience for iPad, though I must admit, I still like the Touchpad version's side-collapsible menu system more (a feature native to WebOS). The app reported a network error on a few screens (which I sent to the vendor), but otherwise behaved well. It's only around 9-10MB in size, so can be downloaded in the time it took you to read this far.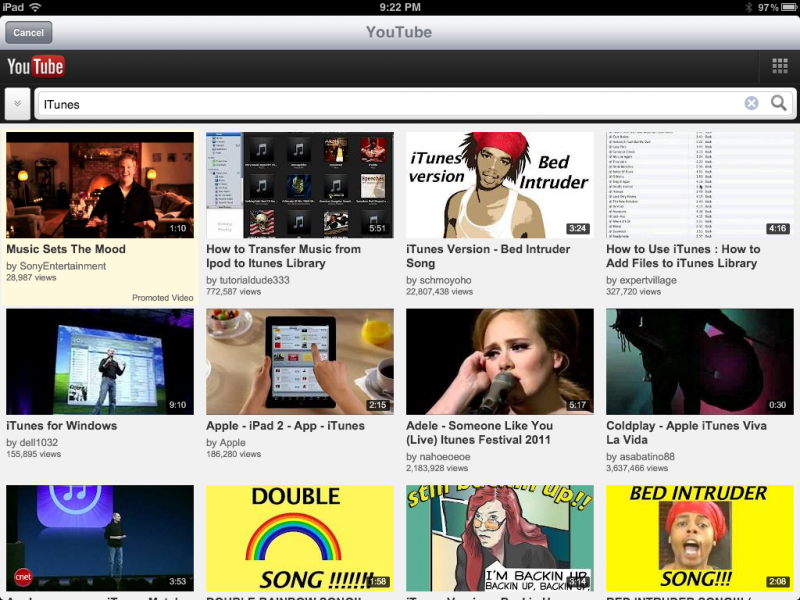 Why I like the app, besides the tech news aggregated in it, is the easy to navigate i-framed reading style, which is reminiscent of older e-readers, but with updated animations and swipe gestures that work well on iPad. The topic index is also an attractive dock-like affair the slides out and back. Not only can you share and save articles, and zoom up/back, you can quickly open full content, and also get more info (Wikipedia/Google/YTube search) with a handy pull-down. All inside the app itself without being redirected to the full Safari browser.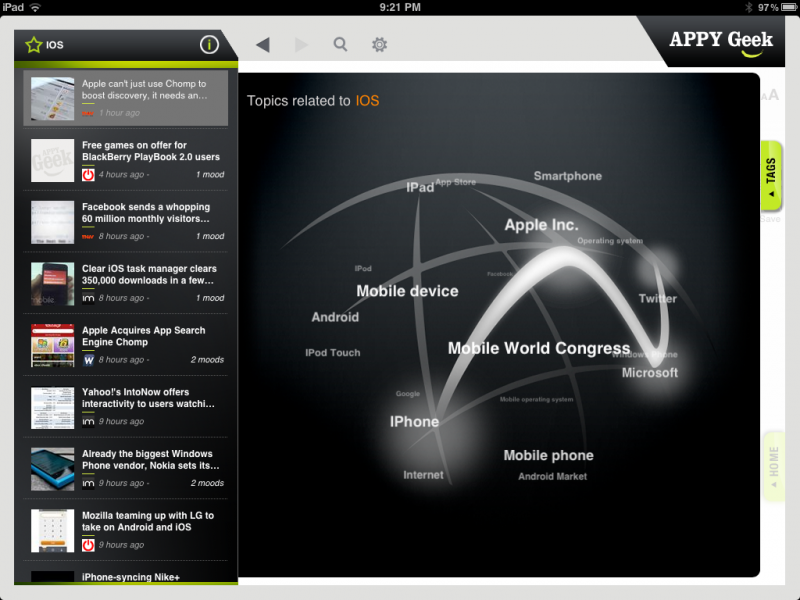 One of the slickest items preserved from the earlier iPhone version is the tag browser, which appears as a hit list of topics also nicely animated, so that you can drag the spatially referenced words around like an orb and select the one you want. A couple of additions that could be useful to both the tag list, and the search in general is the ability to add you own custom keyword tags, and/or feed sources. You are pretty much throttled to the built-in providers, though you can filter/select the ones you are most interested in. Something they might want to add in a premium version.
So, if you are a tech-junkie like most of the iPhoneLife blog junkies I know, then you probably want to check out APPY Geek. I rate it up there with Pulse and other readers I have used, and even give it an edge for the clean, and attractive interface, solid news sources to choose from (AP, Pocket-lint, Tom's Hardware, Tech Radar, etc.). A minor ding for lack of custom feed options, but it's free and free of annoying ads. Anyway, grab it at the link here. To learn more you can check out the PR release on the latest version below...
"NEW YORK – February 21st, 2012 – Mobiles Republic, a leading publisher of applications for smartphones, tablets and connected devices, today announces that its popular free news apps News Republic, APPY Geek and Glam Life logged close to a million active users and 100 million page views in the month of January 2012. This achievement comes on the heels of the company's recent announcement that all three apps have reached the Top 10 on Android Market™.



In conjunction with this news, Mobiles Republic announces that its popular APPY Geek technology news app is now available on the Apple iPad. Previously available for iPhone, Android™ Tablet and Android™ Phone, the app has proven popular among tech enthusiasts, reaching the top 10 on Android Market's Top Free News & Magazines Apps chart.



"We are elated that the 15 million-plus iPad users can now use Appy Geek to keep on top of the tech news most relevant to them," says Gilles Raymond, CEO, Mobiles Republic. "The increasing popularity of our apps is another stepping stone in building on our mission to be the worldwide leading apps publisher across all platforms. Outstanding ratings as well as fast-growing usage are very encouraging to accelerate on this path."



Mobiles Republic's free news aggregate apps were designed for general users (News Republic), tech enthusiasts (APPY Geek) and lifestyle/fashion fans (Glam Life).  Each app delivers thousands of full articles each day from leading news sources, and allows users to create customized "myNews" channels that filter this mass of information down to their exact topics of interest. They can then click on headlines to view complete articles -- not just RSS feeds -- all within the same window, without having to surf outside the app.   Users can further research the stories that are most important to them by using the apps' Word Cloud feature to bring up related articles, YouTube links and Wikipedia entries. Real-time alerts keep users completely in touch and up to speed when important news breaks on their favorite subjects.



News Republic is available for all of the top mobile phone and tablet platforms, including iPad, Android™ Tablet, Blackberry, iPhone, Android™ Phone, Nokia, Samsung and Windows Phone, here.  APPY Geek is available for iPad, Android™ Tablet, iPhone and Android™ Phone here.  Glam Life is available for iPhone and Android™ Phone here.



Later this month, Mobiles Republic will be featured as one of a limited number of Android developers at Mobile World Congress 2012 (Barcelona, Feb. 27-March 1), demonstrating its apps on the Android Stand (Hall 8 C25).  The company is also planning to make a major announcement at the conference regarding the future of its flagship News Republic app.



About Mobiles Republic

Founded in 2008, Mobiles Republic quickly established a reputation for innovation and excellence in developing successful apps for the smartphone market as well as award winning apps for feature phones including the prestigious Sony Ericsson Content Award. Mobiles Republic has developed TagNav©, a semantic search and semantic targeting solution that powers its News Republic, APPY Geek, Biz Report and Glam Life applications. The company has expanded rapidly and has established strong relationships with leading publishers, global media brands and handset manufacturers as well as extensive partnerships with mobile network operators.  Mobiles Republic applications are preloaded on Lenovo, Motorola and Sony Ericsson devices in several regions. You can follow News Republic on Facebook and Twitter.


Android Market and Android are trademarks of Google, Inc.