By admin on Wed, 03/27/2013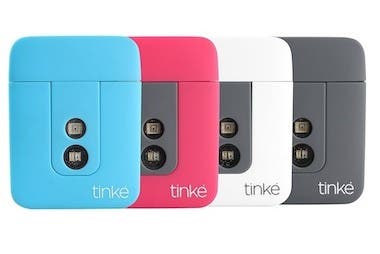 A friend came over for dinner last night and handed me a small FedEx package that was sitting on my doorstep. I quickly opened it, figuring it was an item to review. But I had no clue what the device inside was. It looked like a blue package of breath fresheners, inscribed with the single word Tinké.
I put it aside to figure it out in the morning. It turned out to be a very cool little device that plugs into the bottom of an iPhone or iPod Touch with a 30-pin connector. So what is its function?
The Tinké by Zensorium ($119.00) is a simple-to-use healthometer that measures cardiorespiratory data in the form of heart rate, respiratory rate, blood oxygen level, and heart rate variability with the press of a thumb. It comes in your choice of blue, black, pink, and white.
Master your iPhone in one minute a day:
Sign up to iPhone Life's Tip of the Day Newsletter and we'll send you a tip each day to save time and get the most out of your iPhone or iPad.
Your health information is fed into a required, free app for processing and a final score. The device uses the data to calculate your overall fitness score, called the Vita Index. It also assesses stress levels by measuring heart rate fluctuations resulting in a Zen Index. It helps you track your fitness and also be aware of health risks to share with your medical provider.
Blood Oxygen Level
We need oxygen circulating in our blood in order to have a healthy body. Low oxygen levels or hypoxemia can cause light-headedness, fainting, and cognitive dysfunction. A healthy oxygen content is considered to be 95 percent or above. Low oxygen levels can be an indication of a weak heart, which of course is a danger signal that needs to be monitored. People with sleep apnea and anemia are indications of low oxygen levels.
Heart Rate
Heart rate is measured in beats per minute. A healthy heart beats 60-80 per minute when your body is at rest. Anythin higher than this range is cause for concern if seen on a regular basis. Incidentally, athletes in good condition often maintain an at-rest heart rate of as low as 30 bpm, so the lower the rate the better. Heart rates higher than the average indicate the probability of cardiovascular disease.
Respiratory Rate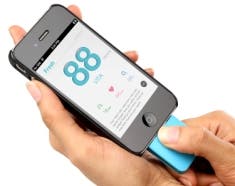 The Tinké also measures respiratory rate. A healthy adult averages between 10 and 20 breaths per minute. Increased respiratory rates can indicate stress among other things. Respiratory rate can be a reflection of the proper balance in your organ systems and respiratory system in general. You would be considered critically ill with a respiratory rate of more than 24 bpm and in cardiac arrest at 27 bpm.
Heart Rate Variability
The heart does not beat at a constant rate. Tinké measures your heart rate variability (HRV) and interprets it in terms of stress levels. High blood pressure, insomnia, and muscle pain are often associated with fluctuations in heart rate variability. One way to reduce HRV is to take deep breaths. Tinké has programmed exercises to accomplish this.
Too often neglected, it is extremely important to monitor your cardiovascular condition because it is directly linked to your overall health. One sure sign of cardiovascular problems is lethargy — when you just don't give a damn and don't feel like doing anything.
Vita Index
Tinké creates the Vita Index, your personal cardiovascular health score, based on measurements of your heart rate, respiratory rate, and blood oxygen level. It charts your scores on a graph so that it is easy to monitor and to share with friends, family, social networks, and your health care professional.
Zen Index
The Zen Index uses heart rate variability as an indicator of stress and well-being levels. In an attempt to reduce stress, Tinké takes you through a series of deep breathing exercises.
Taking Your Tinké for a Test Run
Once you have installed the software, plug the Tinké into the bottom of your iDevice. A red light will flash. The first time you invoke the app, you will have to go through an annoying registration process. Once that's out of the way, you select whether you would like to work on your Zen Index or your Vita Index. It gives you the option to take a practice reading or take a real one.
I decided to practice firt. I found it difficult to maintain an even finger pressure and didn't know how much pressure to exert. The graph at the bottom flows across the screen and can vary with pressure.
Based on my Vita Index test yield of 00, I guess I'm dead and shouldn't bother finishing this review. A message at the bottom of the screen read, "That's weird. Your heart rate, respiratory rate, and blood oxygen level form an unusual combination. Please retake your measurements."
At that point the program froze, the machine had a seizure, and there was no way to navigate back to start. So I had to reboot the system. What a bother.
On my second try, I came back to life, receiving a score of 91. Tinké made the assessment based on my 13 breaths per minute, 63 heart beats per minute, and 100 percent oxygen level. It also said I was energetic and had a high confidence level.
The Zen breathing test was fun, relaxing, and I suppose beneficial.
It went on to say that exercise could improve my health. Well duh. It allows you to save your results and shout them out to your social network buddies or a whole hospital if you like.
Without any reliable data to compare with these results, I cannot rate the accuracy of the Tinké with confidence. Assuming the data is reliable, it is an excellent tool for monitoring your health on a regular basis and could even save your life.
If nothing else, it is a lot of fun. I intend to share this with my doctor the next time I visit. Somehow we always end up talking about his new iPhone and how he uses it in his practice. Who knows, when I show him this gadget, he may use it on his patients.
By the way, iPhone 5 users need not worry. The Tinké will work with a lightning adaptor. While Apple charges $30 for it, you can buy it on Amazon for only $4.13. 
The Tinké may cost more than you'd like to pay, but if it saves doctor visits, and potentially your life, it really doesn't matter how much it costs. I just wonder how Zensorium came up with the name and what its significance is. It's something to Tinké about.