By admin on Thu, 12/15/2011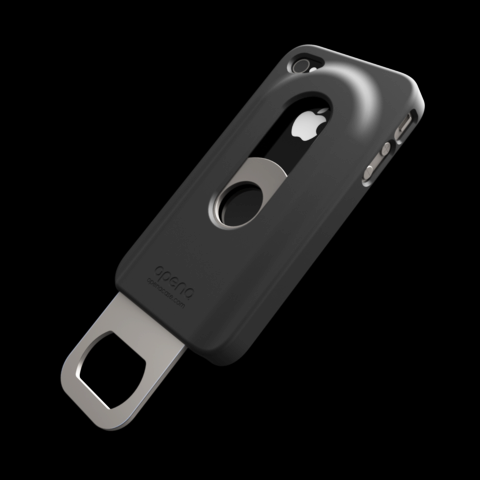 How about a beer with your iPhone?
Now here is a gift for the guy who has everything. The Opena is basically a protective skin for the iPhone 4 with a bottle cap opener that slides out. That's about all there is to it.
Master your iPhone in one minute a day:
Sign up to iPhone Life's Tip of the Day Newsletter and we'll send you a tip each day to save time and get the most out of your iPhone or iPad.
All you have to do it click your iPhone into it, and you are in business. When you need to open a bottle, there is a metal slider in the back of the unit with a hole in it. Put your finger in the hole and slide upward. Out pops the opener.
If you want to use it with your iPod, I suppose you could. If fits fine as far as the width is concerned, but the case is a little too long for the iPod. You will need to figure out a way to shim it into the case.
There are appropriate apertures for charging cable, earphones, volume control, and camera. Apple's goofy 30 pin charging port is supposedly safe from foam at the other end of the case from the opener. It's surprisingly sturdy, but also a bit heavy for your pocket.
My question is, are there still bottle caps that need an opener? I thought what bottle caps are left were twist off caps. Correct me if I'm wrong. Aha! I just saw on the package that it is made is Australia. They must have a need for bottle cap openers down under.
Sure enough, the Aussies do have bottled beer that requires an opener, most notably, the Darwin Stubby, which is the biggest bottle of beer on the market. Further research shows that beer bottles can be lethal weapons when used as a club in bar fights, particularly full bottles of beer. For that reason, long neck bottles of beer have been banned in many places such as Alice Springs in Australia.
So, maybe if you're in a longneck bottle area of Australia, you'd want to pull out your iPhone and open everyone's bottle just in case there is a bar fight. It reduces the chances of leaving with a cracked skull.
No doubt the spelling "Opena" for "opener" reflects the Strain accent.
Anyway, for the guy who has everything or a guy who is traveling to Australia and wants to turn his iPhone into a bottle cap opener, here's just the gadget. It will only set you back $39.95. Shipping from Australia is included in the price. You have a choice of black or white. Here's a link to the manufacturer's website: http://www.openacase.com/