By admin on Wed, 10/17/2012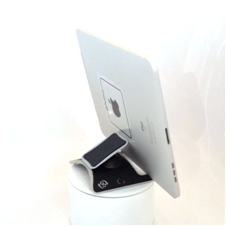 I've seen some pretty clever and innovative stands lately, but this one really does take the cake. It's universal and will fit all Smartphones and tablets. It works in a variety of positions to accommodate just about any perching need you may have from wall mount to leg mount to plain old stand in vertical and horizontal positions at about any angle.
It's a masterpiece of design, and it was love at first site. I continue to discover or invent new uses for it almost every time I use it. It great for reading eBooks in bed or watching Netflix. It's great for gaming, and it's terrific for productivity.
Master your iPhone in one minute a day:
Sign up to iPhone Life's Tip of the Day Newsletter and we'll send you a tip each day to save time and get the most out of your iPhone or iPad.
I haven't figured out a way to mount it in the car for navigation yet, but maybe the developers will.
Perhaps it's best to let you see a video of it rather than go into a long dissertation. After all, if a picture is worth a thousand words, how much is a video worth? Depends on the video I guess. Anyway, check it out here: http://www.youtube.com/watch?NR=1&v=egoUnjj1Pg4&feature=endscreen with a message from the developer.
Here's another video that shows it in action: http://www.youtube.com/watch?v=6xkHEFKU8Yg&feature=relmfu
For it to adhere to a device, it must have a perfect slick surface. For the purpose it comes with glossy stickers that adhere to the pack of your device.
The grip plate on the stand can get unsticky after a while with lint and dust. To restore its stickiness, just wash with water and dry or remove dirt with Scotch tape, and it's as good as new.
As you noticed, PadPivot's curved surface is designed to fit on your let. It comes with an elastic strap that holds it on. By the way, in this position, you can use the gyroscope for great game play.
I should mention that this was a Kickstarter.com project with a goal of $10000 in pledges. It exceeded its goal with 4823 backers and $190,352 in pledges. I'd call that a success, wouldn't you?
If you want one, and why wouldn't you, The suggested retail price is $39.95, but you can get it here for $29.95: http://bit.ly/PaK8J7