By admin on Tue, 10/08/2013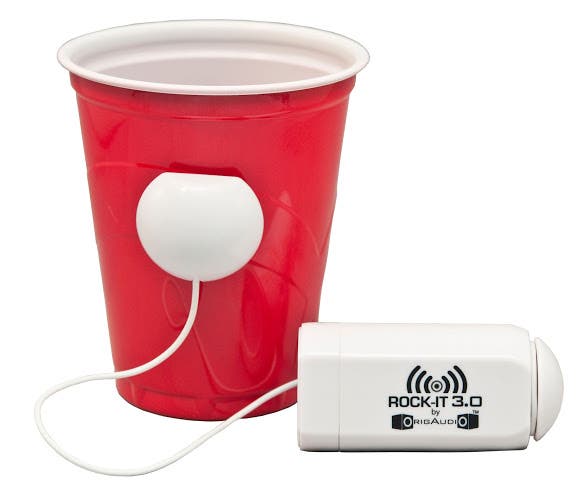 Rock-It ($19.99) has been around for a while, but the new 3.0 edition has a built-in rechargeable battery. Rock-It claims that it can turn anything into a speaker. "Plug it, Stick it, Rock it" is their slogan.
On the package it shows such objects as waste baskets, boxes, suit cases, umbrellas, cars, beds, printers, lamps, and cups as sound transmitters when coupled with Rockit. Well, in my experiments, some objects work better than others. For instance I stuck it on a heavy Dansk stoneware bowl and got very little volume or vibration. But when I put it on a plastic bowl, it brought the house down. I didn't have very much luck with coffee mugs. I found that paper and plastic cups worked better than ceramic cups. They seem to vibrate more. A large mailing envelope sitting on the counter did pretty well. The best results came from a large cardboard box. It's fun to experiment.
Master your iPhone in one minute a day:
Sign up to iPhone Life's Tip of the Day Newsletter and we'll send you a tip each day to save time and get the most out of your iPhone or iPad.
To use the Rock-It, you must charge it first for a couple of hours for a full charge. The battery will give you about 10–12 hours of play depending on the volume setting. It comes with a USB charging cable but no AC charger. It also comes with two sticky pads for affixing the resonator on objects to vibrate.
Once charged, you must plug a sound source into it via a 3.5 mm connector. The sound source could be an iPhone, iPod, iPad, Smartphon,e or MP3 player. I hope that the next iteration of this device comes equipped with Bluetooth capability so you don't have to fool with wires.
Next you have to take the top off the Rock-It and attach it to the object you want to use for a speaker. There is a sticky pad on the bottom of the resonator for this purpose, which must be replaced from time to time, which could eventually be a problem.
There is a volume control on the unit, but you can also control the volume from your remote transmitting device. To tell the truth, I was a little disappointed in the volume level. I thought it would be much louder, but it's certainly adequate for most listening purposes. Of course it depends greatly on what object you are using as a speaker. I found boxes to work the best.
Apparently the more Rock-Its you connect, the louder the sound, which seems obvious; but I only had one unit, so that remains to be tested. It would probably be interesting to have a whole daisy chain of them.
The Rock-It is small and portable (2.5 x 1 inches), so it can easily be stuffed into a bag or pocket for use in various locations such as an office, on a picnic, out in the garden, in your car, and elsewhere. It's a great portable speaker solution without having to lug a big speaker box. One side is flattened so it won't roll of the table.
The Rock-It does work, and it's a lot of fun. I think maybe the novelty of it makes it worth having all by itself. It really amazes people when you pull it out and start turning everything in sight into a speaker.
Here's a video if you would like to see Rock-It in action: 
Rock-It comes in an array of colors to suit your taste, including white, red, pink, green, neon orange, chrome, navy, and glow in the dark. 
I was interested to learn that this product was presented on the ABC show Shark Tank and awarded funding by the resident entrepreneurs. I wonder how much they invested and what were the results so far. Anyone know?