By admin on Tue, 12/11/2012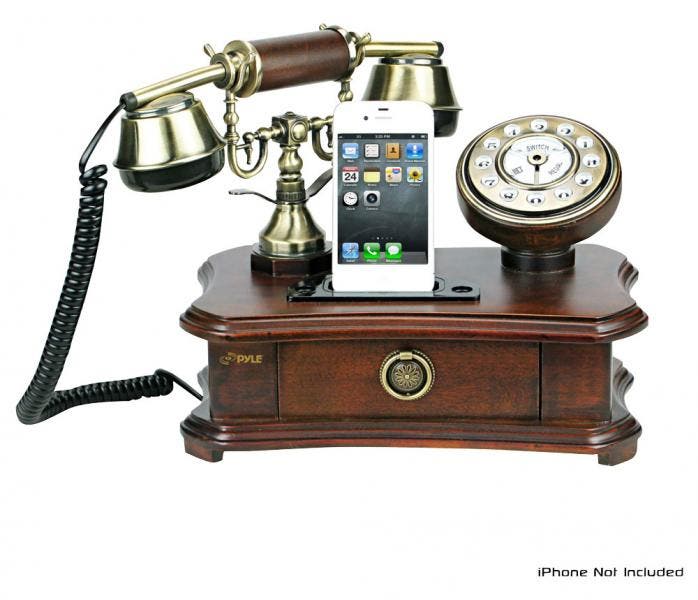 There are probably few people still around who remember the old crank phones and party lines where you had to wait your turn to make a call, and you could hear everything everyone said on your party line. A few years back, while on an expedition in the Amazon Jungle I was lucky enough to visit a farmer there who had an old crank phone made in France. I traded him a portable typewriter for it. He thought he screwed me royally, and I thought I screwed him too. It's nice when both parties are so satisfied with a transaction.
Anyway, that phone has been a proud conversation piece adorning my office wall for years. Recently I acquired another conversation piece. It is a Pyle Retro phone, an authentic reproduction from phones you would find in American homes in the 1930s.
Master your iPhone in one minute a day:
Sign up to iPhone Life's Tip of the Day Newsletter and we'll send you a tip each day to save time and get the most out of your iPhone or iPad.
Beautifully crafted from laminated cherry wood with brass fittings, it represents a superb melding of quality craftsmanship and classic design. It sits proudly on my desk.
While so retro in appearance, it has all the features of modern phones including last number redial, call waiting, conference calling, volume control, flash function, call waiting, and more.
The dialer only looks like a rotary dialer; it is actually a circular keypad with three additional buttons in the middle for redialing, switching between calls, and switching among devices.
What makes this attractive work of art so remarkable is that it works on any landline connection as well as with any mobile device connected with a 3.5 mm audio cable. It even works with a Magic Jack or Voip service.
On the top of the wooden phone base is a charging dock for Apple iPhones and iPod Touches with the 30 pin connector. It will not work with the new lightning connectors.
There is a small drawer with a brass pull useful for storing note pads and pens built into the base of the phone.
In a way, having an iPhone stuck on the top of this beautiful, classic phone denigrates its integrity mixing the old and the new a little too blatantly for my taste. But the choice is yours, and it is certainly convenient to have another charger available.
Another positive feature of this beauty is that you can talk with abandon over your cell phone line using the old fashioned handset and not worry a bit about radiation frying your brain.
I was surprised at the reasonable price for this attractive phone. The suggested retail price is $109.99, but you can get one here for just $92.53: http://bit.ly/VyezFA
I can't think of anyone who wouldn't welcome this gorgeous piece of the past under the Christmas tree.