By admin on Sat, 10/12/2013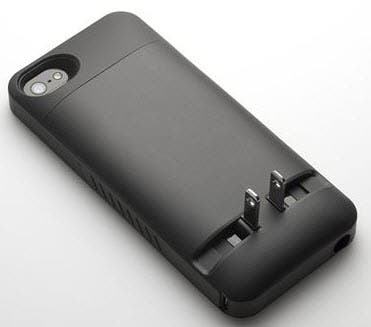 I've already made my displeasure known about iOS products not having removable batteries so you can carry a spare. And when the battery goes bad you have to send in the device to be repaired at rapacious rates. Wouldn't it be better for all concerned to be able to slip in a new battery when it goes dead? Oh well. Nobody listens to me.
Master your iPhone in one minute a day:
Sign up to iPhone Life's Tip of the Day Newsletter and we'll send you a tip each day to save time and get the most out of your iPhone or iPad.
As long as I'm complaining, what about having to pack around yet another cable for the new iOS devices? Instead of the Lightning cable, why couldn't Apple conform to the rest of the world and simply use a micro USB cable? That 30-pin monstrosity was bad enough, but now we have yet another cable to contend with. I must admit I like that the Lightning cable will fit into the slot both ways though.
I just came across a really cool case for the iPhone 5 that I want to share with you. It's called the PocketPlug by Prong. This case is really different. It has all the features of a regular case, as far as protection and accessibility to ports and buttons goes, but it goes beyond that.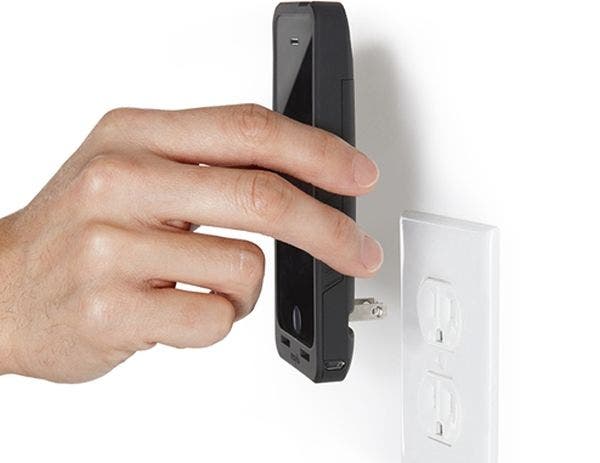 If you look carefully at the picture above, you will notice two standard US electrical prongs that fold out. All you have to do is fold out the prongs and plug it into any outlet. Its super quick charging technology will actually charge your phone fully in just minutes, not hours, and then you can be on your way.
Here's another twist I like, If you want to charge your phone by cable, you can. But they have equipped the case with a regular micro USB port so you don't have to use the goofy Apple cable. That will lighten the load when you travel.
Are you ready for the other tricks this nifty case performs? How about enhanced audio output and input? This clever case is designed to enhance the quality of the iPhone's speaker and microphone by redirecting the sound from the speaker to the front of the phone case. This allows the user to enjoy much clearer and louder audio.
The sides of this sturdy case are notched so that it won't slip out of your hand. While the case can't help but add some girth to the phone, but it's all for functionality, and it doesn't bother me a bit.
The case comes in your choice of black or white and will cost you $69.95. Note that white is on back order until November 2013. PocketPlug is designed to work with iPhone 4/4s and iPhone 5.