By admin on Mon, 03/04/2013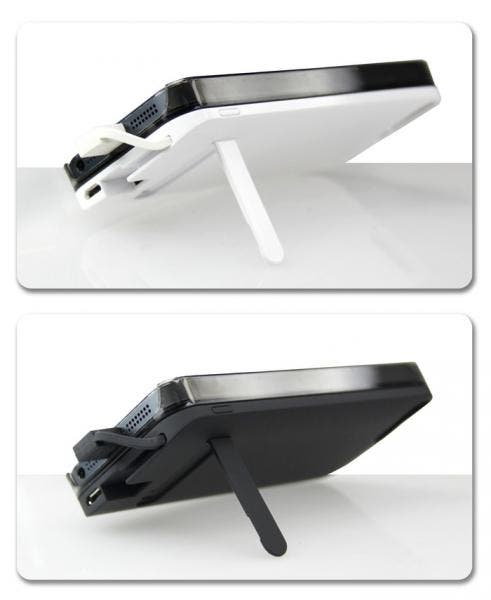 A sleek, 2-in-1 battery and iPhone case, the iKit NuCharge is set to hit markets in April. London developer Shark Design launched the project on Kickstarter, and is now in its final fundraising phase. 
So far on Kickstarter, 92 backers have pledged $6,480. The project will only be funded if it reaches at least $15,000 by March 28. The minimum contribution is $1. For a contribution of $9, you get an aluminum cover in your choice of colors. If you pledge $59 or more you will get an actual NuCharge unit, which will eventually retail for $79.
Master your iPhone in one minute a day:
Sign up to iPhone Life's Tip of the Day Newsletter and we'll send you a tip each day to save time and get the most out of your iPhone or iPad.
Most battery packs I've reviewed are pretty hefty and add weight and girth to your slim device. While any battery will add a little weight to the waistline, the NuCharge is the slimmest I've seen so far, and the additional weight is all but negligible.
The developers claim the battery pack will double the battery life of your iPhone. The projected usage is 225 hours standby, eight hours web browsing, eight hours talk time, 10 hours video, and 40 hours audio. This comes with a boost from a 1900 mAh battery.
It provides all the necessary apertures for access to buttons and ports. It also is flash friendly.
Each battery pack comes with one interchangeable case cover made of aluminum. With an eye for fashion, the units will be available in a wide array of colors to suit your fancy.
The unit has a special built-in cable with a male tip for charging. LED lights indicate the charge at 100, 75, 50, and 25 percent levels.
All you have to do is snap your phone into the case, and you're in business. The phone will snuggle in securely, and you don't have to worry about it separating.
The case even has a kickstand, which I always appreciat. But unfortunately, it only functions in the landscape position. You are out of luck if you want a portrait view. I wonder why the developer didn't allow for both positions.
The review unit I received is a pre-production model. The device will still go through some adjustments and possible improvements before it hits the market. I hope the kickstand issue is one of the improvements.
While this battery pack is sleek in design and powerful in delivery, it all seems so obviously unnecessary. Does anyone else ever wonder why Apple, in its great wisdom, does not make it possible to replace the battery in any of its products? All you would have to do is carry an extra, inexpensive, lightweight spare battery and not have to depend on a bulky battery pack.
But, alas, this is not the case, and the NuCharge remains a viable solution for extending iPhone power life.