By admin updated on 06/16/2013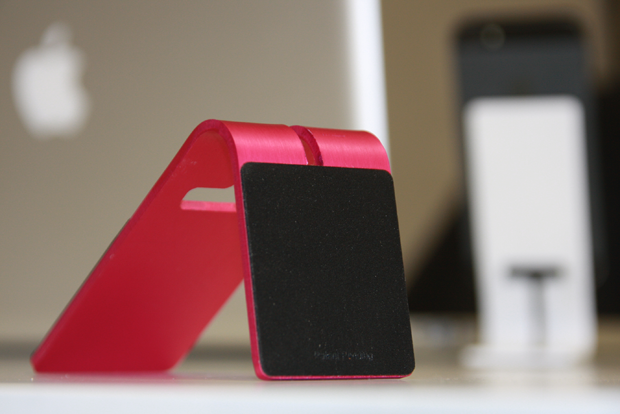 The idea for this mount is simple yet effective. It consists of an L-shaped bar of heavy aluminum with a T-shaped slit down the middle that accommodates charging cables, also classifying it as a dock. What really makes this insanely simple gadget unique is its adhering method. It's called Nanosuction and works much the same as the bottom of gecko feet, which adhere to vertical surfaces without slipping.
Similarly, the SETA has a sticky pad on the bottom of the stand and on the vertical arm. It is designed to adhere to most non-porous surfaces and works wonderfully well for mobile devices such as iPhones, iPods, and iPads. My SETA has earned a permanent place on my desktop, and my phone resides on it, right next to my tablet and in front of my monitors.
Master your iPhone in one minute a day:
Sign up to iPhone Life's Tip of the Day Newsletter and we'll send you a tip each day to save time and get the most out of your iPhone or iPad.
If the sticky pads ever become dirty and no longer adheres very well, just clean is with a piece of tape or a moist cloth. It will restore the stickiness remarkably. Just in case though, each unit is shipped with extra Nanosuction pads.
Unfortunately, I found that Nanosuction does not work on all surfaces. For example, it did not work with the silicon case on my phone. One solution is to stick a nanopad on the back of your phone case, but not everyone will find that very attractive.
You might think an iPad would be too heavy for the SETA to hold, but I am happy to report it works quite well and holds the unit firmly in place without fear of falling. Because the aluminum strip is less than two inches wide, it does not support an iPad all that well when it comes to tapping the outer edges. In order to stop this movement, perhaps you could attach a horizontal bar somehow. The more obvious solution would be to get two stands, one for each side. Anyway, I basically use it for my iPhone and have another stand for my tablet.
1.0 Innovations, the creators of the Nanosuction mount, is currently running a Kickstarter campaign for the SETA, which ends July 9. You can make a contribution in the amount of $19 and you get a free stand. Of course you can make larger contributions and get more stands. In case you are not familiar with Kickstarter.com, it's an organization that helps launch innovative projects by raising the funds, helping with the design, production, and marketing. So, if you ever need to raise some capital for a project, check out Kickstarter.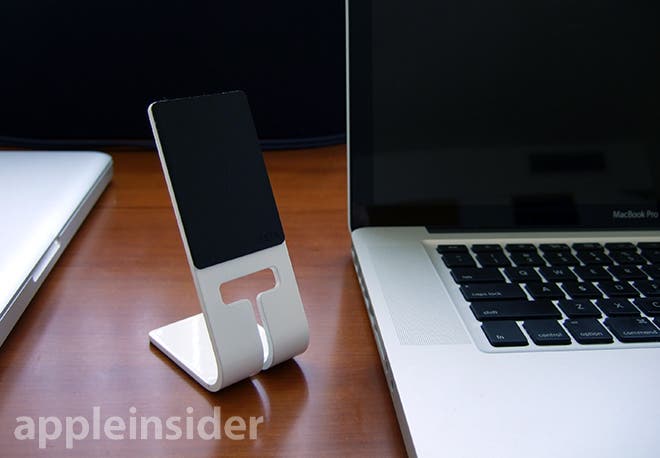 Image Credit: AppleInsider