By admin updated on 05/08/2013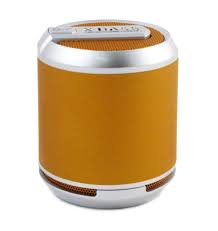 Bluetune-solo is a small, cylindrical, portable Bluetooth speaker system with a big sound print. Its portability makes it a perfect travel companion or handy auxiliary speaker. Some of my toys just don't have that great of sound ability, and this little guy solves the problem very nicely.
It's not just a speaker for enhancing music and videos, it also functions as a handsfree device with the push of a button. So, you could even use it in your car, on your desk, next to your bed, or TV chair. It has a built-in microphone for this purposem, which activates automatically.
Master your iPhone in one minute a day:
Sign up to iPhone Life's Tip of the Day Newsletter and we'll send you a tip each day to save time and get the most out of your iPhone or iPad.
Now don't go blabbing this around, but I like to take it with me bird watching to amplify the bird calls from my phone. When was the last time you called a bird on your phone? I get a never ending kick out of that.
The X-bass sound system features patented PO-Bass Technology. For such a little package, it has an amazing, booming bass that makes you truly wonder where all the sound is coming from.
Another nice feature is that you can daisy chain several of them around the room to create a surround sound effect.
It will receive a Bluetooth signal up to 30 feet away, and is one of the quickest to connect units I have had the pleasure of using. Some Bluetooth gadgets are a real pain in the connectivity department, but not this one.
The built-in rechargeable battery gives you up to 8 hours of play time.
Some Specs
| | |
| --- | --- |
| Output Power: | 4 Watts |
| Total Peak Power: | 6Watts at <10% THD |
| Driver Size: | 50mm micro speaker, 4Ohm |
| Signal-to-noise: | 80dB |
| Frequency response: | 60Hz-20 kHz |
| Charging Voltage: | USB or AC/DC adaptor 5V |
| Bluetooth compliant: | V2.1 +EDR |
| Bluetooth profile support: | A2DP Stereo |
| Dimensions: | 60R x 73H(mm) |
Now I'm all in favor of creative packaging and the Solo come in an attractive plastic box, but it is a real pain to get open with all the tape and tabs. Once it is open, there is a compartment at one end of the box that contains the cables and printed manual, which was impossible to open without some persuasion. I finally just got tired of the whole thing and used my hammer as the persuader. It yielded, but not without some protest. Why make it so difficult for the customer who is anxious to get the new toy out and play with it?
By the way, I tried hooking the speaker up to various IOS and Android devices with a double male 3.5 mm cable. The result was disastrous. Terrible sound, so I can only conclude that the connection to the output device is meant to be by Bluetooth. That leaves out things like Kindle Fire and Chromebook with no Bluetooth. Too bad. The speaker worked just fine with Android devices equipped with Bluetooth.
What do you expect to pay for this stylish sound blaster? My guess was around 40 bucks. Well, I was wrong. The going price is a bit higher at $50, and about the only place I could find them for sale in the United States was on eBay. How do people get a hold of them to sell anyway? They must be going through a US wholesaler, but they haven't made it into the big box stores yet. Aha, I just found them on Amazon for $39.99, so I was right.
If you want to surround yourself with sound and color, they are available in five colors: black, blue, white, red, and orange. Best price is here: http://bit.ly/UoJtoJ.