By admin on Tue, 11/20/2012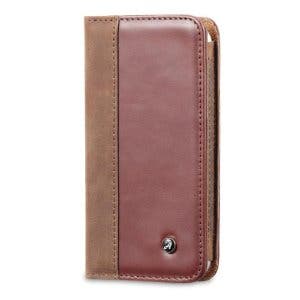 This is not just another ho hum cheap plastic job covered with cheesy bling. I don't know about you, but I'm sick and tired of seeing every girl with a crappy pink case and every guy with a black one.
There is no doubt about it. This is one classy case made of two-tone, brown, genuine cowhide. Anyone would be proud to pull this masterpiece of style and craftsmanship out of a pocket, purse, or bag. It exudes elegance. Your new iPhone deserves to be sheathed in this stylish armor.
Yes, there are holes for access to controls and buttons in all the right places. This folding status symbol even has slots for cards on the inside cover. Surround your phone with some class and move up to this wallet style folding case. It will make you look and feel like someone important.
What amazes me is the price. You can get it on Amazon for only $15.45. I would expect to pay four times that much for a case of this quality. Go here: http://bit.ly/Y06lfx