By admin updated on 10/18/2013
When a new phone hits the market, along come the cases to accommodate it. My desk is cluttered with new cases with more pouring in every day. So, rather than an endless stream of individual case reviews, I've decided to cluster some together for a case round up. 
Master your iPhone in one minute a day:
Sign up to iPhone Life's Tip of the Day Newsletter and we'll send you a tip each day to save time and get the most out of your iPhone or iPad.
The first challenge is to open the package. It's like a Chinese puzzle. Maybe the complexity of the entry is meant to contrast with the simplicity of the contents. What you get inside is a simple bumper made of burnished aircraft grade aluminum that surrounds your iPhone 5 for protection.
On the outside of the rounded cornered box is a black envelope containing two screen protectors and a cleaning cloth. So this affords you some more protection for your device.
It comes in an array of colors including slate black, blue, gun metal, red, and silver. I must say that it is one of the sleekest cases available.One thing that shocked me was the price. It doesn't even have a kickstand.  I did see one on eBay, however, for only $50.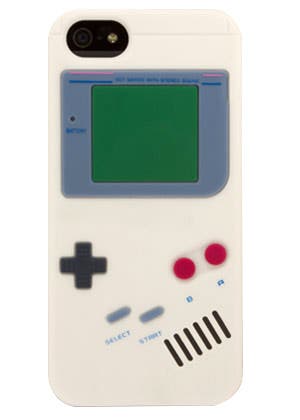 Made of flexible silicon for good protection, the mock Gameboy case may bring back nostalgic memories of another era. The back of the case is actually a reproduction of an old Gameboy but it's non-functional—too bad. Wouldn't that be a hoot if it actually worked. It comes in your choice of white or black.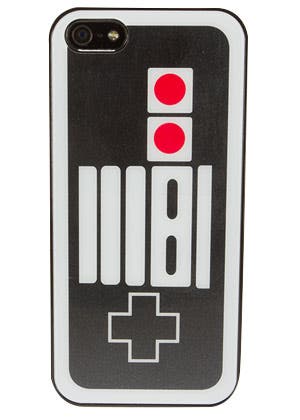 The other case I received to review is a pretend Nintendo controller that of course also doesn't work, but is a fun attention getter. It is made of silicone as well.
There are other Rocket cases for your consideration too. Some look like an old cassette tape. There is also a ghetto blaster in grey or black, and a facsimile of a VHS tape.
They are all available at www.rocketcases.com.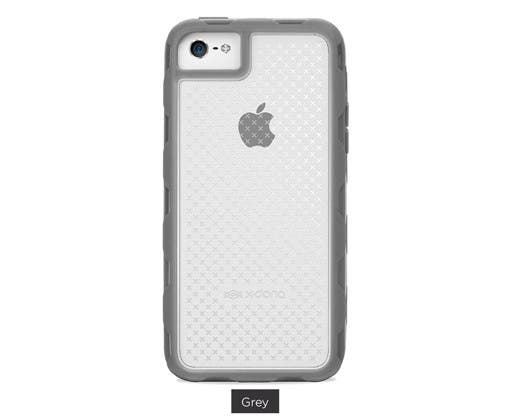 X-Doria is one of the most prolific case makers out there. This time around they sent me a series of four cases to review for the iPhone 5, 5s, and 5c.
First we have the Defense 720. What sets this case apart is a built-in screen cover that offers see through protection and is still touch sensitive. The rubber edge and back protect the phone from bumps, spills, and scratches. You have your choice of blue, purple for iPhone 5 and 5s, and grey, red, blue, or yellow for the iPhone 5c. The cost is $29.99.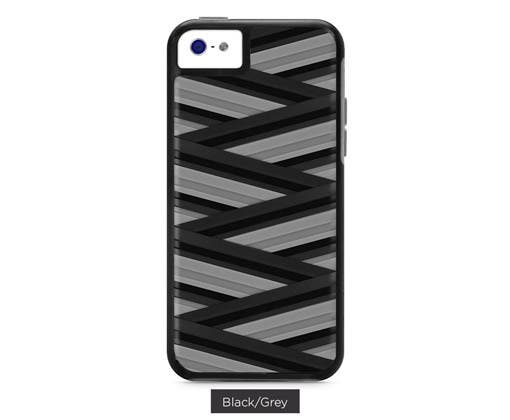 Next comes the Rapt series made of extremely tough polycarbonate and thermoplastic urethane for superior protection. The dual materials allow for a classy look with glossy accents and a matte exterior. It's available in black/grey, blue/blue, and pink/fuchsia on all iPhone 5 phones. The cost is $24.99.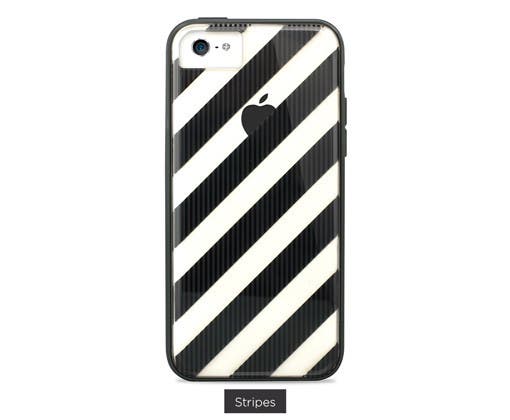 Now enter the Scene Plus lineup, which combines a rugged hard polycarbonate with a runner exterior for superior cushioning against drops and bruises. A translucent back lets your iPhone peek through and makes an interesting and fashionable statement for a totally different look. The model runs $29.99.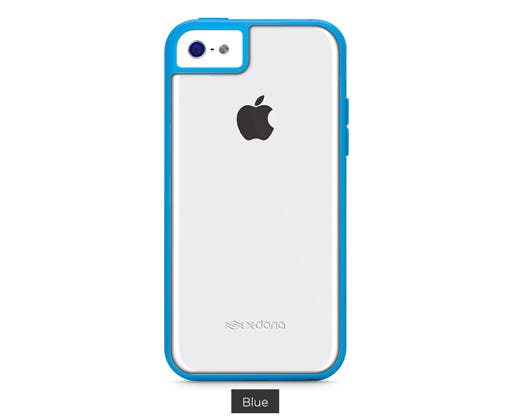 Finally we have the Scene series with the same construction as the Scene Plus. Again, a translucent back allows the color of your iPhone to shine through. I like this feature and have always thought it was silly to wait in line for the color you want only to cover it up with a case. These cases come in red, grey, blue, and yellow but are only available for the iPhone 5c. The cost is $24.99.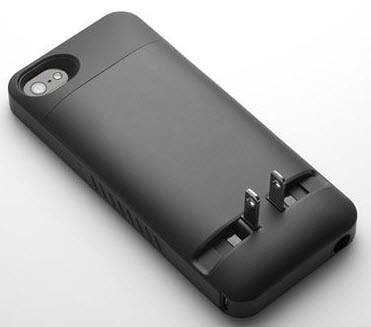 Now here is a great idea for a dual function case; it is a protective case and a charger all in one. It is a bit bulkier and heavier than most cases owing to the charging feature; but given the practicality, it's probably worth the extra girth. The way it works is simple. It has a set of standard US electrical plug prongs in the back that fold out and plug into a stand outlet for charging. They fold back in when not in use.
Another feature I applaud is that it has a micro USB pass-through port so you can charge your iPhone with a standard USB cable. Imagine that.
Yet another feature is enhanced audio for both the speaker and the microphone, which is accomplished by redirecting the sound from the speaker towards the front of the phone for much louder and clearer audio.
We're not done yet. This case features the latest charging technology which allows you to charge your phone from a wall outlet in just minutes. Think of how great this would be if you were traveling and needed a quick charge of top off in an airport.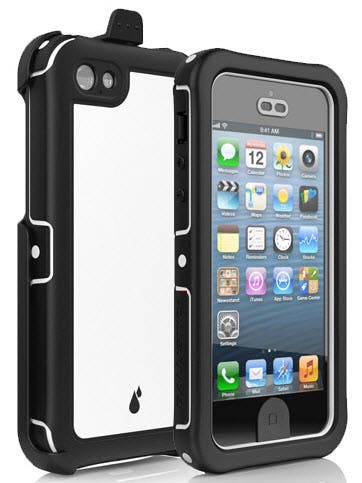 This case is so hefty it should withstand an elephant stampede. It has four protective layers engineered for drop protection, with an air gap to absorb shock. It has protective membranes for water and dust protection. It has a protective cover over all ports. Note that it is not waterproof with headphones inserted. It is completely waterproof up to seven feet for 30 minutes and impact resistant up to 8 feet.
Another nice feature is that it comes with a rugged snap in holster with a belt safety swivel clip.
If you want to see a goofy video of the Hydra in action, go here.