By admin on Mon, 04/01/2013
1. iStabilizer Monopod ($34.95)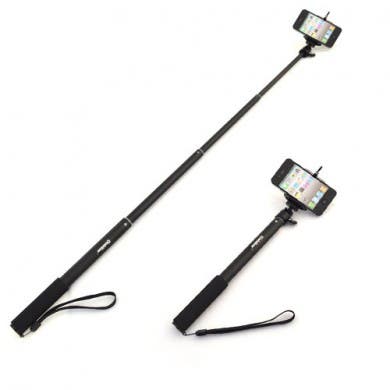 Have you ever wanted your arm to be a little longer for a self-portrait or a group shot? So have the folks at iStablizer, who created an extendable monopod for your iPhone or iPod.
Master your iPhone in one minute a day:
Sign up to iPhone Life's Tip of the Day Newsletter and we'll send you a tip each day to save time and get the most out of your iPhone or iPad.
Made of airplane grade aluminum, this sturdy stick expands over three feet in length and is fully adjustable. An elbow joint at the end of the rod lets you adjust the camera angle.
Actually, the Monopodworks with all small cameras and smartphones that measure less than 2.75 inches. For devices larger than that, you can buy a holder that will accommodate wider phones like the Galaxy S4. It simply screws on the end of the Monopod.
2. iStabilizer Flex ($29.95)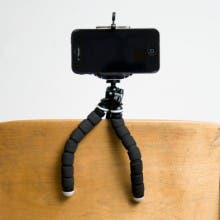 The Flex consists of three flexible, 5.25-inch-long legs. You can bend them into any configuration for fancy mount solutions. With this set up, the possibilities are infinite. For instance, you could hang your camera from a fence post, a tree, or simply set it on a countertop.
iStabilizer products work with all iPhone and iPod touch models. But, both the Monopod and the Flex will accommodate just about any phone or small digital camera. You can use the phone mount or buy the larger version. You can remove the phone mount and screw in your camera with a standard thread screw that already resides on the top of both units. Of course they will work with camcorders as well.
3. iStabilizer Dolly ($59.95)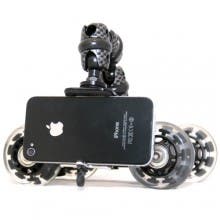 Another camera holder product from iStabilizer is the Dolly. The Dolly is a carriage on wheels. You mount the camera on a flexible, adjustable arm attached to the wheels and then roll it for great panoramic and creative effects.
The Dolly is ideal for capturing high definition video on your iPhone or iPod with panning shots usually reserved for high budget productions.
Watch this video for demonstrations on how you can use these products to best advantage: http://www.istabilizer.com/store/
You'll never need to have another blurred moment with these iStabilizer products designed to anchor your shots and give you new avenues of photographic creativity. You can get iStabilizer products here for less than the manufacturer's suggested retail price.
Incidentally, iStabilizer will soon launch two new Kickstarter projects, the Tabflex tripod and Tabflex mount for iPads and tablets.