By admin updated on 08/05/2013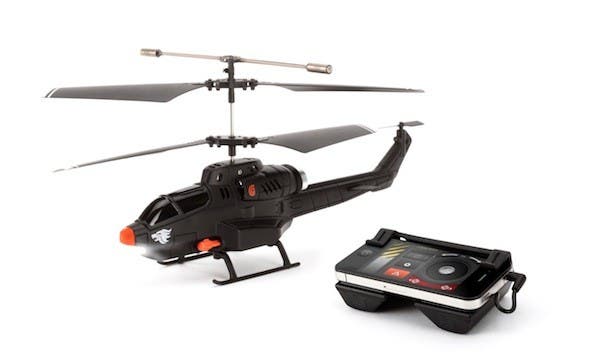 I don't know what it is about remote control toys that make them so much fun. I guess it gives you a sense of power. On the box it says for ages 14+. Trust me. This is a big boy toy too.
First off, I want to say the Helo TC Assualt ($59.99) is the easiest remote control helicopter I've ever flown. Some are so delicate they're no fun to fly because they're always crashing. But this one is a pleasure to drive.
Master your iPhone in one minute a day:
Sign up to iPhone Life's Tip of the Day Newsletter and we'll send you a tip each day to save time and get the most out of your iPhone or iPad.
A while back I got an RC helicopter and thought I would invite a couple of pilot friends over to join in the fun. One had been an actual Air Force helicopter pilot who flew rescue missions under fire. The other used to be a jet fighter pilot. Both were even worse than me at flying the stupid helicopter!
But, let me tell you, Griffin's new one Helo is very user friendly and easy to maneuver. In fact, there are two ways to do it. You can tilt the controller and the Helo will respond by turning left or right and up and down. It's so simple, intuitive, and efficient. The other way to steer it is to use a virtual app controller on your phone screen.
Here's how it works: Download the free Helo TC app from the App Store. It works with both iOS and Android devices. Then you dock your phone into a controller that comes in the box by plugging a cable into the 3.5mm audio port. Next, you turn up the volume full bore. Now your phone will start transmitting infrared signals to the helicopter, and you are in control.
Wait! There's even more fun to be had with this new Helo. It actually shoots missiles so you can engage in combat. When you hit the other guy's copter, it will immediately stop flying and crash to the ground. No need to worry about damage control. They are so light they don't get hurt.
Griffin cautions you to use the Helo indoors only. It might get caught in a wind and blow away or get hung up in a tree.
See below for a hilarious demo video of the chopper in action: 
In the box you get the helicopter, which is 8 inches long, a USB micro charging cable, a 3.5mm cable, rotor blade replacements, the flight deck controller, six missiles, and a manual. You will also need four AA batteries for the flight deck, which are not included.
You can have a lot of fun terrorizing your pets and co-workers. For all this entertainment, Griffin charges $59.9. But you can get one on Amazon for just $28.95.