By admin updated on 08/05/2013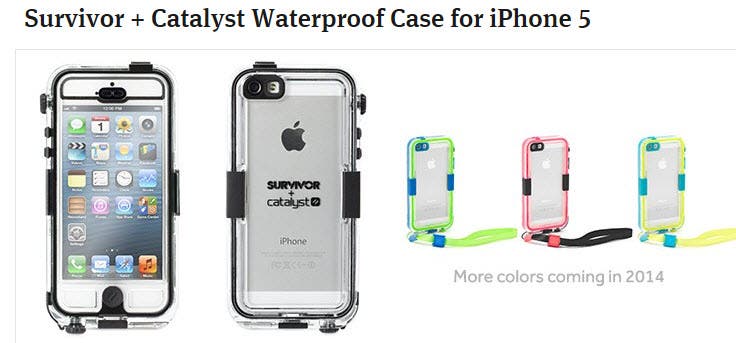 Griffin is on the move again with the brand new Survivor Waterproof Catalyst Case ($69.99) for iPhone 5. This time it's a rugged waterproof model that should protect your prize possession in and out of the water.
It has been tested and certified as waterproof in depths up to about 10 feet. It is shock proof when dropped at a height of up to two meters. And, it's dustproof as well.
Of course this case completely encloses your phone, but all the necessary ports are accessible through waterproof grommets. You can still take pictures, listen to music, play games, and talk on the phone. I suppose you could perform all these tasks underwater if you wish.
I actually took it in my hot tub with some trepidation. But I'm happy to report that everything worked out fine—no leaks, and the device still works. Hooray for Griffin!
You might think that a device with all this protection and functionality would be bulky and ugly. In fact, it's quite sleek and handsome as you can see in the picture. It comes with a short wrist lanyard.
The price for all this protection is $69.99. But, you can get one on Amazon for only $51.