By admin on Tue, 08/27/2013
This is a quick note for you MTV fans with an iPhone. Now you can combine your interests with the new MTV iPhone Case ($29.99) from Griffin Technology.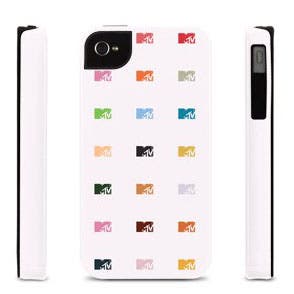 The review case I received is a white plastic case that snaps on the phone. On the back there are three columns of seven rows of small MTV logos in varying colors. Naturally, there are cut outs in the appropriate places to allow access to ports and buttons. The case is available as a hard case for iPhone 5 or iPhone 4, or as a silicone-lined, layered shell for iPhone 4.
---
This case is a member of Griffin's designer series. Some of the designs are created by well-known artists and can be quite attractive, but the MTV case is on the boring side in my humble opinion. It is interesting to note that the artists participate in the profits as compensation when cases bearing their design are sold.