By admin on Sat, 09/24/2011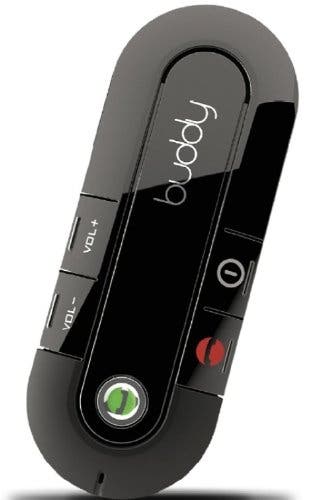 I don't know why it's not illegal to drive and text/talk at the same time, but there are still some states that don't seem to care. It's a lethal combination. Nothing give me shivers more that a soccer mom with a van full of kids yakking away on her phone.
Master your iPhone in one minute a day:
Sign up to iPhone Life's Tip of the Day Newsletter and we'll send you a tip each day to save time and get the most out of your iPhone or iPad.
It really doesn't matter if it's against the law or not; it's simply not safe. Everyone should have a handsfree device for mobile phones in the car. If only I could introduce them to the wonders of Supertooth Buddy. Let me tell you about it.
Buddy is a compact candy bar device measuring  5.9 x 5 x 0.5 inches rounded at the ends that fits over your visor with a removable clip in the back. Alternatively, there is also a magnet for attaching to metallic surfaces. It weighs only .3 oz.
It pairs to your phone via Bluetooth and will actually connect up to two devices at the same time. I found that it paired seamlessly with both Android and IOS devices--unlike some handsfree devices I've tested.
Once connected, you can send and receive calls using Buddy's speaker and microphone system. The sound system is adequate for driving conditions, but probably not the greatest system for symphonic quality sound reproduction. It does have full DSP echo cancellation with a double noise canceller and an audio enhancing microphone.
Supertooth has an amazing array of functional features.
·         place a party on hold while you accept another call
·         voice dial
·         voice redial
·         reject calls
·         switch between phones
·         automatic reconnection
·         sound enhancing microphone
·         call waiting (provided provider and phone supports it)
·         redial
·         compatible with all Bluetooth capable smartphone
With a full charge on the rechargeable battery, you get 20 hours of talk time, and 1000 hours of standby. So, there is no need to have an unsightly charging cable hanging down from your visor all the time.
Large buttons on the front of the device allow you to operate the volume controls, power and end/reject functions.
It's all very simple to operate, and an elegant device to display in your vehicle that will afford you safe driving. I am happy to give this nifty car kit a very high recommendation.
I am particularly pleased with the reasonable price of around $40. To acquire a new Buddy of your own, go here.