By admin updated on 08/28/2013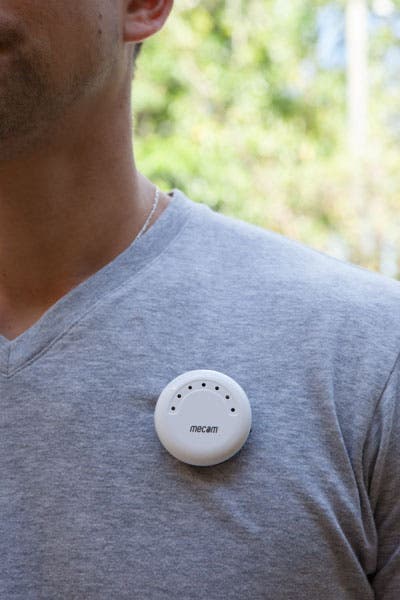 I just received an interesting package. It was a box in the shape of a cube. I had no idea what it was. It just said MeCam. I opened it up to reveal a round plastic object about two inches in diameter with a semicircle of small holes. What could it be?
It turned out to be MeCam ($49), a wearable mini camera that takes videos, records sound, and takes still shots. That's pretty cool, I thought. You could really have some fun with it in parks and parties, walking down the street, riding a bike, and shopping at Walmart. It could revolutionize Facebook and Instagram.
Master your iPhone in one minute a day:
Sign up to iPhone Life's Tip of the Day Newsletter and we'll send you a tip each day to save time and get the most out of your iPhone or iPad.
Once I got it fully charged, which took a couple of hours, I took it out for a spin on my bike. You get about 70 minutes of video recording time on a full charge.
There are two ways to wear it. It has an actual safety pin on the back that you can pin on your shirt, hat, pack, or whatever. It also has two posts with holes for the lanyard that comes with it so you can wear it around your neck too.
It will capture 720p HD quality video and take 5 Mps still pictures by depressing a small button, one for each function. There is a third button that serves as a power switch. The operative term here is "small button," and therein lies the rub: These buttons are so small you practically need a magnifying glass to figure them out. There is not a lot of tactile feedback either.
I mentioned the holes in the front of the device. Some are camera lenses and some are LED Infrared lights for low light situations.
I road along on my recumbent bike passing other bikers on the trail, waving at them and saying hello so there would be something recorded. I went to a park and surreptitiously recorded people unbeknownst to them, which is probably a felony.
I couldn't wait to get home to inspect the fruits of my labors. There are a couple of ways to do this. You can use the USB charging cable and connect it to your computer. The camera behaves like a removable drive, and you can access its files. It also comes with a micro SD card, which you can insert into a card reader to view your handicraft on your computer.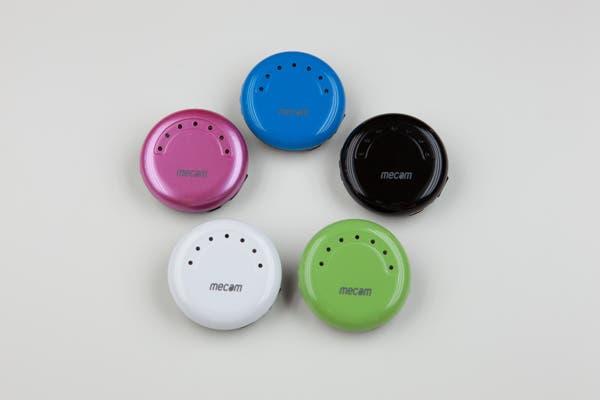 My results were garden variety at best. The resolution was less-than exciting. As you might expect, the scenes bounced up and down. People's heads were chopped off. The sound was static ridden. You just can't expect satisfactory results from a camera that is bouncing up and down, which isn't the camera's fault. But it's just uncontrollable, and so are the results for the most part.
Perhaps it would be better to mount the camera in a non-moving position and let it do its thing. But there is no way to focus it either, so you can't tell what you're filming until you watch it on your computer.
I have to say I was disappointed with the results, but when you think about it for a second, it's not surprising. I will just have to use it in a different way. I'm thinking it would be fun to put by my bird feeder or over a bird's nest.
STAY TUNED
I just heard from the developer who is hard a work on a new version of MeCam that will offer some significant improvements, and I am looking forward to checking it out as soon as it's available. Here is what is in store:
New Features
Full 1080p HD video at 30 frames
Image Stabilization Technology
Time Lapse/Photoburts Photography Options
Much improved button size and placement
Different mounts
Wifi with an app to your phone to control the device/use as viewfinder/upload and socially share video