By Dain Schroeder on Fri, 03/04/2011
Not too long ago, Apple started building iOS-powered devices with GPS capability in them. Immediately I knew that a menagerie of navigation apps would soon be flooding to the App Store, much like mindless pre-teen girls with a taste for wretched music flock to a Justin Bieber concert. Some of these apps are great, and some provide as much fun as using a cactus as a toothbrush. When I was asked to review GoGo Navigator, I admit I was a little skeptical - could it really match my beloved TomTom app for such a reasonable price? Much to my surprise, GoGo Navigator is a brilliant GPS app that does a terrific job for a fraction of the entry fee.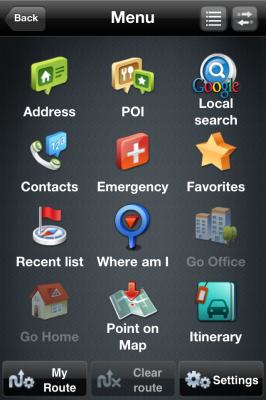 GoGo Navigator may be low on price (at $29.99), but it's certainly not low on features. First and most importantly, the app stores maps locally on your iDevice. This means that even if you happen to lose GPS or 3G signal, you'll still be able to receive turn-by-turn directions. This is in contrast to some other apps (most notably Garmin's StreetPilot app), which require access to a good signal at all times during use. Another feature I really like in GoGo Navigator is the option to use 3D maps, which provide a very clean and nice-looking way to see where you're headed. However, if for some reason the 3D maps aren't quite your style, you're welcome to switch to a more standard 2D view, which is every bit as clear and easy on the eyes.
Master your iPhone in one minute a day:
Sign up to iPhone Life's Tip of the Day Newsletter and we'll send you a tip each day to save time and get the most out of your iPhone or iPad.
Of course, the most important thing to discuss with any navigational app is how good a job it does at getting the user to their destination. For the most part, GoGo Navigator did every bit as well as the TomTom app and my dedicated Garmin GPS. I did experience one small hiccup - at one point when driving to my pharmacy, the app told me I'd reached my destination about two blocks early. If I didn't already know where the store was, this would have obviously been a bit frustrating. However, in every other trial I put GoGo Navigator through, it performed phenomenally.
The app also features all the standard things you'd expect in a GPS - points of interest, favorite locations, Google Local search, and a nice way to navigate straight to anyone in your contacts list whom you've entered an address for. It's also worth mentioning that, although it took a bit of getting used to for me (being used to my TomTom app), GoGo Navigator's user interface is really exceptional. All the icons make sense, and the buttons are all large enough onscreen that it's easy to use while driving without the user needing to take their eyes off the road.
All that said, I do have one nitpick with the app - I am not a fan of the voices that tell me where to go. While they aren't bad by any means, they sound a bit too "computer-y" (for lack of a better word), making it a bit difficult to understand at times. However, please let me be clear - this is by no means a dealbreakler, and I still absolutely love the app in spite of this.
And now, the bottom line: if you are looking for a well above-average GPS app for your iOS device but don't want to break the bank, GoGo Navigator is an excellent option.