By Dain Schroeder on Sun, 01/30/2011
The App Store is just about ready to (metaphorically) burst under the weight of all the nearly identical puzzle games it's been constantly barraged with. As a result, it's always refreshing to see a game that offers something new and interesting to restore our faith in the genre; Burning Bubbles Lab is one such game.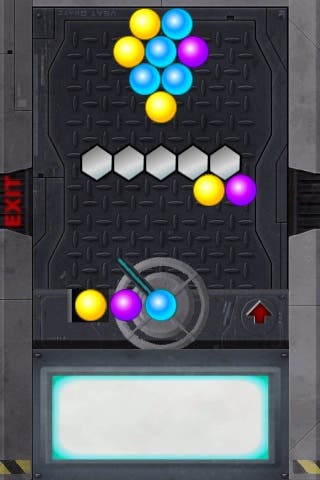 The gameplay of Burning Bubbles Lab is relatively simple; the player controls a small cannon at the bottom of the screen, which is used to launch bubbles of varying colors. The objective is to launch bubbles upward to match three or more of the same color. When players match these bubbles, they'll vanish from the screen, clearing the path to the bubbles hidden behind them. When all the bubbles are removed from the screen, the level is complete and the player is free to move on to the next challenge. However, there's a good amount of strategy involved in launching your bubbles properly, and if you take too long, you'll find that your cannon will move upward on the screen, closer to the bubbles. Take long enough to clear the screen and your reward will be an untimely demise, forcing you to start the current level over again. It's a fairly simple formula, but the difficulty of the challenges quickly ramps up, offering a great amount of entertainment.
The presentation of Burning Bubbles Lab is quite good - the graphics are clear and crisp, and the sound effects serve as a good compliment to the onscreen action. The game isn't overly flashy, but in my mind it presents itself perfectly without getting lost underneath a layer of unnecessary graphics.
Burning Bubbles Lab currently offers 40 unique missions, each more challenging than the last. The creator of the game has also informed me that an update will be released for the game very soon, including retina display support, native iPad support, and bug fixes.
The game is available in two different versions. For 99 cents, players may purchase the full, ad-free version. However, there's also an entirely free version of the game, which features all the greatness of the paid version. The 'catch' here is that commercials will periodically pop-up. After viewing a brief ad, players are returned to the game. Should players try the free version and decide they want to upgrade without losing their progress, the creators have included a convient in-app purchase allowing gamers to upgrade and remove the ads without having to re-download anything (which I loved).
Burning Bubbles Lab is a great little distraction, and every bit as addictive as some of the great puzzle game classics. If you're a fan of puzzle games, you owe it to yourself to give the game a try.