By Rickey McCoy on Tue, 03/30/2010
If you haven't heard, movie cinemas have begun increasing their prices to view 3D movies! Some theaters have begun raising their prices on all movies viewed in their cinema. What happened to the good old days of living vicariously through Hollywood actors without spending a whole week's check? Well, due to the state of our economy, affordable living has become a spark that most households are eagerly looking for. Welcome the redbox iPhone app! Great for affordable date nights, family time, and just wanting to see the latest release without spending $5 to watch it once.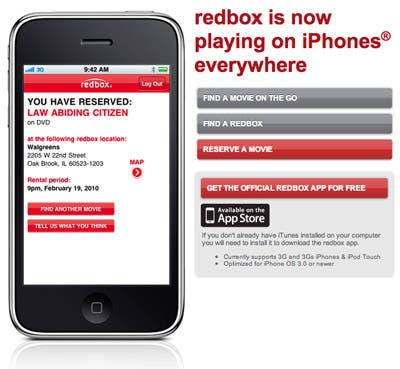 Competitors
Tons of cable networks offer On-Demand viewing for all new releases that come out on Tuesdays but the downside is that you're going to spend at least $4.99 per movie. If you order a movie each week, that turns out to be around $20 tacked on to your cable bill that you may have forgotten about because some of the movies were horrible. If you're not familiar with redbox, it is a new phenomenon in the movie industry. Redbox has over 20,000 'vending-machine like' kiosks dispersed in the US. You can find them at local grocery stores, gas stations, pharmacy stores, etc. You are able to view the list of movies available in the 'redbox', make your decision and pay only $.99, well $1.08 with tax. Yes, that include the latest releases as well. 
Master your iPhone in one minute a day:
Sign up to iPhone Life's Tip of the Day Newsletter and we'll send you a tip each day to save time and get the most out of your iPhone or iPad.
iPhone Features
Normally when you reserve a movie at redbox, you have to cross your fingers that the person ahead of you doesn't 'jack' your movie. With the new redbox app, you can reserve your movie on the go with Wi-Fi, 3G, or EDGE connections. You can even search for movies at your favorite redbox or other locations in your area. The search functionality is awesome because it is synced real-time to individual locations. The app does not display any movies that have been reserved so you are certain that your movie is locked in for your pick-up. You can't be certain of your movies if you just walk up to the redbox and search for a title. Now you can simply wait patiently in your car and not feel worried someone is going to snatch your new release! The iPhone app also syncs with your online redbox account if you reserve online as well. Your account is free, you are only charged per movie reservation which last up to 9pm the following day. So, instead of paying $20 dollars to your cable provider for 4 movies, now you can actually watch 20 movies; well maybe that's a little overboard. You can at least afford the expensive popcorn now! This app is great, along with the redbox service. Download today, you won't be disappointed!