By Patrick Julian on Sat, 08/07/2010
Did you ever lose a receipt and then try to submit it for payment without the receipt. They laughed, didn't they?
Well now you can scan it with your iPhone and then send it to your E-mail or a company E-mail and then print it out like a fax. The same as if you called them and asked them to fax over a copy of the receipt. Then just cut out the receipt and submit it. This is so cool and so easy. I've already started using it to keep track of my personal expenses for this years tax return.
I had to travel to different parts of the world like California, Arizona, New Mexico, Utah, Texas, India & Ireland. Now with that many receipts from that many places in one year, I was bound to loose a few receipts that I needed to submit in order to get reimbursed for them by the company, and this program saved me more than once. So let's go through the process of how to use this app and hopefully you'll see the importance of having it on you're iPhone/iPod touch.
Master your iPhone in one minute a day:
Sign up to iPhone Life's Tip of the Day Newsletter and we'll send you a tip each day to save time and get the most out of your iPhone or iPad.
The app icon looks like this:

And the first screen that displays is this:
Then the next screen that displays is the Camera screen ready for you to take a picture of the original receipt. You should do this as soon as you get back to you hotel room before you forget and then place it into you receipt envelope or whatever you use to keep them in one place for when you submit for reimbursement. Take a picture of the receipt first. From this Preview screen you can choose to either Retake the picture or Use it.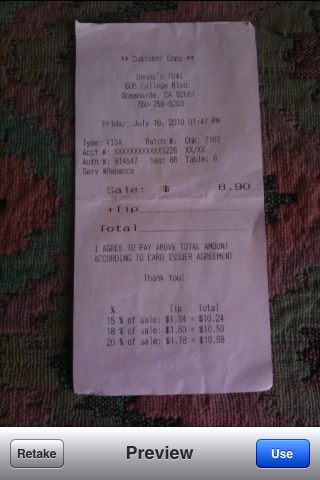 When you press the Use button on the lower right hand corner of the screen, you are presented with the next screen.
This screen looks a little confusing, but it's really not. Just place you finger on any of the outside lines and then drag the line to crop the receipt so that you have just what you need to submit. In the example above I ate at Denny's and they conveniently place the various tip amounts on the bottom so that you don't have to figure it out and you can just add it to the final bill before you sign your name.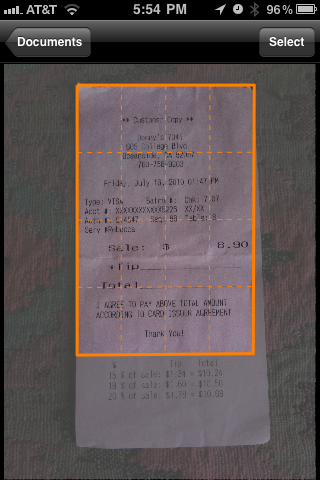 Once you press the Select button, you will see the next screen.
When you press the Transfer to button in the lower right hand corner, you will be presented with the following screen.
From this screen you can do several things like send it to the Camera Roll for later retrieval or Send by Email which is what I do so that the receipts are at home when I get there and if any thing should happen to me on the way home, my wife can still submit the receipts since she has access to my Email account also.
If you choose Send by Email, you will then get the next screen and by pressing on the To line you will then get the + symbol that will then open up the address book and allow you to choose the Email address that you want to send a copy of your receipt to.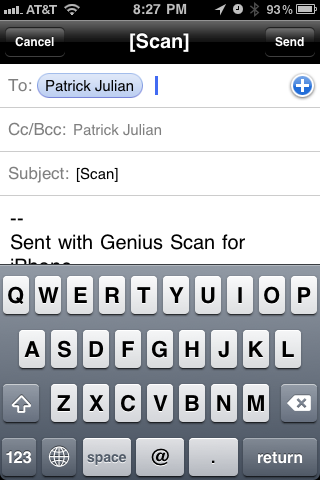 You can then enter in any descriptions that you want to just like in Email, in order to make it easier for you to keep track of such as how many people were with you and what the reason for the meal or any other notes you want.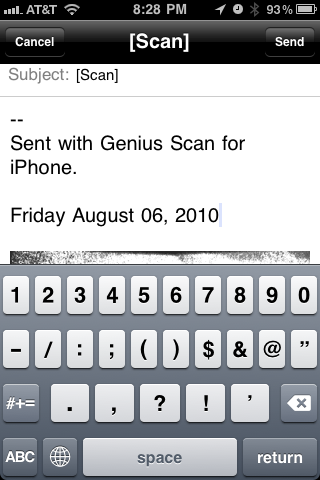 The program can be downloaded by clicking on the Available on the App Store logo.
If you have any additional information about this app, please share it with the rest of the readers by leaving a comment at the bottom of the review so that they can benefit from your experiences and you may become a teacher for someone else also.
CYL...Patrick