By Patrick Julian updated on 07/31/2010
If you had this information years ago, you could be a millionaire by now. it's never to late to start so what are you waiting for!
Remember the Lyrics from Crosby, Stills, Nash & Young, "Teach your children well". With this information you can do just that.
Now when you're talking finances with someone else, you can honestly say "There's an app for that" and I have it right here on my iPhone. The app icon looks like this, and best of all... it's FREE. Don't wait any longer, download this app now, you'll be glad you did all the way to the bank.
Master your iPhone in one minute a day:
Sign up to iPhone Life's Tip of the Day Newsletter and we'll send you a tip each day to save time and get the most out of your iPhone or iPad.

And the first screen you see when you open the app is this.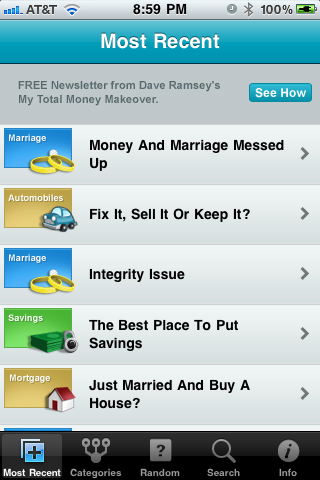 There are several topics that you can open up and read about, and/or listen to the actual call from the caller who talked with Dave Ramsey on the show so that you can hear the pauses, inflections and/or emotions by pressing the play button which you can't get from just reading the material presented. You can adjust the volume while on this screen. You'll find the topic with the Question & Answer in written form.
Then there is the Categories option on the bottom which is broken down by the following:
Categories
Automobiles
Insurance
Mortgage
Taxes
Handling Money
Bankruptcy
Budgeting
Debt
Savings
Lifestyles
Career
College
Kids and Money
Marriage
Relationships
Twenty Somethings
Long Term
Estate Planning
Investing
Small Business
Fun Stuff
Debt Free
Best of Dave
Just For Fun
Which brings up the familiar topics page and each one of those brings up the Dave Speaks page which you saw under the Most Recent option.
Then there is the Random option which has lots of random information about various topics, and also the Search option where you can put in key words to search on, to quickly get to the topic you're looking for.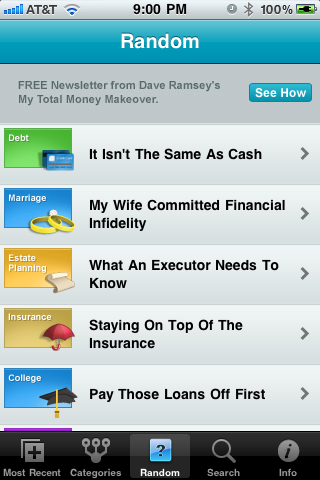 Finally, there is and Info option which covers the following:
About Ask Dave
Who is Dave Ramsey?: This is a short synopsys of what Dave Ramsey and his financial advice can do for you.
My Total Money Makeover: This is a book that explains the truth in finances to the average person like me in laymen terms that you can understand.
Newsletter: You can sign up for this and it comes in your Email inbox.
Responsible Development which is the app credits.
I call it like I see it and my take on this program is that it's a 5 star app and it's #4 on my list of Apps that I Use Every Day and best of all, it's FREE. So download it and you too can become millionaires based on the saving habits you learn by listening to The Dave Ramsey show Podcast, Videos and now using the Ask Dave Ramsey app on your iPhone whenever you're thinking about spending money.
I would like to see an option for Dave-isms so that I can be reminded of the many different ways I can respond to others about financial situations and money, when it's appropriate of course.