By Joel Heffner on Wed, 04/03/2013
The iPhone's built-in camera is one of the most widely used cameras in the world. Each week we will feature an iPhoneography tip to help you take better pictures with your iPhone!
In the olden days (before iPhones, of course), it was difficult to take photos indoors unless you had a flash. Today, many point-and-shoot camera users have problems using flash when taking pictures of people because of the dreaded red eye effect.
With iPhone's built-in light source and red-eye brush, Apple has solved that problem to a large degree. You can turn the light on or off as you wish or leave it in its Auto setting.
Master your iPhone in one minute a day:
Sign up to iPhone Life's Tip of the Day Newsletter and we'll send you a tip each day to save time and get the most out of your iPhone or iPad.
So how do you determine whether or not to use the iPhone's light source when taking a picture? It's essential to use the flash if it is too dark to see your subject. But when there is enough light, the question becomes more difficult.
Here are two photos, one with flash and one without flash. Both were taken about two feet from my dog Ruby, who was resting at the time. (Yes, she likes to rest often.)
Unlike close-up flash photos I've taken of Ruby using other cameras, the light did not cause unwanted coloring in Ruby's eyes. In humans we think of it as red eye, with Pugs it's actually white that covers their large eyes. Here, Ruby's eyes look normal.
However, if your subject does have red eye, you can use the iPhone's edit tools to quickly fix the problem. Once you've selected the photo, tap Edit. Tapping the auto-enhance tool removes red-eye automatically, or press the red-eye brush and tap each pupil.
Which photo of Ruby is better? It's hard to tell. In the version without flash, she looks more natural and there isn't a highlight covering her coat. So for me, the non-flashed version looks better. Others may disagree.
The good thing is that you have a choice: let the iPhone decide (Auto), use the flash whether or not the iPhone thinks it's necessary (On), or don't allow the iPhone to use the flash (Off).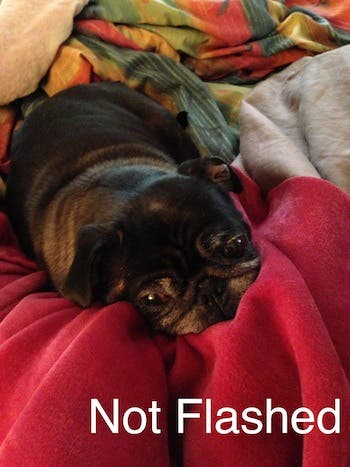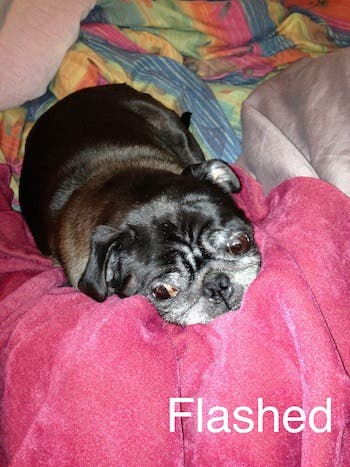 Usually, staying with the Auto setting works best. However, experiment to see if using the flash works best for your conditions. To flash or not to flash...it's up to you.