By Louis Senecal on Sat, 07/16/2011
Not too long ago I used and reviewed the Waterfield Keyboard Travel Express. Today I wanted to talk about two more organizational products I have been using. These are designed to help organize and transport your electronics and accessories. I will show you Cocoon's product called the Grid-It Wrap and Skooba Designs Cable Stable Mini. While they have some different purposes, they both share a common goal or task of helping to keep your stuff organized.

Master your iPhone in one minute a day:
Sign up to iPhone Life's Tip of the Day Newsletter and we'll send you a tip each day to save time and get the most out of your iPhone or iPad.
The Grid-It Wrap I have been using is for the iPad. If you find you like the Grid-It system but want it for another purpose, Cocoon offers other Grids. The sample I received is Racing Red. The "GRID-IT organization system is a rubberized woven elastic object retention system for gadget organization." The wrap itself is made of Neoprene. The cover is secured by Velcro and the Neoprene pretty much shapes itself based on what you may have in the Grid-It system. This cover protects the contents inside. On the back of the Grid-It system, is a slot where you can insert your iPad.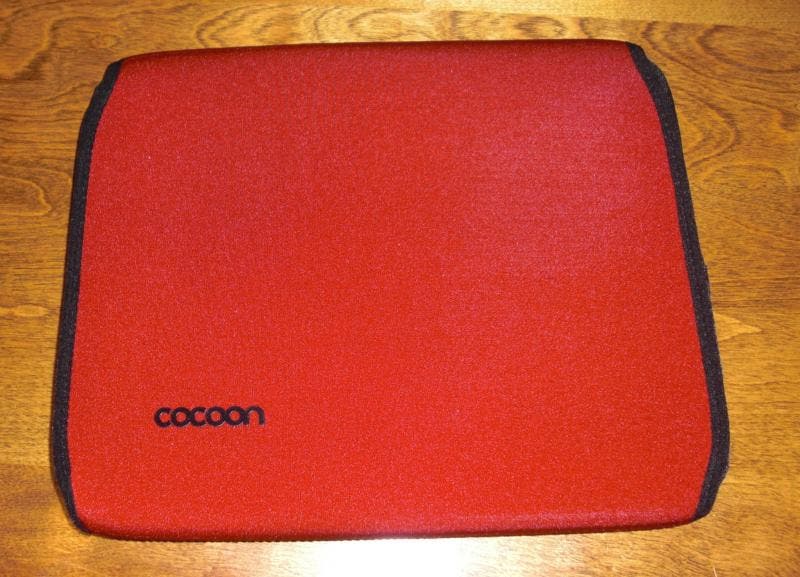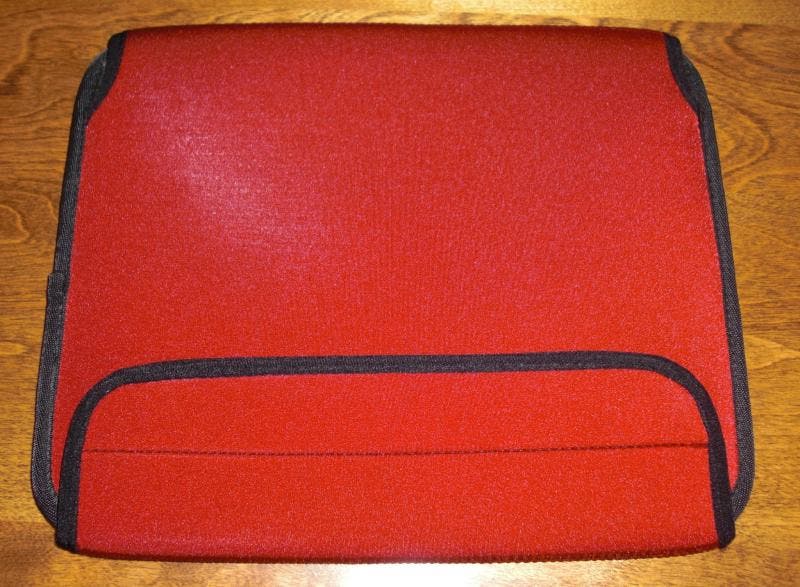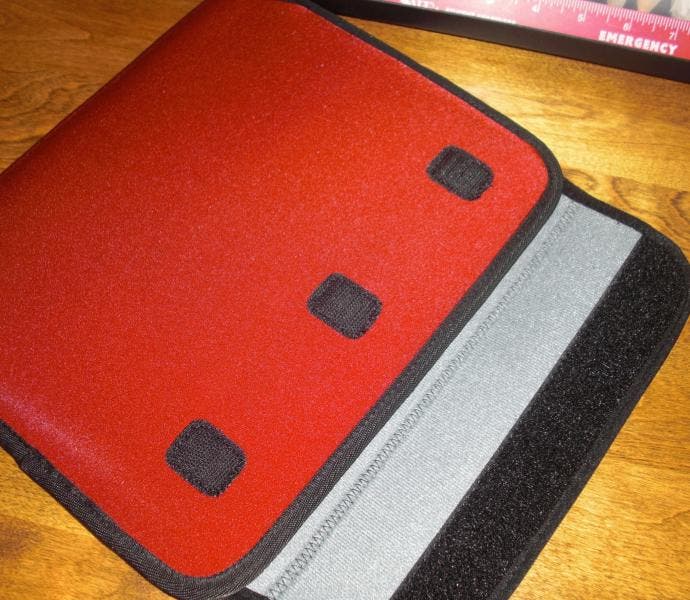 The Grid-It system is really the thing this case is all about. There are multiple elastic straps all over the place as you can see in the picture. There is no right or wrong way to put your stuff in there. In fact there are endless possibilities on how you could load this puppy up. It's all up to you.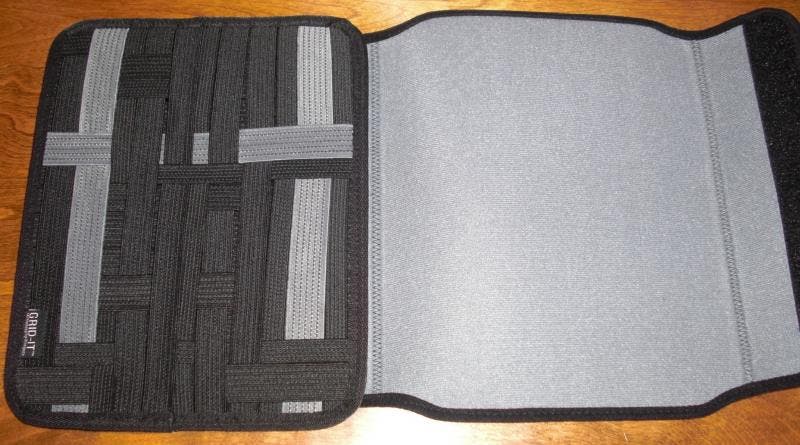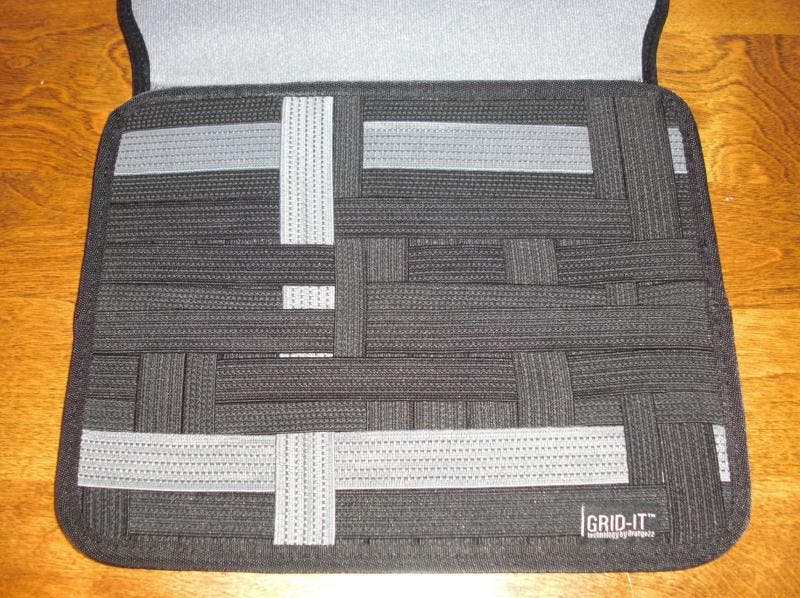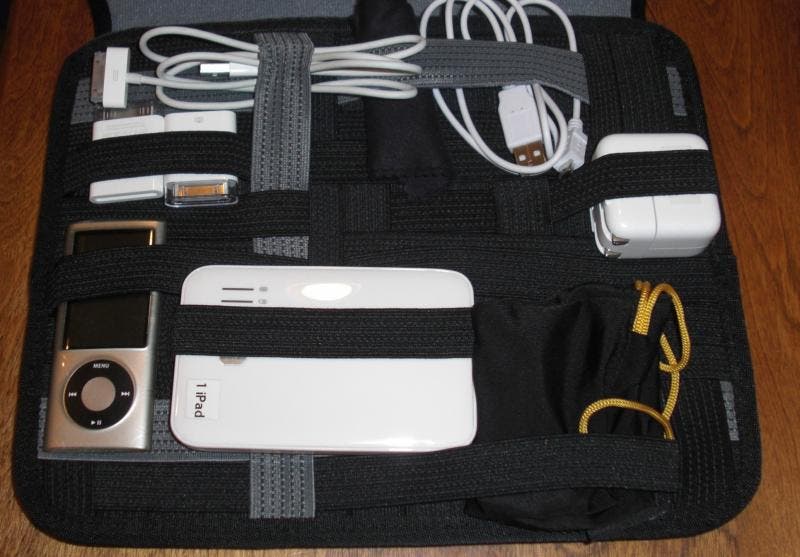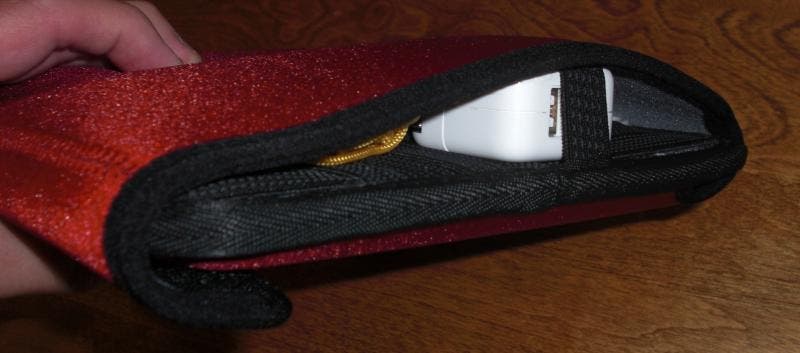 This is nice because you can put both your iPad and accessories in there. This case does not add much weight at all and it's pretty thin. You can carry it as is, or throw this in your backpack, duffle bag, or luggage. The only downside is that if you have a case on your iPad already, chances are it's not going to fit with it. There is not much more room in there for anything besides the iPad. Should that be the case (no pun intended), you could use that sleeve area to put more stuff in. This is one of those cases where using the iPad with it could be optional. The product is sold for $29.99 at the below website.
Specs and Features:
-iPad slips into the back pocket
-GRID-IT!™ on front
-Neoprene cover protects items inside
-Versatile Organization
-Endless configurations
-Designed to hold items firmly in place
-W:11.25" × D:1.25" × H:9.25"
-W:28.5cm × D:3.2cm × H:23.5cm
Product Website:
http://www.cocooninnovations.com/product_info.php?cat_id=65&product_id=228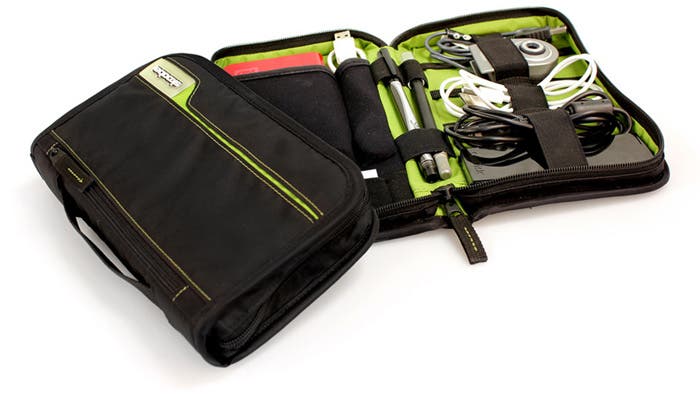 The Cable Stable Mini is  another storage option that had a lot of features in it. This also sells for $29.99. If you find this may be too small for your equipment, then check out their larger version, called the Cable Stable DLX. The Mini is made of nylon twill on the outside and softer nylon cloth on the inside. There is a nice neoprene pocket and elastic straps on the inside which we will talk about later. Let me give you a tour.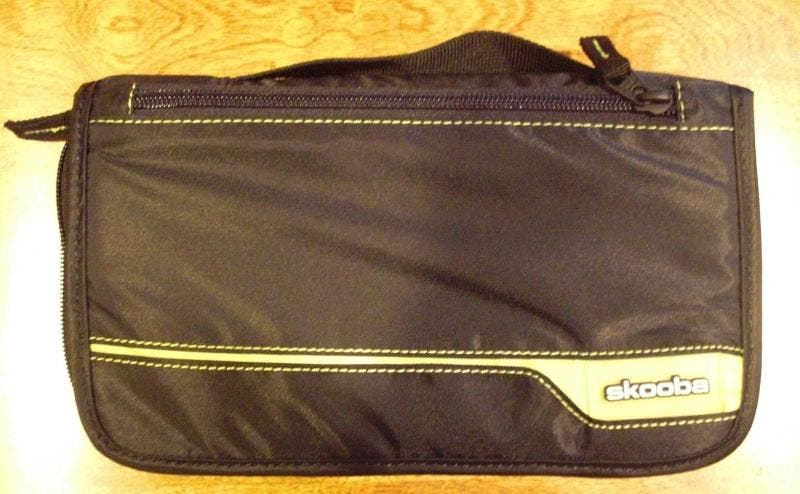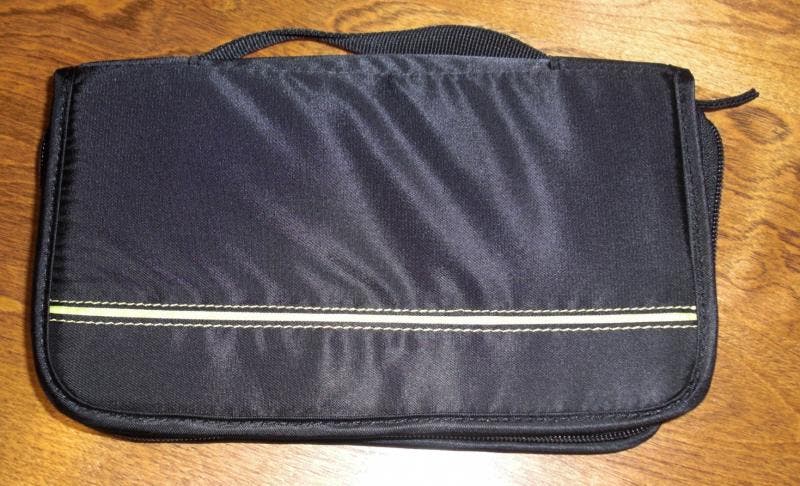 A heavy duty zipper secures this case together. On the outside you have a carry handle and an exterior zippered pocket. Inside is where the storage magic happens. On the inside front cover, you have a neoprene pocket, pen holder and an elastic sleeve.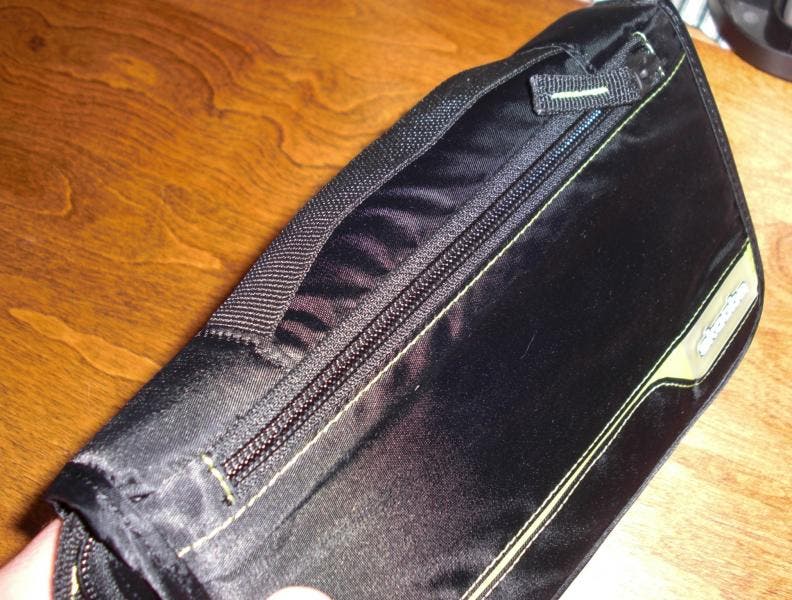 In the neoprene holder, you can store your iPhone or iPod Touch in there if you wanted. The inside will not scratch your goods and it's a pretty decent size.
In between the covers, you have some elastic for more storage options. I used it for pens (I had put my stylus in the pen holder).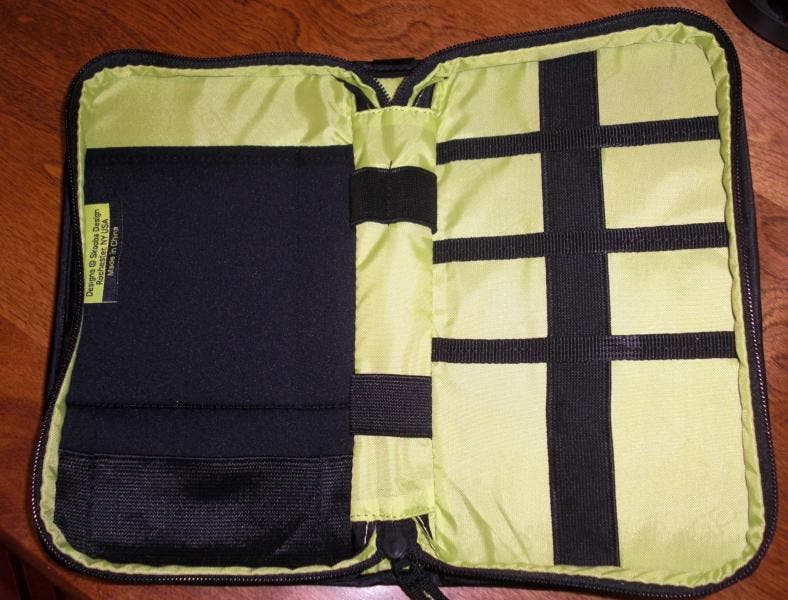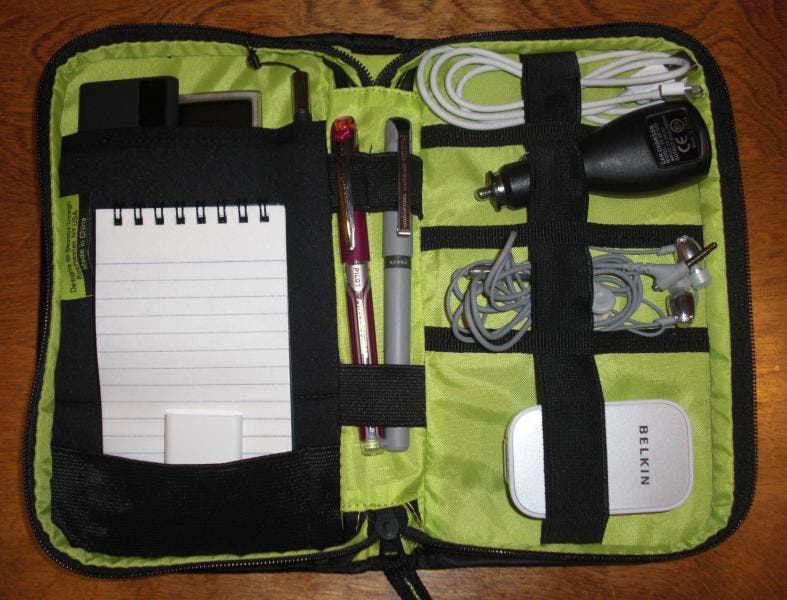 The back cover has a "Floating elastic hold-down grid." This is very useful. Again, it all depends on what you want to put in here, but the system is very accessible. All zipped up, everything is neat and tidy, and in a fairly compact container. It is not heavy either. This is a case you can either carry by itself also, or throw it in one of your bags. It does not take up a lot of room at all. There are a total of eleven storage spaces in here. Check out the website below for more information and to see if this may fit your needs.
Features:
-Primary Materials: Nylon twill exterior, smooth, scratch-free nylon pack cloth interior lining
-Hardware and trim: Heavy-duty elastic hold-down straps, smooth, self-healing coil zippers
-Overall Size: 9.25"L x 5.75"W x 1.5"D
-Weight: 5.6 oz
Product Website:
http://www.skoobadesign.com/cable-stable-mini