By Louis Senecal on Sat, 01/30/2010
In case you were not aware, TomTom and Magellan have previously released versions of their GPS car kit that turns your iPod Touch into a navigation device, as well as making their GPS software compatible with it. One of the downsides is the cost, as it can be argued that you can buy a standalone GPS unit for much less. Cost may not be an issue for those wanting to add more functionality to their device but one of the drawbacks I see is that their car kits are for in car use only via the car power adaptor. In my opinion, this limits some of the payback use / value, especially if you only need GPS navigation occasionally. There is another GPS add on that I have been watching for that is coming out by Dual Electronics, called the XGPS300.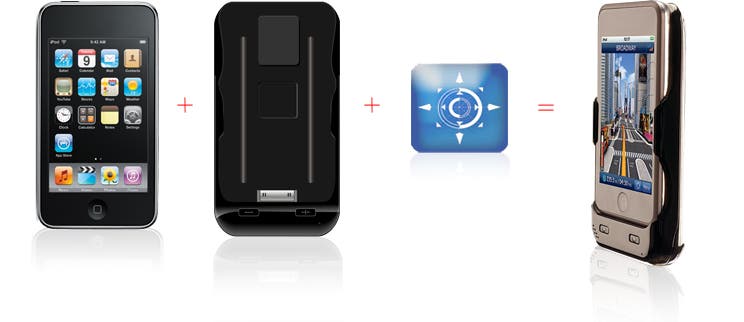 The initial release date was November but is now reported by the company to be released in late February starting in the US. What makes this totally different from the previously mentioned car kits is that their version is a handheld cradle that has the GPS AND a rechargeable battery built in. They also include in the package a windshield mount for the car and a full turn by turn navigation package via their NavAtlas App. This system allows you to be totally portable. It is also reported that they are testing out a lot of GPS related apps for compatibility. I am excited about this because I would like to be able to use this for geocaching along with some other purposes. I did contact Dual to request a test drive of the kit and I was put on the waiting list as there are a lot of testers before me. The NavAtlas app, which is free, is already available in the iTunes store and will only work with that cradle. The cost of the TomTom car kit and the software (US maps) together is approximately $160.00. The cost of the Magellan car kit with their US map is $210.00 (you can save $20.00 via an offer in iTunes though). I have not seen the cost of the Dual Electronics system and the competitor costs make me wonder if it will be in the same range. I guess we will find out soon enough.
Here is the link to the website for more detailed information.
Here is the link to their blog where you can get other pertinent information about their product.