By Louis Senecal on Mon, 03/18/2013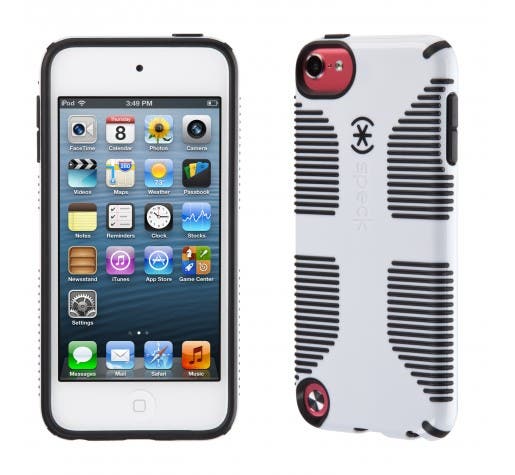 This is the third installment in a four-part series comparing iPod Touch 5G cases made by Speck.
So far in this series, my son and I have thoroughly tested and reported back on the performance of Speck's Kangaskin and Pixelskin iPod Touch cases.
And now, we're reviewing Speck's CandyShell Grip for iPod touch 5G ($34.95). My son and I have used CandyShells on earlier generation iPods and on our iPad, and they are a favorite of mine. However, this version of the CandyShell goes an extra step, with added rubbery grips along the outer case.
The CandyShell Grip comes in multiple color combinations. Our sample case is black and white. The case sticks to the traditional CandyShell design with a hard protective covering, and a softer, rubbery protection inside. Its shape and functionality are similar the PixelSkin. The power and volume controls are protected with the soft shell material, while the camera, wrist strap area, headphone, and lightning connector are free. It also has extra material around the front bezel to help protect the screen when laying face down. Overall, the CandyShell Grip is one of the best iPod Cases we have ever used.
Pros:
Easy to take on and off;
Has good grip from the ribs;
Does not add a lot of bulk, fairly thin;
Works with all headphone jacks we tried;

The small flap covering the charger is sturdier than previous CandyShell cases I've used. This area in past designs was prone to ripping.
Cons:
Specks and Features:
Textured finger pads;
Tactical thumb bumps;
Dual-layer casing;
All-around protection.